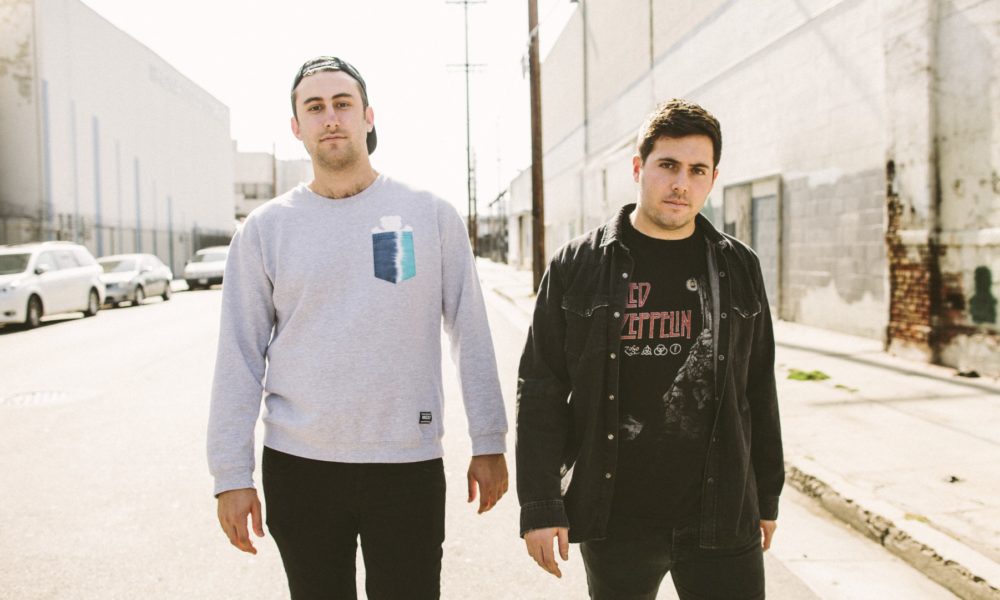 The key to a successful summer comes accompanied with the proper playlist to accompany you during those late nights turned to mornings and all the festivities that take place under the sun-kissed sky whether it be hanging by the pool, heading to the beach or just a good, old-fashioned BBQ. Thankfully, Two Friends whole catalogue of music, remix or original, can be used to keep the good times rolling especially their latest release, "Bandaid."
Like most, they have quite the vigorous tour schedule throughout the summer months with the duo making their way to Moonrise Festival this weekend but they're never too chat with their friends here at TSS. We caught up with the gruesome twosome to discuss their latest release, their upcoming appearance at Moonrise and more. Check it out!
Two Friends – Bandaid | Download |
TSS: First things first, tell us a little about the creative process behind your latest summer smash, "Bandaid."
Two Friends: When we sat down to write Bandaid with Shaylen (the singer), the idea kind of came for a song about when you get together with someone just so you can get over the last person you were with- and you know it's not gonna last, it's just sort of a bandaid to help you heal. From there, it all came together pretty naturally. We wrote it and recorded with her that day, then got to work on the production, did some fun vocal chops for the drop which we actually posted a little tutorial about recently, got our dude JJ to record some trumpet for later in the song, and overall we're super proud and happy to share Bandaid with everyone. The music video should be coming any day too, and if you can guess the premise for it, I will Venmo you twenty bucks.
TSS: You guys have a bevy of originals but you two are quite the remix aficionados, what is it that you look for when it comes to giving a track the Two Friends treatment?
Two Friends: It's not really one formula- different remixes we've done have happened many different ways. But the things they definitely need to have in common are: we have to really enjoy the original, and we have to think that we can put an interesting and fresh twist on it. Sometimes that happens just when we're listening to a song in the car- our recent Kanye 'Touch The Sky' remix for example, we just heard it and got reminded how dope of a song it was and already had some cool ideas for what we could do with it. We try to mix it up in terms of the vibes of songs we remix— definitely a few throwback ones, some hip-hop ones, some pop ones, some EDM ones, but hopefully they all feel tied together by a certain "Two Friends" touch.
TSS: What are some tracks that have caught your attention as of late? Anything remix worthy?
Two Friends: We literally just started working a new remix yesterday, and it's gonna be a fun one. Don't wanna give it away yet in case we can't nail it and then scrap it and disappoint you lol. JK, but it's a song from I think 1999 or 2000 and we're having a lot of fun putting a new spin on it. But in terms of other tracks that have caught our attention recently- we usually put them in our Spotify playlist and in our Friendly Sessions podcast so I'm gonna cheat by checking recents ones from there and picking three: Superlove by Whethan, Drive by Youngr, and Love Ride by Christian French.
TSS: Walk us through a studio session with Eli and Matt?
Two Friends: It really depends what we're working on. A lot of times we'll be juggling several different projects- some are more on the writing side so maybe we'll invite the singer to our studio and spend the day writing & recording, or maybe we'll write just the two of us. Other projects will of course be more on the production side so we'll just kinda be locked in the studio all day grinding. And for some reason, any time someone is visiting LA and wants to come by the studio, it's always on the most mundane of days in terms of what we're editing, and it makes us really self-conscious haha. Like we'll just be playing basically the same kick by itself over and over for the whole twenty minutes that they pop in for, and they are just watching over our shoulders with a look of dissatisfaction.
TSS: You two have quite the tour schedule this summer, how do you unwind when you have a couple days off?
Two Friends: Relaxing HARD, hanging with friends and family, playing sports, video games, movies, your typical things. We had a day off at this casino resort in Connecticut the other day and went on an unreal zip-line, that was a lot of fun. Also Eli wants me to add hot tubs, he says he's a big hot tub guy.
TSS: Still looking through third friend applications?
Two Friends: Always haha! If you don't know what that is, we always "hire" an official third friend for every show. If you win, you'll get to be on our personal guest list and we'll have merch for you etc. We have an actual application with some funny questions that we always update, so go apply for when we'll be in your city next! You can apply at http://twofriends.is/thirdfriend
TSS: You guys are taking your talents to Baltimore's Pimlico Race Course for Moonrise Festival this weekend, what can the mooncrew expect?
Two Friends: We've been working on a bunch of surprises for this Saturday… it's gonna be a wild one. This will actually be our very first time in Baltimore, but we have heard such incredible things from people who have attended or played at Moonrise— we know it's gonna be a party. We got the whole checklist- jams, special guests, and Eli has to moon the crowd as part of a contractual obligation.
TTSS: What else is in store for you the rest of the year and beyond?
Two Friends: Soooo much fun stuff- this year has already been full of so many amazing experiences, and the rest of 2018 gets us even more excited. Working on a TON of new music that we're anxious to put out ASAP. Will sprinkle in some more remixes of course, working on the next Big Bootie Mix as well, and we'll be touring all over North America this whole fall- hope to see all y'all very soon!
"Follow" Two Friends : | Facebook | Twitter | Soundcloud |
Comments
comments