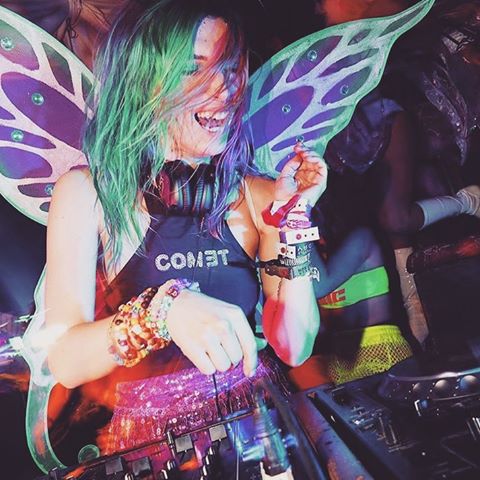 Dani Thorne redefines the word comet. While the gaseous space anomaly is known for its frozen nucleus and fiery episodes near the sun, Dani Thorne is music and glitter at her core and thrives around crowds, kittens, and creative spirits. Her energy is infectious and bright as imitated through her art. She models. She acts. She sings. She designs and she produces. She is a force to be wreckoned with and I had the pleasure of sitting down and seeing this celestial object for a one on one conversation.
"I was a raver first."
Jessika: What got you into music/djing?
Dani: I was a raver first. I went to my first rave when I was seventeen almost eighteen. It was HARD Summer. When I went there, and I felt the energy as a legit sober person in that crowd, I remember looking up and feeling it and being like "woah this is insane." It gives you this adrenaline. This lift. It sounds so cliché, but it's the only description you can say because it is literally this crowd of people if not hundreds, but thousands all on the same wavelength, feeling the bass, and high frequencies all at the same time. What is also really cool on top of that, is that the rave life is all about PLUR and community and acceptance. It doesn't matter what you look like, what you dress like or how you dance. Just go for it! It wasn't until Coachella 2014 that I was looking up at the stage thinking I want to do that. What does it feel like to be up there? I think a lot of ravers think that. Eventually I was like, "Fuck it! I'm going to start I'm going to figure it out." So ,I went to Google and Youtube and thank god for that. It really started with messing with Ableton. I had these small denons before which really don't help you on stage at all because pioneer is different. XDJ is super awesome. It's what I currently use at my house. It's the closest thing to a CDJ, but that's the next step.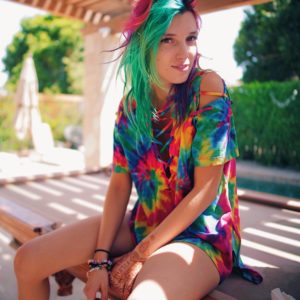 Jessika: What is your first music memory that stands out? It doesn't necessarily have to be EDM.
Dani: I didn't grow up in a family that played instruments or anything. My parents didn't sing, but they had a really wide eclectic taste in music from old school Rock to 80s to raunchy Hip Hop and they didn't really filter us from any of it. We grew up just really dancing and feeling it and listening to it all. I think my first concert was Backstreet Boys. I remember making these signs for that show. I slightly remember before that when I was younger going to a Bee Gees show with my parents and that was incredible. I love the Bee Gees to this day. Any time I hear a Bee Gees song I go,"Oh shit this is my jam. Let's get it!"
Jessika: What's the music you are into right now? What are you listening to?
Dani: I love EDM, but I just recently re-instated my Spotify to venture outside of that. I've been listening to a lot of Indie Rock and Rap. I grew up listening to Rap living in Florida, but there's just been periods that I would be into it and then others more into the Rock side or more into the EDM side. Now I'm just like, there's a lot of cool Rap out there right now and don't ask me for a song title because man am I the worst with that.
Jessika: Where does the name Com3t come from?
Dani: At my second rave the name was given to me by a seasoned raver. I had actually watched him give one to my friend first and it was so spot on to that person that I was like, "Omg, give me a rave name." He just randomly pulled out of his ass Comet. Growing up, I wanted to be an Astronaut or a Scientist. I've been in love with space and science and so for him to say that out of nowhere, not knowing anything about me. I was just like ,"Woah that's perfect." Then I had made the joke, if I was ever a DJ one day my name is going to be Comet. Well, bam! Here we are today and I did it. Then I turned the e into a 3 because 3 is super symbolic to me now. 333 is my number and I wanted to somehow incorporate spiritual aspect, that guidance into my name and for some people they get it. They'll come up to me and be like, "333, that's my number too. I see it everywhere. "So that's a really cool connection with people randomly.
Jessika: How would you describe your sound or your vibe when creating music to someone?
Dani: That's really interesting because I like feedback from other people to hear what they think it is. They'll listen to it and be like, "Oh that's a trap this or whatever," and then I'm like, "Okay yeah!" But for me I just make music that I think sounds good to me and it usually starts with some sort of Trap beat. Then I go into some dirty Electro or Dubstep or something and it is super experimental right now. I have even made some Future Bass and I have made a House song that is a little like Deep House. I'm really in the experimental stage, but I really love making fast paced hard music that makes your hyped. Even if it doesn't necessarily make you feel hyphy or that Dubstep headbanging, I want you to feel like , "This is grimy, I can feel the bass."
Jessika: Were those the vibes you were trying to give with your Rave Prom set?
Dani: Oh yeah, for sure. What is great about Rave Prom, is I try to take in who the crowd is and with the name like Rave Prom you know the people who bought those ticket are ravers. They are there for that music. So when I play certain events I know I can play any classic Knife Party song that no one will give a shit about just anywhere, but at Rave Prom they will be like, "Ooh! This is it right there." It's great that EDM has its own throwback hits like Pro Nails and it still goes off to this day. Everything that said rave to me I wanted to put in there.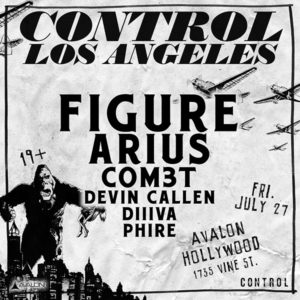 Jessika: For your show at Avalon, you're opening for Figure so I'm thinking more Dubstep-y throw backs?
Dani: I am so throwing it back. Well, not the whole time, butI have a lot of good throwback Dubstep songs I am super pumped for.I am really excited to see how it translates with people. I want to see which people will be like, "Ooooh," because they heard that song over and over years ago and that's always really fun.
Jessika: How do you normally prepare for gigs? How do you pick out what you might put in your set list? Do you go into a Soundcloud hole?
Dani: Well, I really download so much music. I don't know how much other DJs download music, but when I do my sets I like to play a lot of new music. I am constantly downloading hundreds of songs and it can be like an all day thing where I am finding new cool music that I vibe with or even creating my own edits and mash ups. It usually starts there and then I go through my record box and go that's vibe, this is the vibe. Then it's just is me figuring out what goes into what because I want to take it somewhere. Even if it is a Dubstep show I don't want to play Dubstep through and through. I want there to be waves.
Jessika: What would you say is your favorite part about performing? I know you have done acting and modeling
Dani: Performing is super awesome because unlike modeling or acting you are yourself and you are playing what you want. Everything from your brand image to how you dress to how you act is what you want. I get to be myself up there. Say you are in the crowd and feeling the energy, being on stage and feeling that energy is different because it's not the energy being directed towards the DJ, it's the energy being directed at you. You are feeding off of it. So, when you play a song that doesn't really go off that's okay, but when you play a song that goes off that is a high like nothing else. I played an unreleased song at Rave Prom (this riddim track that I made) and it doesn't even have lyrics, but it went off so hard. People were jamming, and no one has ever heard it before except for my sister and some close friends. I remember looking back at her and my tears starting to well up and am like this is my song. There is no other way to describe it really. It's crazy.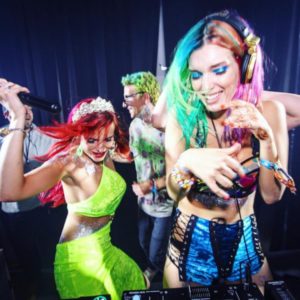 Jessika: When you are creating music where do you pull your inspiration for your music?
Dani: It depends. The first riddim track I made which is my next single titled, Metamorphosis, started with going to Youtube. When I listen to riddim I know what it sounds like but when you are trying to do a visual thing like on Ableton, it's a little different. There's this balance and there's this space.
Jessika: I know you've previously had experience with designing fashion lines. Are you going to incorporate some merch with Com3t?
Dani: I just recently released my first thing of merch which is super awesome. I think my favorite is the bass cat shirt (it's one of our highest sellers) because it says like, "Did the bass hit you too hard?" and has a cat falling off with swirly eyes. As you can see I have lots of cats. 7 kittens total. They are the bass kitties. They sit by the speakers and listen to my rave all day long and my practices.
Jessika: What is happening for you in the next year?
Dani: In the Fall I am releasing my first EP which is super exciting. I am going to be doing a Fall university tour with colleges and stuff. It's going to be my first tour, so it will be a lot crowd working, learning and new experiences for me. Then there is also Filthy Fangs and that's a whole 'nother thing! There's lot of goals for our label with our merch and our artists. I am in the space where I am not planning too much, but I know what I have to do to get to where we are going and to go with my gut. So, check back in with me in a year!
If you wanna catch Com3t this Friday at Avalon in Hollywood click the link here and use the code "avalonfam" at check out for a discount!
Comments
comments