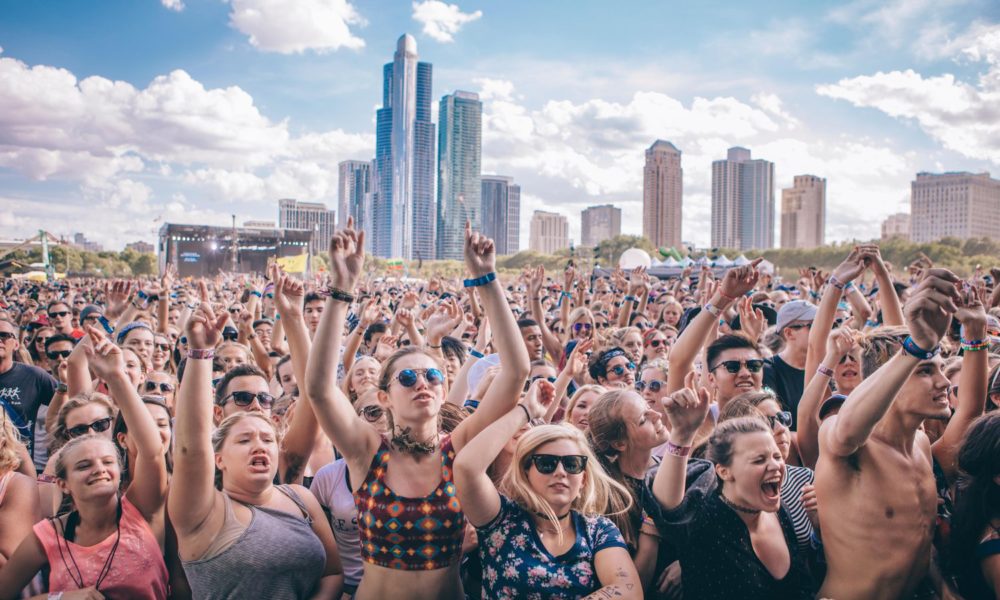 The festival that everyone talks about is only days away. Many of the attendees will be returning customers, but for some, including myself, this will be a first. Being given the opportunity to cover the prominent event with a camera is only icing on the cake. One glance at this lineup flyer and you head will be spinning. The genres offered provide a wide range of music from electronic to rock to hip hop to even pop. Some of the big names most people will know. You may even know the first 3 lines down. This list of 13 artists/bands were chosen to highlight artists you may not know and you definitely should.
Below you will find a brief description of each artist, along with their set time and a sample of their work. Enjoy exploring what we think are going to be major players in the coming years.
REZZ: Ukrainian born, Canada bred music producer and DJ has been on fire ever since she released her "Insurrection" on NEST HQ back in 2015. Her glowing spectacles that she wears on stage are worth your time alone. Then, you add the music. I will let it speak for itself…
Set: Thursday 715-815pm on Perry's

Ghastly: David Lee Crow, better known by his stage name, Ghastly, goes one step further than the next artist out there. He released his album, "The Mystifying Oracle" was released back in early May. That is going to be the place to find out what he is all about.
Set: Saturday 445-545pm on Perry's

k?d: The once mysterious, still impressive Florida bred music producer and DJ continues to push the barriers. k?d (pronounced kid) has played some massive festivals including EDC Vegas, DayDream, Sunset Music Festival, and more. Dive into his selects playlist below.
Set: Saturday 230-315pm on Perry's

Big Wild: With contagious singles like "When I Get There" and "Aftergold", there is no telling what Big Wild is capable of. "I want to communicate a feeling, I want to inspire people with a new kind of song they haven't heard before, one that truly pushes, and erases, boundaries." Dig in…
Set: Friday 515-6pm on American Eagle

A R I Z O N A: The band that has grown at a rate close to the states last census check in, will be hitting the stage after coming off a sold out MADISON SQUARE GARDEN show with Panic! At The Disco. This trio will sweep you off your feet with "Electric Touch."
Set: Friday 245-345pm on Bud Light

DROELOE: Head over to The Netherlands to meet this powerfully artistic duo who has already performed at EDC Vegas, Bonaroo, BUKU and more. Now they will be taking the stage at Lollapalooza and you are not going to want to miss them. Dive into their soundscapes and catch them on Saturday!
Set: Saturday 745-830pm on Tito's Handmade Vodka

Herobust: Hailing from the great southern city of Atlanta, GA, Hayden Kramer, grew his dirty south hip hop instrumentals into something with raw soul. He knows how to deliver on stage and the crowd and we can't wait to see him rock Lolla.
Set: Sunday 4-5pm on Perry's

Medasin: Grant Nelson has created a name for himself by being able to go from releasing bangers to chill and vibey records. His remix of "Feel It Still" by Portugal The Man flexes that chill side. Expect the unexpected during his set on Sunday.
Set: Sunday 8-845pm on Tito's Handmade Vodka

EKALI: Canada DJ and Producer born Nathan Shaw, is last on our list. The ironic part is that he has been making so many waves over the past year. He has played most of the big festivals and Lolla is just another step on the ladder. Watch what happens when you stick him in a room and let him do what he does best.
Set: Sunday 2-245pm on Perry's

Comments
comments