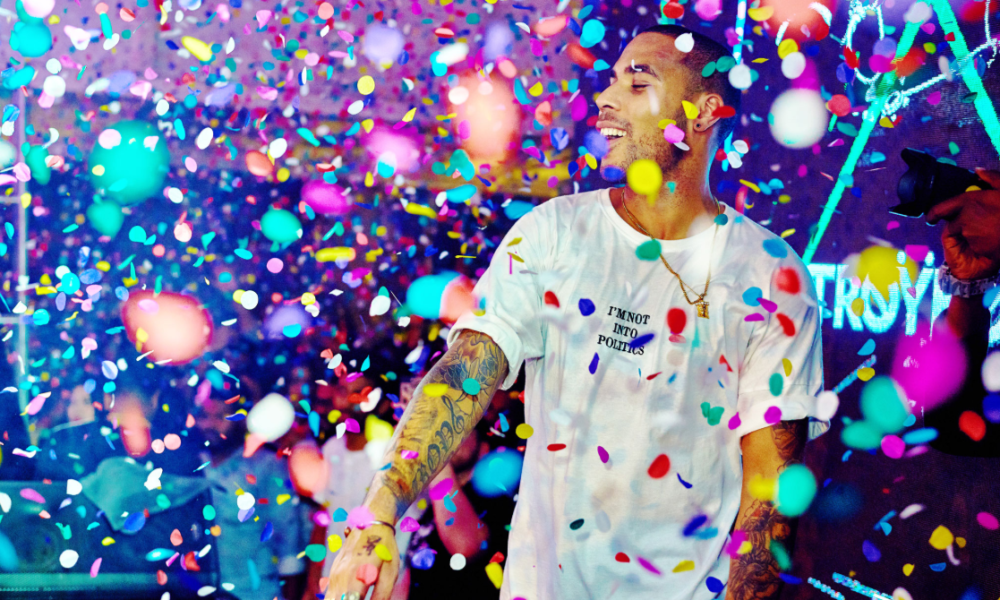 We are here in the CFE Arena at University of Central Florida for Odesza's A Moment Apart World Tour. We have UK DJ and record producer Troy Henry aka TroyBoi with us to talk about his production process, his mom's superior cooking skills, and what the future looks like for the rising star. You will also find his recently released EP, "V!BEZ Vol. 1" for streaming below. See his remaining (announced) tour dates for the rest of 2018 at the end of the article.
TroyBoi – V!BEZ EP | Download |

In an interview, you mentioned your mom is an "insane chef." What's your favorite meal that she cooks?
She makes an incredible vindaloo (a type of curry). It's like a Pan-Asian, Indian Asian and Chinese Asian all combined. At the same time, she has learned to pick up recipes from my dad who is Nigerian.
Last month, you checked off Coachella. What are 3 tips you would tell a first time performer?
Prepare a good ass set. The festival has a lot of respect and you want to make use of your time to deliver a great performance. Come with good positive vibes. Lastly, make sure you're wearing something fresh.
Would you recommend attending Coachella to someone who hasn't been? Why?
I would absolutely recommend Coachella as a festival people should attend. The people are friendly, the music selection is diverse, and if you are into seeing celebrities, you will find them roaming around in the crowd.
Word on the street is that you produce your songs in your kitchen. Do you ever produce when you are on the road?
I do, but only if I am in one place for three or four days. I need to be able to create that vibe. I don't like to spend 30 minutes making a beat. Wherever I make a tune, I want to have that memory of being in that place and creating that vibe. Remembering what it was like when I was there making it.
Where have you played before that you would want to tour again? Why?
China and Asia in general. The crowds there are insane. I feel pretty dumbfounded when I go there and get all this love and respect. They will come outside the hotels and the airports.
We heard that you might be working on an album in the coming year. What can we expect in the next couple of months?
There will be some visuals coming out. A lot of new music be released soon. I just released my EP "V!BEZ", which is volume 1. You can expect a volume 2 to be releasing in the near future!
TOUR DATES 2018
FRI 6/15 Quincy, WA Paradiso- The Gorge Amphitheater
THU 7/5 Dallas, TX Camp Nowhere Dallas
FRI 7/6 Houston, TX Camp Nowhere Houston
SAT 7/7 Austin, TX Camp Nowhere Austin
FRI 7/20 Denver, CO Global Dance Festival Colorado
SAT 8/4 Los Angeles, CA HARD SUMMER Music Festival
SUN 8/5 Chicago, IL Lollapalooza
SAT 9/1 New York, NY Electric Zoo: The Big 10
"Follow" TroyBoi : | Facebook | Twitter | Soundcloud |
Photo credit: Jatin Ghandi
Comments
comments