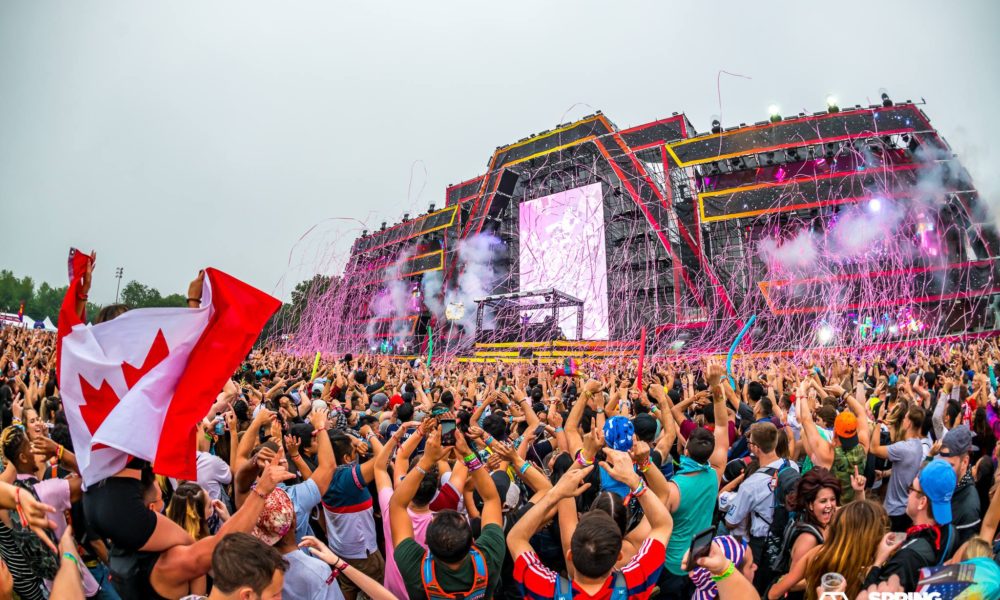 Spring Awakening in Chicago was a great time last week. It was actually my first time at SA (3rd time in Chi-town). I didn't know what to expect except that I was in for a good experience. Let me tell y'all about what I saw and heard!
Day 1
AC Slater rocked it early. He played a God's Plan Remix, Chicken Soup Remix and his collab with Tchami from a few years ago. Alison Wonderland was dope. Seamlessly going from track to track; her hands were always near the decks to limit any mistakes. Played a range of Trap, Bass House and Dubstep. A-Trak was insane with an assortment of Trap tunes that hit hard along with his scratching. I like the classic hip hop mix with The Ruff Riders DMX and Move B Get Out The Way. Of course he played his patented Heads Will Roll Remix. Oliver Heldens dropped a Hustlin remix by Rick Ross mixed with Polkadots Oliver Twitz remix. Renegade Masta still sounds so good and banging. I liked how he used effects to transition from that tune to How We Do (Raffa Remix). Zeds Dead did the first play of Skrillex remix of The Island at the fest. Classic stardust that turned into HiLo tune into chicken soup. Amazing to hear them start heavy then turn the festival stage into a club with groovy house music. Then they go back into heavy shit then go back into House! They like it massive and funky. Strobe dnb remix to finish the night.
Day 2
I started my day by going to church, BTSM's church. Tunes I heard were Shadow City by Ghastly, Herobust's Vertebreaker remix, Kuuro Knockin, and their original mix of Zombie. Prok & Fitch we're a new name for me. They weren't even on my list of artists to see but I was captured by their sexy House mix. Don't Stop Rodrigo Laffertt Remix, Luv Dancin by Green Velvet and I Can Feel Chance Caspian remix were just a few tracks I heard from their outstanding set. My friends and I headed back to main stage for a drink and got to see 3LAU. He played an eclectic mix of Trap, Dubstep, electro and DNB. Afrojack surprised the hell out of me. He played This is my City everybody know, Post Malone Congratulations remix, a No Beef bass house remix, Moombah Remix, and he even played his Take Over Control Tune! Flux Pavilion was next on our list. He played an assortment of bass music including i can't stop and a collab with Nghtmre. Sasha and John Digweed was one of the sets we finished our night with. I definitely was lost in their set. It was mesmerizing, such fluidity in the set, using the CDJs to their extent. It was a sound to behold and that's why they're legends. Big Gigantic played a variety of Funkstep to Midtempo Electro House. I heard a new moombahton like track from BG and their new collab with nghtmre rocksssss. Bring the Funk Back BG original. It's the 3rd time hearing Chicken soup but i liked that it was mixed with Cudi's Day n Nite. Snails collab. Logic Roses collab Take All of Me.
Day 3
Birthdayy Partyy played a dope set of electro, dubstep, trap and everything in between including an edit of everybody in the club getting tipsy, get your freak on by Missy Elliot and Fergie London bridge. Slander is always a good time. They played We like to party trap remix and Biterz by zomboy. Next up was Baauer and he did not disappoint. Roll up the grass remix, higher ground hardstyle like remix, and a remake of Dum Dum was what I got to hear. Seven Lions started with his original Creation, walking on wire, collab with ktn, A&B Peace of Mind mixed with a hard remix of Core RL G and his collab with Jason Ross higher love. Porter Robinson couldn't play a Virtual Self Set due to stage production issues but he still kills it as a DJ set. Easy, divinity, what you think that we think is cool trap banger, Flicker, eazy e bass house remix, Language, say my name, nero porter remix, fellow feeling, gaseffelstein, and right after shelter he finished with sad machine happy hardcore remix. Deadmau5 started off with sick progressive house tune mixed with i remember vocals, ancient way Lewis fautzi mixed with old Deadmau5 tune not a rocking house tune, imaginary friends, my pet colecanth, 4+4+4 12, moar ghosts n stufff, strobe.
Overall it was a nice blend of music being played. I had fun all around the festival. The best set for me has to be Sasha/Digweed. I came in their ready to dance and I left with a determination to make my way to their b2b sets every chance I get.
Comments
comments