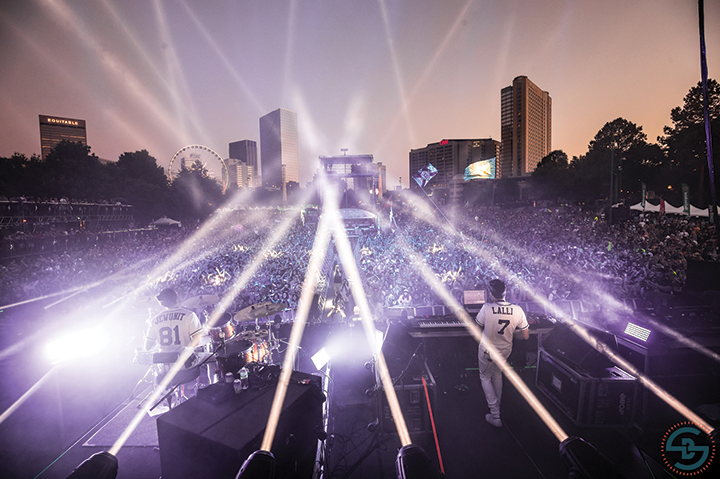 This year at Shaky Beats the lineup is impressive. From three strong headliners: KYGO, Marshmello and ZEDD to special acts like Ludacris. We wanted to help you figure out your schedule beyond the obvious big names. The 7 acts we have chosen are: k?d, Bonnie x CLYDE, HALOGEN, Will Clarke, Parker, Kidswaste and Louis Futon. If you haven't gotten tickets yet, you can grab yours before they sell out here!
The once mysterious DJ and producer, k?d, has become quite the world traveler. He just got done with a tour through Asia and is now set for a massive summer festival schedule. He is set to play EDC Las Vegas, Sunset Music Festival, Bonnaroo, Lollapalooza and more. Check out his Selects Spotify playlist out below and see him from 5:00-5:45pm on the Piedmont Stage this Saturday May 12th.
Next up we have Bonnie x Clyde who literally destroyed it when they came through Atlanta to play at Opera Nightclub. I have not seen that club so packed and so wild since I moved here a little over a year ago. They are playing the Ponce De Leon stage from 6:15-7pm on Saturday May 12th. Check out my favorite song from them, "Bass Jam."
Atlanta's got some heavy hitters and the duo HALOGEN is at the top of our list. Consisting of Alex Dunsker and Josh Taylor, the Atlanta natives have been bringing out all the stops with their contagious house tunes. They recently launched an event series titled HOUSEWERK that has sold out 6 consecutive shows. They are about to sell out show number seven but you are in luck. You can grab tickets still here. Catch them on the Ponce De Leon stage from 2:30-3:00pm this Saturday May 12th.
We have to take a hop, skip and a jump over the pond for the next must see artist. British DJ and producer Will Clarke also came through Opera Nightclub recently and man did he bring the house vibes. This guy is known for "Doing It For The Cuddles" and his sets are full of just that. You can catch him on the Piedmont Stage from 2:30-3:15pm this Sunday May 13th. Watch his live set from Printworks London.
With only 3 acts remaining, we must hit the latest up and comer to destroy the festival circuit. He must have a good team behind him, because he has been making very quick moves to the top of the flyer. Parker is on the Criminal Records stage from 3:00-3:45pm this Sunday May 13th. Be there.
We had back over the pond to listen in on what French producer Kidswaste has cooking. This young talent has a bright future ahead of him and if the songs below don't hit you in the feels, I don't know what will. Catch the vibes on the Peachtree Stage from 2:30-3:30pm this Saturday May 12th.
You know we always save the best for last right? This isn't usually true, but in this case it just might be. Philadelphia native DJ and producer has been at a speedy uphill climb since he signed, "Wasted On You" on Odesza's Foreign Family Collective. The viral hit features the lovely ROZES who crushed her topline. The drop section is really what makes the tune though. Catch the unique rhythms at the Ponce De Leon Stage from 4:45-5:30pm this Saturday May 12. You can listen to his discography below. See you at Shaky!
Comments
comments