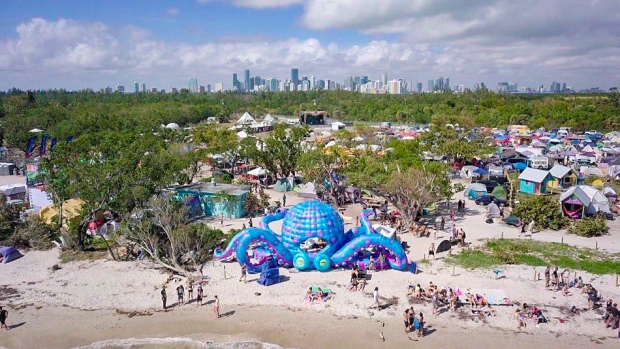 Fractal Beach, where do I start? The first festival of the year for many and they sure did set the bar high. Smaller festivals always have an appeal that larger ones are missing. Fractal Beach embodies everything a smaller event should strive to be. Bigger doesn't always mean better; if anything, some larger fests could take some pointers. The time and energy spent putting this together did not go unnoticed. Everything was on point; the lineup, the production, the art, the food, the people.
I personally can't think of a better spot for a festival, Virginia Key Beach Park is perfect. For a venue on the smaller side, there's still plenty of exploring to be done. The late night into early morning kickbacks on the beach featuring breathtaking Florida views were like no other. If you weren't feeling Dr. Bronner's Magic Foam Experience, you were probably happy to find that the venue has actual showers too and they're free! If you opted out of both; there's nothing a cool dip in the ocean can't fix. Seriously though, having the beach right there was something else. Not one of those fake beaches on a little lake or pond either, we were chilling in The Keys drinking fresh coconut water!
So much goes into compiling a lineup of compatible, lit artists to play an event. It seems the trend as of recent is to book one name you know people will come see. As opposed to putting any thought into the undercard or worrying about the general flow of sets. Then you have companies like Massive Ideas that genuinely value who's billed, albeit the headliners or the names in fine print. I knew they had something special when I saw they dropped but there's no way I could've prepared myself for such a dope weekend of music.
The madness started on Friday evening with Nocturnal Status who threw down one of the most bananas sets I've seen in a brick. The dude kicked the night off proper and warmed up the Fibonaci stage for Keota, kLL sMTH and Esseks to come through and do their thing. kLL sMTH is a spectacle on the decks, if you've never witnessed him scratch, I highly recommend. The after hour moves on the first night were on point, i.e. that Dubday sermon on the Beach stage. There was a solid four hours spent in one spot getting down with The Reaver, Rest in Pierce and DiceMan. Friday night ended up blending into Saturday thanks to these dudes but I ain't even mad.
Sometimes the food vendors at festivals don't get enough credit. I don't know if I would've made it through the weekend without those Heady bowls from Free Lovin Foodery. The amount of vegan, vegetarian and just overall healthy options they had to choose from is admirable. Before Fractal Beach I don't think I had ever heard of Mochi, now I can't get enough of it. I owe this in part to the vendor selling it but mostly to the Third Eye Pine Cone people for buying boxes and giving the Mochi away.
Speaking of trying new things, Fractal Beach introduced me to a few musicians I wasn't hip to that I absolutely love now. A band called Higher Learning had me all the way taken back. To be completely honest, I'm not the biggest fan of electronica but the show they put on was something else. The production was bar none and if you took a look back at the people on the sound stage you'd understand why. Needless to say, they were behind the scenes cooking.
Another pleasant surprise was a collective that goes by Ultrasloth. From my understanding the group is different combinations (depending on schedules) of Duffrey, Biolumigen and kLL sMTH. This go around we were blessed with Biolumigen spinning and the one and only kLL sMTH scratching. The energy for this was insane, easily top three moments of the entire weekend. If you weren't there to bare witness, not to worry, Ultrasloth is currently on tour with Bricksquash (who also threw down a bonkers set at Fractal Beach) and probably coming to a city near you.
There was so many dope shows throughout the weekend, I even caught a couple of my favorite sets from artists I've seen multiple times. If you've never heard of Choppy Oppy, it's time to do some research; the DMV native has been making big moves. Which is no surprise, if you've seen a live set with Fractal Axel ripping the guitar, you know the deal. Big up to both of them for coming out and killing it, through the rain and all! Another guy I've seen a fair share of times that showed out at Fractal Beach is the homie, Levitation Jones. He may have thrown down one of the most requested sets of the weekend. I could sit here and talk about it but I think this link will do you more justice.
So to wrap things up; the food vendors were on point, all the other vendors were popping, the music was dank, the people were amazing… Oh yeah and all of the art was bomb; the visual artists, the live painters and the fire performers alike. Fractal Beach brought out one of the most talented groups of live painters I've ever seen. Witnessing everyones different artistic visions merge into one on a collab is something special. Truthfully the entire weekend was nothing short of amazing, it's beautiful how everything seemed to come together so flawlessly. My first experience at Virginia Key Beach Park was everything I expected and then some. I can say that I will without a doubt be returning to Fractal Beach next year. Drop a like on their social medias to make sure you stay in the know!
Fractal Beach Facebook/Instagram/Website
Comments
comments