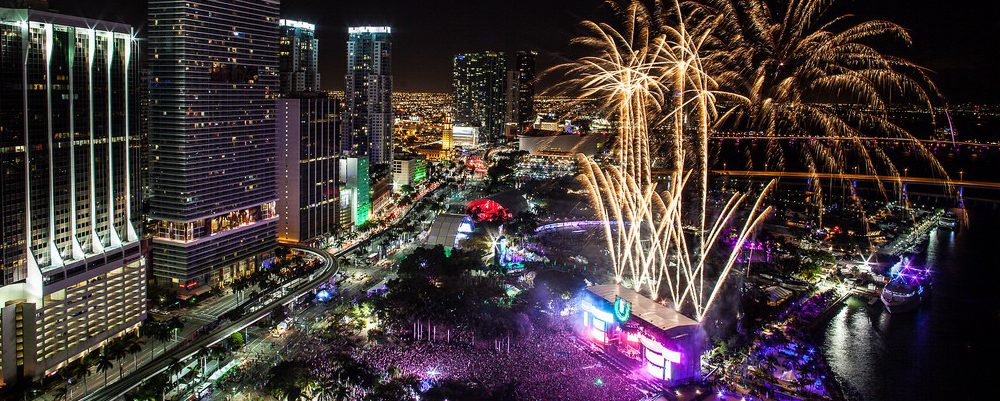 It's officially crush time for everyone heading down to Florida next week for Miami Music Week 2018. With lineups for the boatload of pool parties and events taking place each day beginning to get revealed, it's time to start planning your chaotic week because as we all know, Ultra's 20th anniversary is going to be the easy part. (Until those set times drop.)
There are simply too many events to choose from with most overlapping with others making precise planning the essential key to success. Trying our part to make your life somewhat easier heading into next week, we compiled a list of a number of events we highly recommend attending so your MMW 2018 is one for the history books. *sold out events have not been featured for obvious reasons, you snooze, you lose.*
Now before we dive into things, for all those look to minimize spending during the madness, the NU Takeover will be taking place once again with free parties taking place all week long featuring some of the hottest names in the game. To RSVP, click here.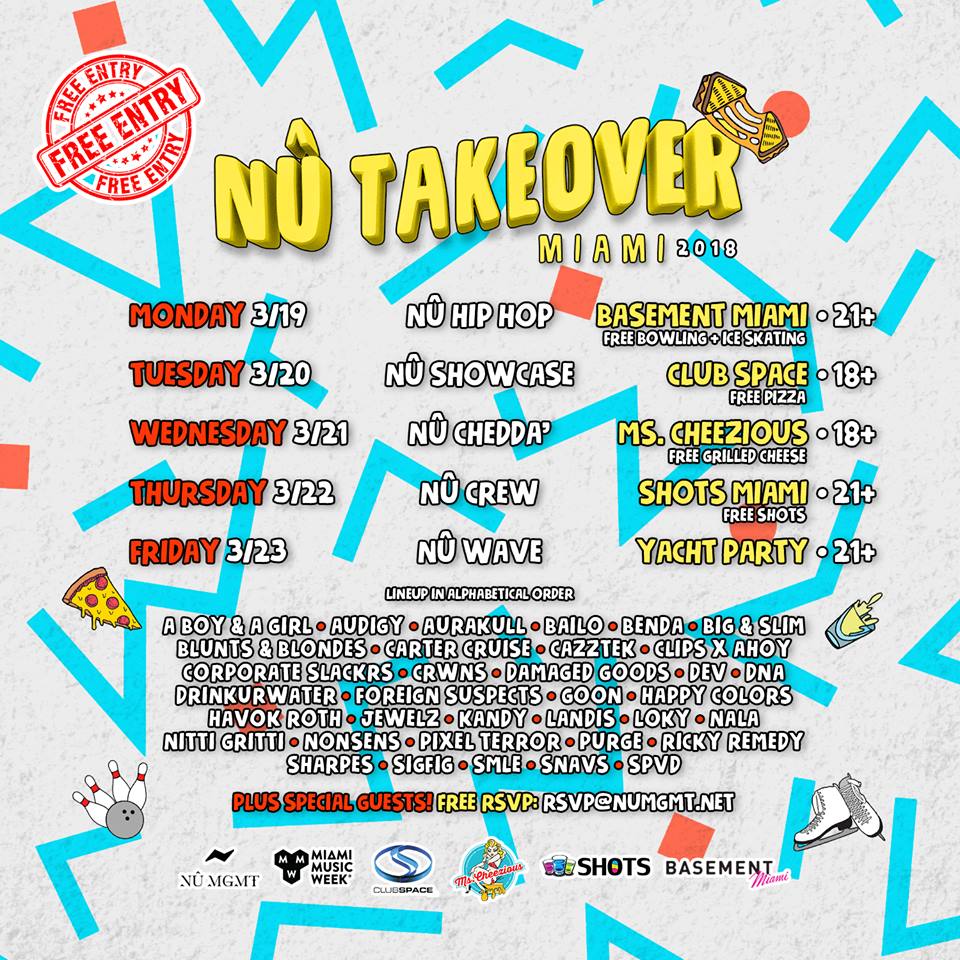 Wednesday 3/21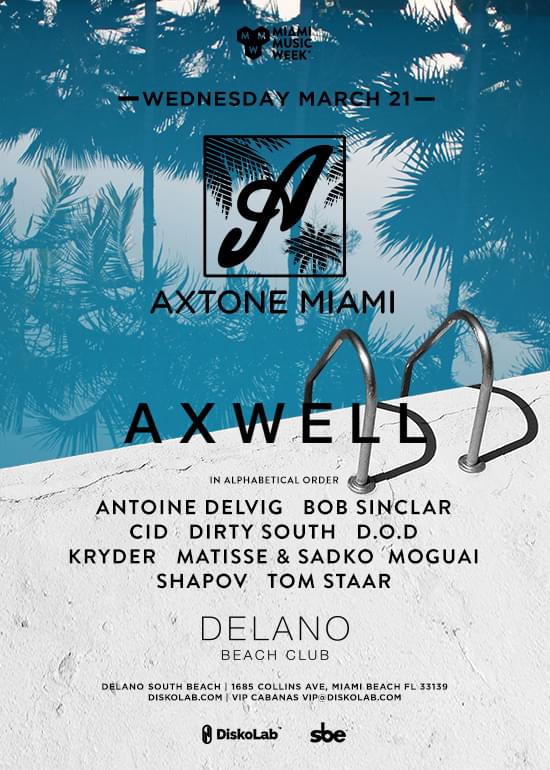 Axtone Miami 2018

Venue: Delano Beach Club
Starting off 2018 scorching hot with a handful of fiery releases out of the gate, Axtone will be holding yet another poolside showcase featuring a handful of the imprints extended family both new and old with a very special solo set from Axwell serving as the cherry on top.
Heldeep Vs. Monstercat
Venue: Soho Studios
A clash of the titans will be going down Soho Studios Wednesday night with Heldeep and Monstercat going toe-to-toe with one of the most eclectic lineups you'll see all week. If you're looking to spice things up to start things off, this is one show you don't want to miss. I mean come on, look at that lineup!
Disciple Miami
Venue: The Hangar
For all you bassheads out there, the chaos starts early with Disciples showcase taking over The Hangar with a barrage of bass courtesy of some of the wildest back-to-backs we've ever seen on paper. Womps and wobbles coming from both household names and fresh faces, consider this bass lovers paradise.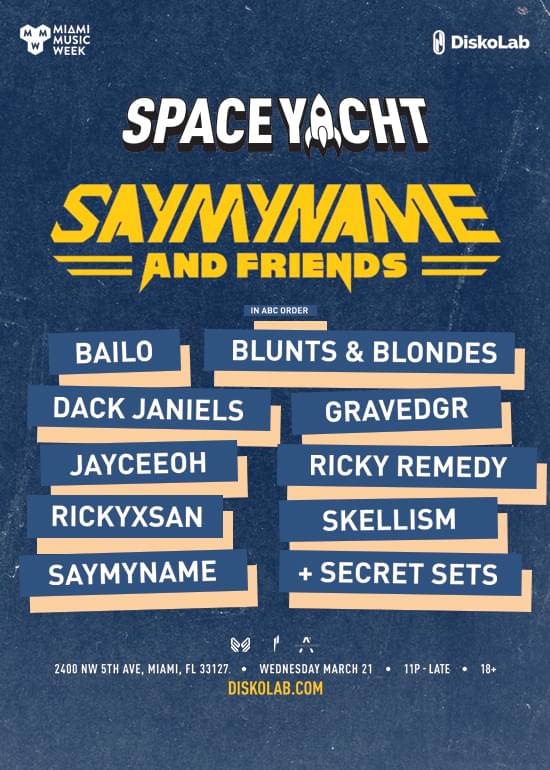 Space Yacht Presents: SAYMYNAME & Friends 2018

Venue: C & L Warehouse
Our friends over at the Space Yacht will be hosting a bass fueled showcase at C & L Warehouse with a lineup of producers that continue to push the genre of bass music forward. Plus, a handful of secret sets? Don't miss out.
Thursday 3/22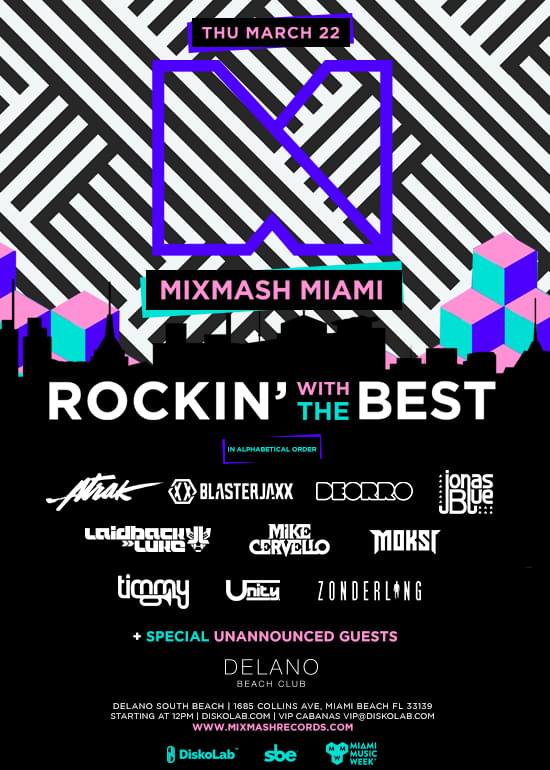 Mixmash Miami 2018
Venue: Delano Beach Club
Talk about a star-studded affair, Laidback Luke's esteemed Mixmash showcase will be going down Delano Beach Club you'll surely be "Rockin' With The Best" with sets from A-Trak, Deorro, Blasterjaxx, and Moksi.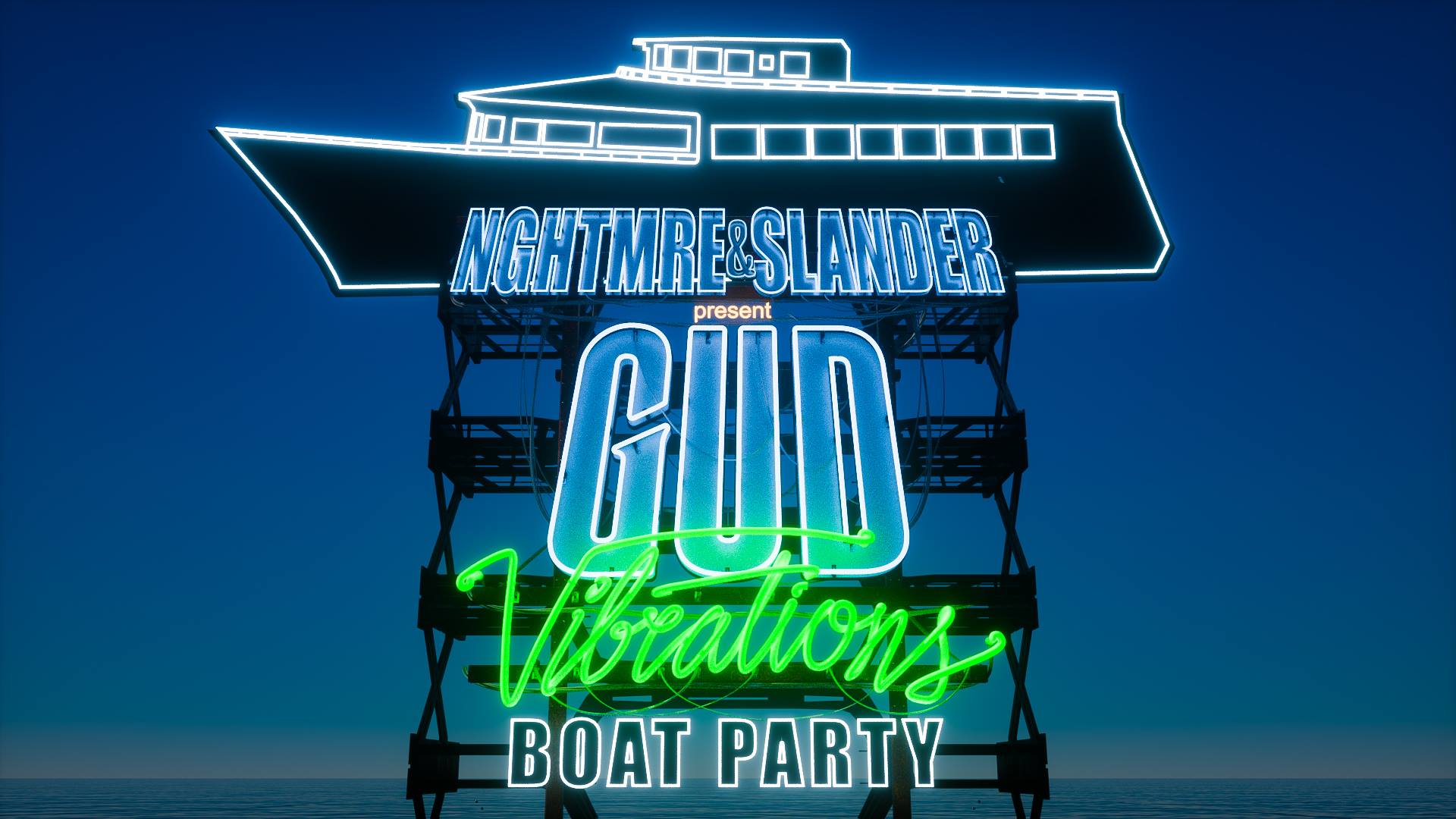 NGHTMRE & SLANDER Present: Gud Vibrations Boat Party
Venue: Le Musette
Get your towels ready; it's about to go down! NGHTMRE and SLANDER will be taking their "Gud Vibrations" out to sea for an epic boat party on the luxurious Musette yacht. What's your MMW without a boat party? Mediocre at best.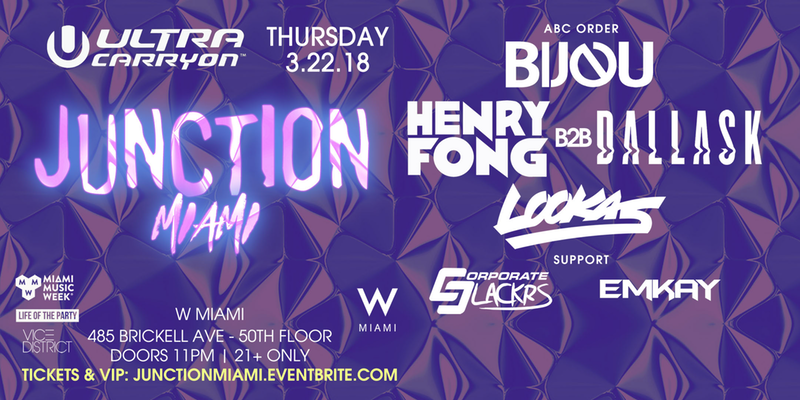 Junction: Lookas, Henry Fong b2b DallasK, Bijou, + More!

Venue: W Miami
TSS favorites Lookas, Henry Fong, DallasK, Bijou, will all be throwing down at the W Miami for everyone looking to heat things up before the Ultra festivities begin. Hey, Ultra doesn't start until for Friday, you'll have plenty of time to recover.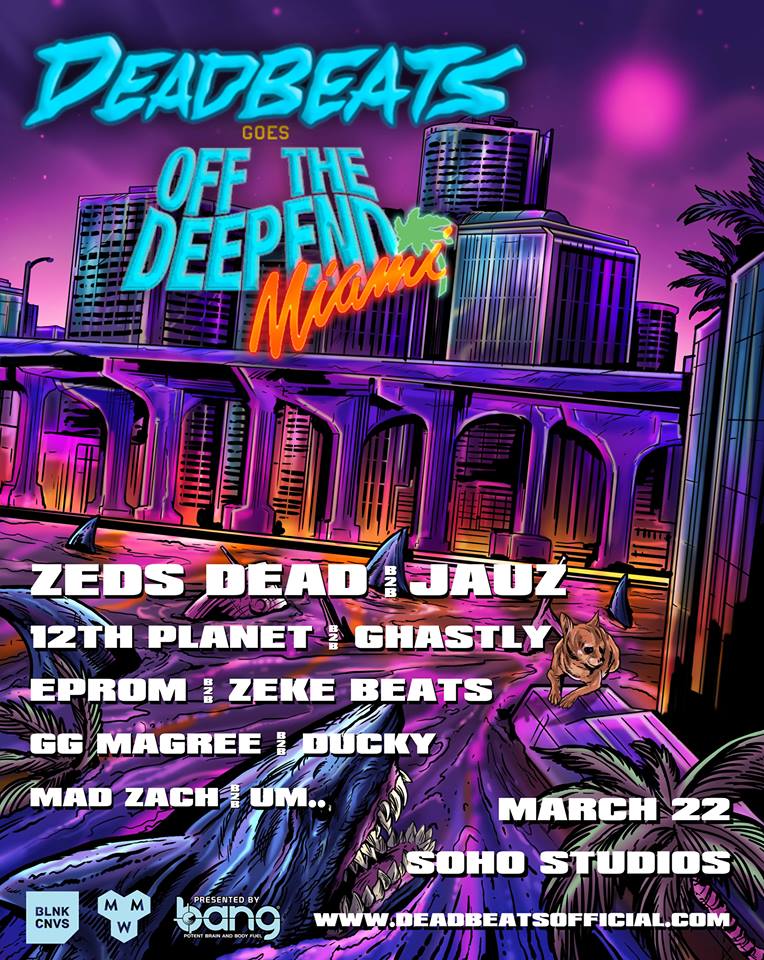 Deadbeats Goes Off The Deep End 2018
Venue: Soho Studios
Considering last year's Deadbeats showcase was easily one of the most memorable events last year in Miami, Zeds Dead aims to go bigger and better this year clashing with Jauz for Deadbeats Goes Off The Deep End! A night fueled by an unparalleled lineup featuring only back-to-backs, this bass behemoth is going to be one for the history books.
Friday 3/23
Corona Electric Beach
Venue: Shore Club Hotel
Free party alert! Corona Electric Beach and Insomniac Records are paving the road to EDC Las Vegas in Miami with a free party featuring Chris Lake, Mija, Will Clarke, Walker & Royce and whoever else decides to show up. With this one running all day, there is no excuse for you not to make an appearance…it's free!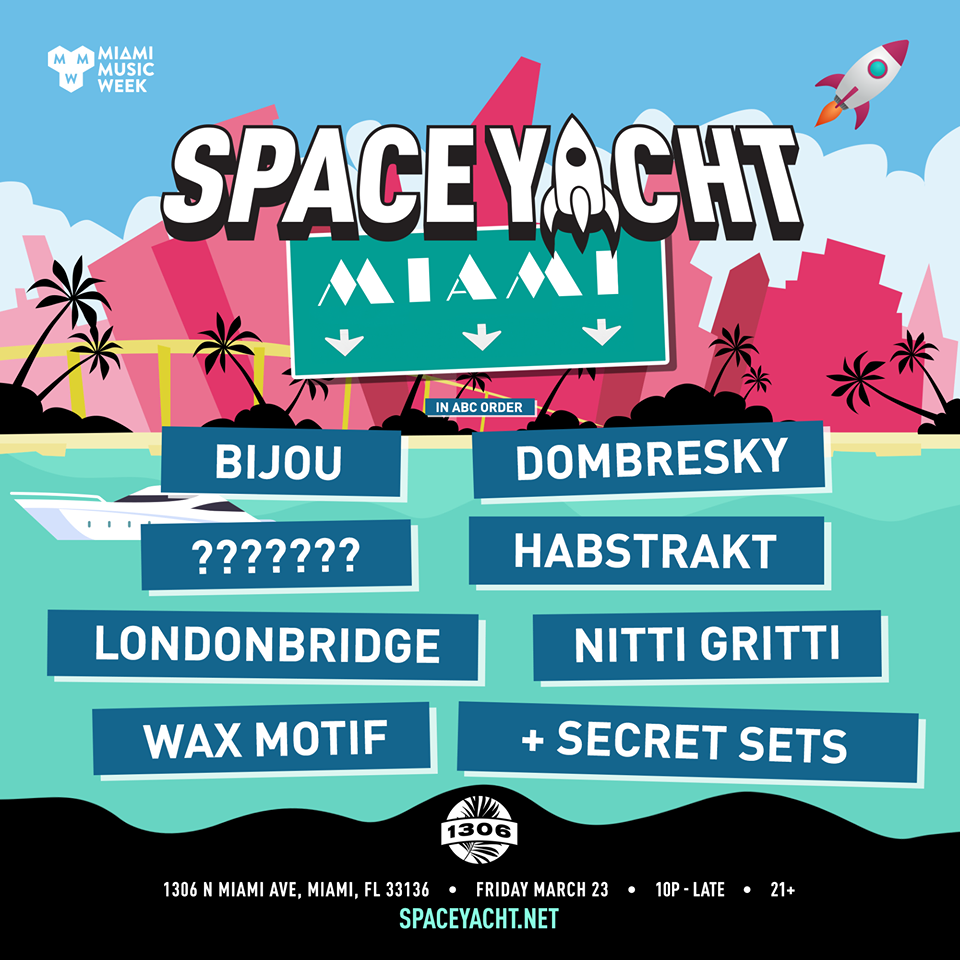 SPACE YACHT: MMW Takeover
Venue: 1306 (Thirteen O' Six)
Space Yacht may have switched up the venue, but you better believe they are still delivering a fully loaded lineup for yet another MMW Takeover. If you're still buzzing from Ultra day 1, this is one party that should keep the adrenaline pumping.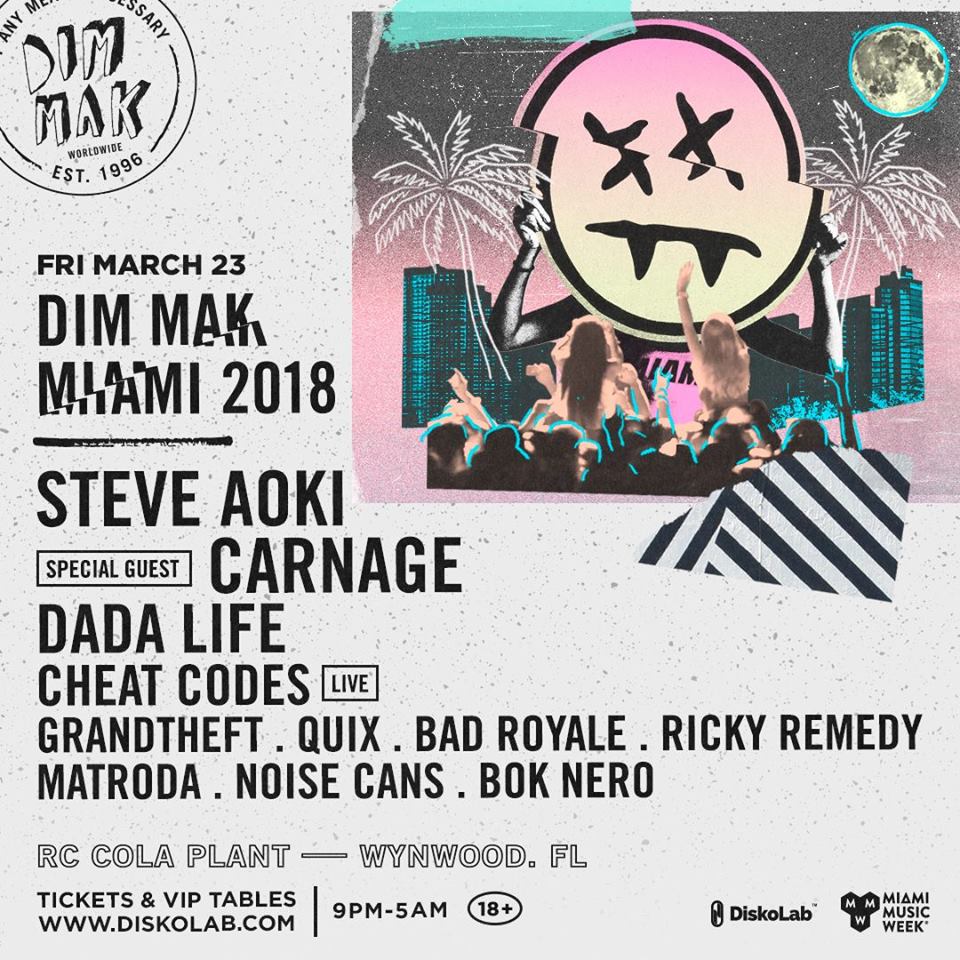 Dim Mak Miami 2018
Venue: RC Cola Plant
Our friends over at Dim Mak have decided to go above and beyond with their 2018 showcase calling upon the biggest names in electronic music to join the one and only Steve Aoki at the RC Cola Plant. Featuring fan favorites like Bad Royale, Noise Cans, Bok Nero alongside Dada Life, Cheat Codes and special guest Carnage, wild doesn't even come close to describing this bad boy.
Rezz + Malaa
Venue: Soho Studios
Reunited and it feels so good! REZZ and Malaa will once again be co-headlining an event this time in Miami to close out Saturday night alongside an eclectic offering of back-to-backs. If you're looking to take a trip to the dark side, it's safe to say REZZ and Malaa will get you there.
Saturday 3/24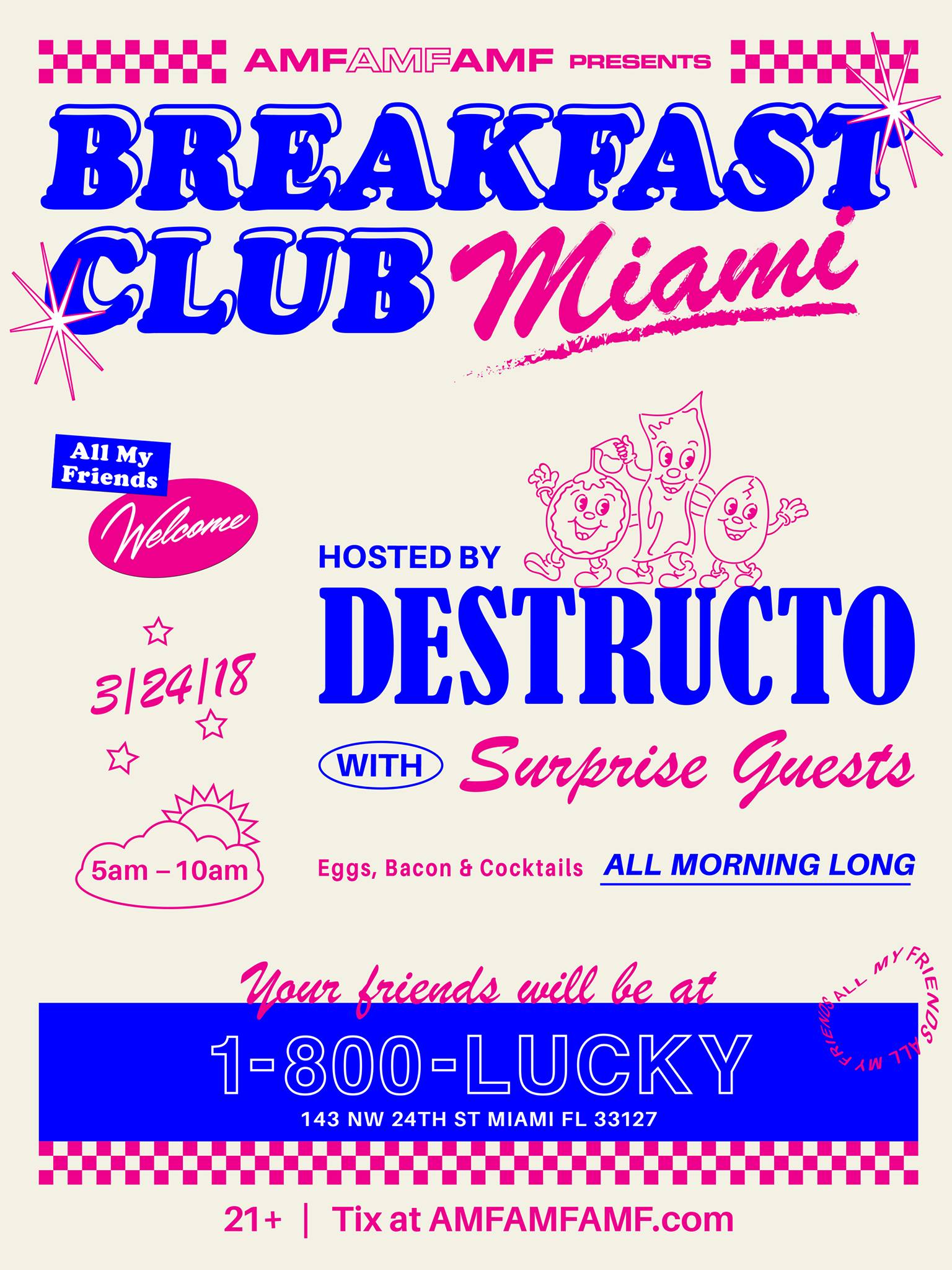 AMFAMFAMF Presents Breakfast Club Miami
Venue: 1-800-LUCKY
For all those looking to keep the party going until the sunrises, Destructo will be hosting a very special breakfast club that will feature a surprise lineup. Now we all know how much everyone loves, Gary so you can expect everyone (who is still up) to make an appearance. Hey, no one makes the trip to MMW to catch up on sleep.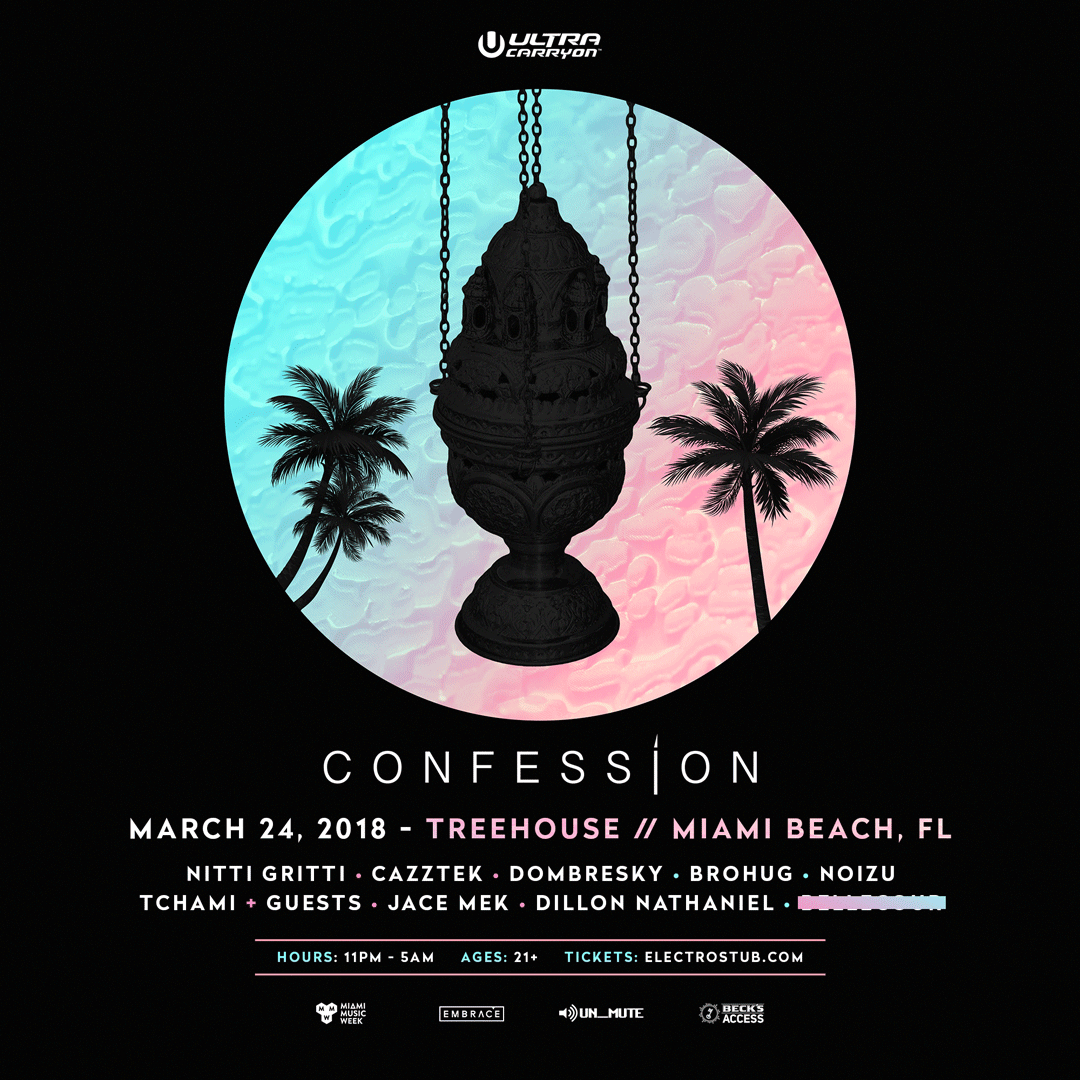 Confession Miami
Venue: Treehouse
Another TSS favorite will be showcasing their finest talent down in Miami, and we know you're not going to miss this one. Te house juggernaut has called upon Nitti Gritti, Cazztek, Dombresky, Brohug, Noizu, Jace Mek, Dillon Nathaniel, and of course Tchami himself to provide the soundtrack of that night. Plus, you throw some special guests into the mix…..epic turns to legendary.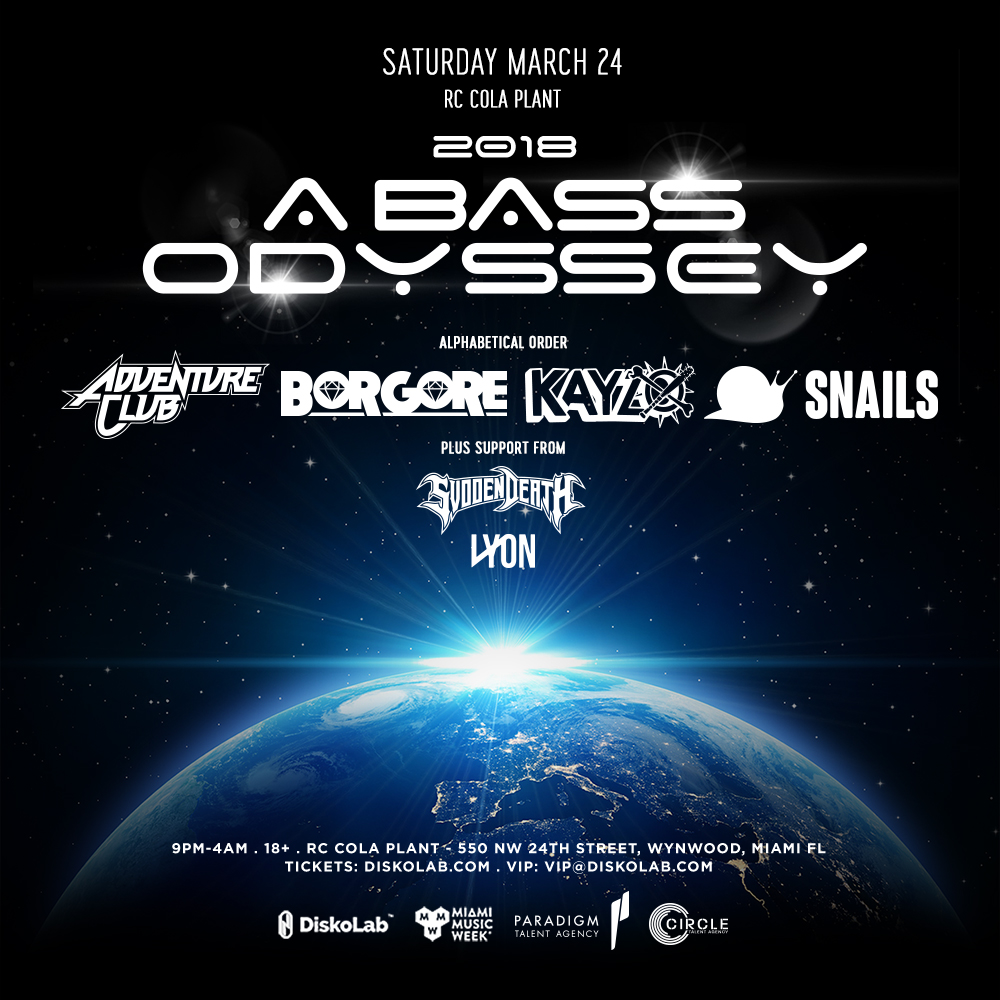 2018: A Bass Odyssey | Adventure Club, Borgore, Kayzo, Snails
Venue: RC Cola Plant
If you love bass, we recommend you take a bass odyssey with your captains Adventure Club, Borgore, Kayzo, Snails, Svdden Death, and Lyon. This bad boy might have been a late addition to the MMW madness but with a lineup that includes only finest talent in bass music, how could you pass up on this one?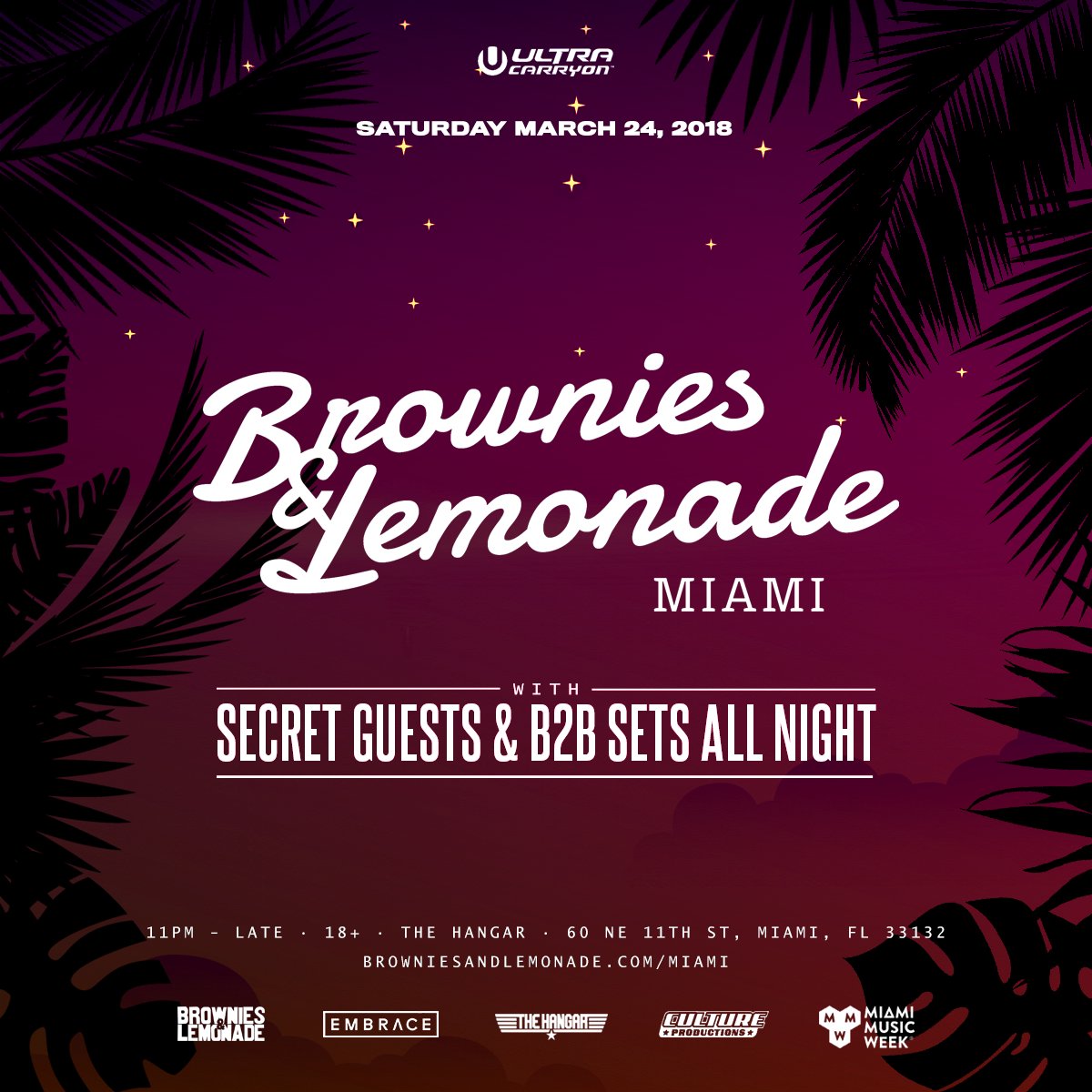 Brownies & Lemonade Miami
Venue: The Hangar
Becoming a true staple in the electronic landscape and even curating their own stage during Ultra Miami's 20th anniversary, Brownies & Lemonade's showcase at The Hangar is going to be the definition of what the kids call "lit." With special guests and a flurry of back-to-backs all night, this is sure to be one of the highlights of MMW 2018.
Sunday 3/25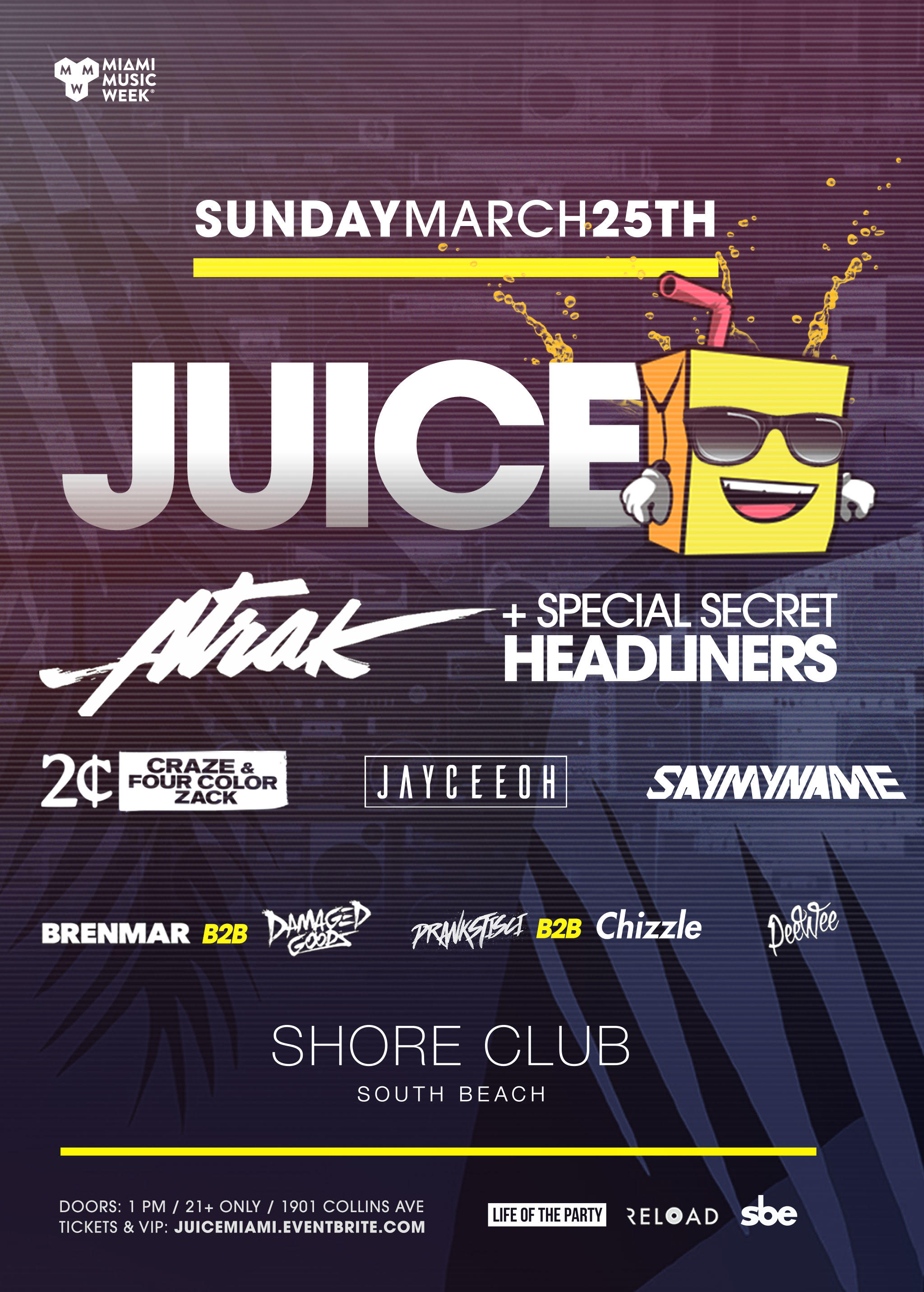 Juice Miami 2018
Venue: Shore Club
Another late addition to the Miami madness was Juice Miami featuring a lineup of strictly electronic icons who know their way around a pair of Pioneers. A-Trak, Mercer, 2cents (Craze & Four Color Zack) and more look to show all the youngbloods how things are done at Miami's Shore Club.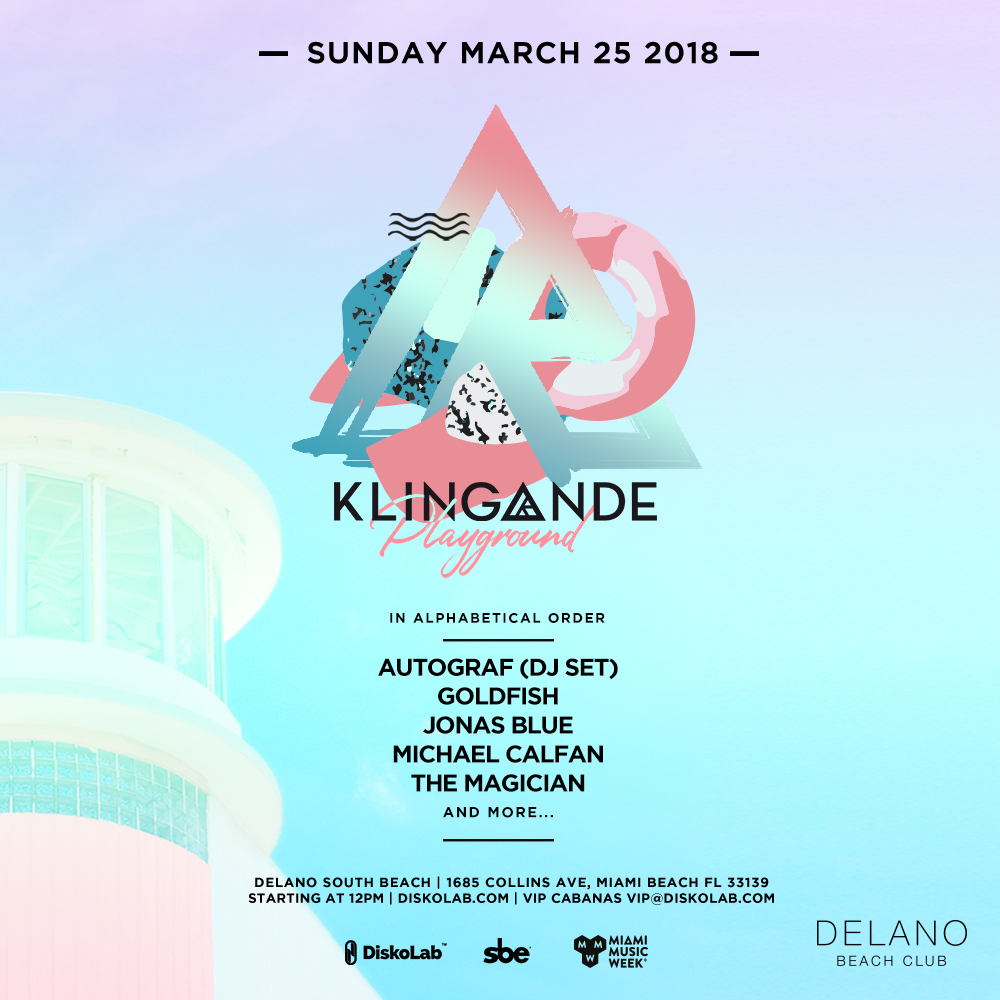 Klingande's Playground Pool Party 2018
Venue: Delano Beach Club
The perfect pool party requires the perfect sunkissed soundtrack and who better to deliver than Klingande. Delano Beach Club will turn into Klingande's Playground easing everyone into the week following all the MMW chaos.
Audien presents Feels Trip Miami w/ Special Guest Arty
Venue: W Miami
For all you progressive lovers out there Audien invites everyone in Miami a "Feels Trip" with special guest Arty at W Miami for a blissful evening. If you're looking for uplifting, euphoria, look no further.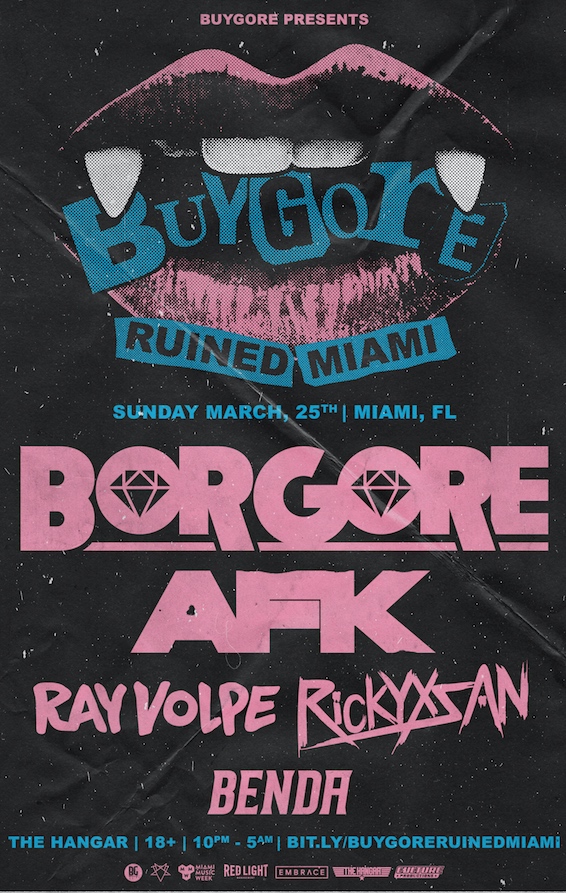 Buygore Ruined Miami

Venue: The Hangar
Saving the best for last, Buygore looks to ruined Miami (whatever is left of it) with a showcase featuring AFK, Ray Volpe, Rickyxsan, Benda and the man himself, Borgore. We're well aware you'll be running on fumes at this point, but there is simply no party like a Buygore party.
Comments
comments