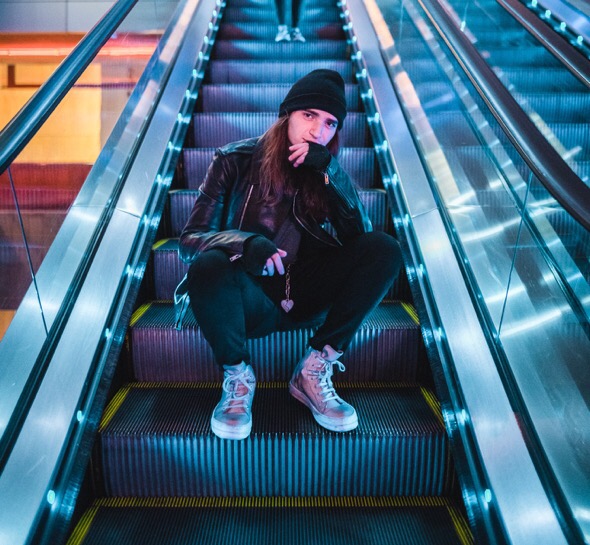 Y2K has been on a tear and is starting to draw attention with his heavy hitting, unique remixes. Having amassed over a million plays on more than one of his edits, I'd say his time is now. The Los Angeles based free agent recently hit the road with his homie, Ekali. The Canadian producer, who blew after receiving a writing credit on If You're Reading This It's Too Late. The two were also joined by Josh Pan and I was lucky enough to catch them in D.C. at U Street Music Hall. Shoutout to the dude for sitting down with us and answering a few questions. Press play on that playlist, find your new favorite Y2K song and get to know one of our favorites on the rise.
TSS: I always start with this question when I'm in D.C. but everyone experiences the city differently so I gotta know; how has D.C. been?
Y2K: We got a hotel because we haven't showered in like four days (It's been rough). None of us are gonna sleep in it, either – literally just to use the shower. They had these super lit cheetah print robes and me and Nathan (Ekali) took some wild ass photos in them. I'll send em over so you can embed.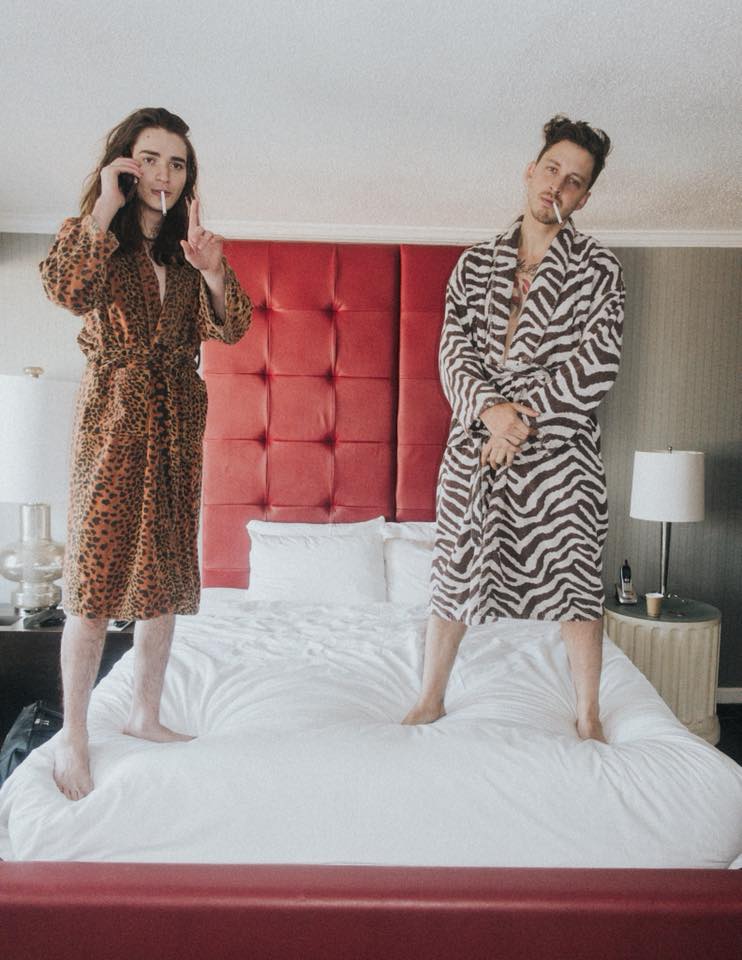 Sadly we didn't do any site seeing. I wanted to go to the Smithsonian, we really just didn't have time and we're leaving tonight. I haven't been here since I was 13 and I got the proper field trip, D.C. experience. We were sneaking out of our hotel rooms to try to make out with girls and shit – like real 13 year old stuff.
TSS: You're about half way through the tour how has it been so far? Is it your first time on the road like this?
Y2K: Sort of. Me and Josh get off on the 23rd so we're about half way done but Nathan and The Babylon Tour itself has quite a few more stops. This actually isn't my first tour like this – I hit the road with Brillz a couple years ago. That was super fun but this feels a little different because I have more of a following now. Nobody really knew who I was when I was playing on the Brillz tour. It was still a really cool experience, but this time it feels like people actually came to see me so the shows are more proper.
TSS: How was touring with Brillz compared to Ekali? Audience wise?
Y2K: Overall the crowds are similar – it's a lot of festival goers and just people who genuinely love music. The Brillz crowd was a more EDM eccentric and the Ekali crowd hovers between electronic and hip hop pretty evenly. I play a mostly hip hop set and it goes over well. Then Josh will play a mostly electronic set that also goes over well. Nathans set is somewhere in between ours, as far as electronic and hip hop go, and the audience loves it every night.
TSS: So in comparison, these two (Ekali & Brillz) have something like a vin diagram going on?
Y2K: Like I said, there's definitely crossover but the crowds are a little different. I saw more kandi at the Brillz shows then I'm seeing at the Ekali shows. Doesn't mean that it's not there, it's just more electronic focus on the Brillz end.
TSS: Any crazy stories¿ Which stop has been the most lit?
Y2K: Santa Ana was wild. It was like a 1500 person room, packed from the second I started playing. The energy was crazy – even with the technical issues. The CDJ was fucked up for my set which kinda sucked but the audience still went so hard. We had an issue with one of the cables that we didn't notice until like two shows in. Every time something would play from the left CDJ, it was 10db quieter than the right. That might not sound like a lot, but when you set a volume and then lower it, the energy of the audience goes with it too.
I knew something was wrong when I dropped my A$AP Rocky remix and it didn't go off. I cranked the volume and was like, "alright lets try this again." Channeled my inner rapper and just stopped the song and restarted it.
Anyway we threw out the cable and it's all good now, fuck that cord.
TSS: How has it been functioning with no manager?
Y2K: It's chill. I would say don't rush that shit because I'm assuming that other artists will read this. I think that having a manager is super dope if you find the right person and you need it. Unless you're working with someone who's doing more for you than you can do for yourself they're just taking your money. It's not easy to make money in music so that shit is valuable. At this point I'm fortunate enough to have a decent amount of inbound offers. I'm kinda just waiting to find the right person to take things to the next level, I don't wanna just hop onto whatever situation blindly.
TSS: Who are some of your favorite producers or artists in general right now?
Y2K: Elliot Smith, not a producer but he's my favorite artist. Cashmere Cat is one of my favorite producers, he's amazing. Clams Casino, also amazing. Im trying to think of who I really look up to. Metro Boomin is fucking wild.
TSS: Do you mess with a lot of the ATL hip hop scene?
Y2K: I actually worked with a really dope rapper when I was in Atalanta like three days ago. Yung Bans, he's lit. Nessly is my all time fav ATL dude. He's a great friend of mine and so fire.
Aside from ATL, Ski Mask is probably one of my favorite new-er guys in the scene. Recently I linked up with a rapper from toronto named Killy, he's amazing. All of these guys are blowing up right now. they're the future.
TSS: What do you think about the state of the industry and the direction it's headed?
Y2K: It's interesting, there was a point in time between I would say 2011 and 2015 where SoundCloud was the biggest thing. Actually, I'm talking a little bit more about electronic music right now because for hip hop SoundCloud is the biggest thing. If you go on SoundCloud and just look at what's getting plays it's all hip hop, electronic music doesn't even stand a chance.
What's interesting is that after everyone got wise to the reposting your friends shit, it got insanely saturated. Now there's all these kids that have hundreds of thousands of plays and your feed is spammed with the same 15 tracks. A lot of those kids don't even have fans but they're getting blasted to millions of peoples stream artificially, super inorganically. Some of it's sticking but the majority of it isn't.
I don't want to say SoundCloud is dying but it's definitely different it's a lot harder to be a new artist and break on SoundCloud in electronic music. Rappers can still break on SoundCloud, but even then I feel like it's all Twitter and Instagram and they're just hosting music on SoundCloud. Everything is switching over to Spotify, and the weird thing is that it's sort of dominated by playlists. It's like we're right back at the radio stage of music. The only artists that really popped were the ones that were getting pushed to the radio. Now the artists that are really popping are the ones that are getting pushed to playlists. It's kinda weird, it feels like it came full circle.
TSS: Doesn't it seem like SoundCloud sold out?
Y2K: Ehhhh, I don't even know if SoundCloud is to blame for any of that. Things got really, really sus as far as the user base goes. You can join these automated networks where your song gets automatically reposted by these accounts. In exchange you've surrendered your account and anytime these other accounts post, it'll just automatically repost to your page. It's so inorganic that a lot of artists don't even know or like the music that they're pushing.
It's all a game to get clout, but it's not real clout! That's the funny part, you're getting a bunch of blind plays. The music might not even be good, you're probably not even retaining fans – you're just creating this illusion of numbers. So you can try to trick some label into backing you – it's real of weird. SoundCloud is a mess right now. Don't get me wrong there's still hella good shit on Soundcloud and I'm not trying to discourage anyone from making music. It's still a good place to post music, it's just a little bit different and I don't know the answer. I'm just kind of observing what's happening.
TSS: I know you have a super unique background, your mom used to have a music store and you used to be in the scene a little bit. How did you end up dropping trap bangers and not somewhere with an emo band?
Y2K: I was 16 in high school when I discovered Lil B – I was just coming out of only listening to death metal. I heard him for the first time and was like "what the fuck is this." I couldn't stop listening. It was the best shit – the antithesis of everything that I had been listening to.
Obviously I fucked with all the iconic hip hop songs growing up, like "6 Foot 7 Foot" etc. But the point where I got really really stoked on hip hop was discovering Lil B. Every single trope of hip hop, he's either playing into it super hard or he's just completely abolishing it. Not to discredit Young Thug because he iconic as fuck, but Lil B was the first person to come out wearing a dress and earrings and shit.
That was so cool to me. A complete slap in the face to all of the hyper masculine shit that you hear a lot. At the time, hip hop was pretty homophobic in lyrics, and meanwhile Lil B was like, "I'm a pretty bitch." Amazing. Anyway, from there I got deep into Flocka and A$AP Rocky and it just kept going.
I discovered Clams Casino through Lil B because "I'm God" was originally a Lil B track. Not sure how many people know that. The instrumental got bigger than the original. That's how I kinda got into producing, I think – finding out about Clams Casino. Him and Harry Fraud and all these dope hip hop producers made me want to start making my own beats.
Fast forward a bit – Found out about Flosstradamus in 2012 and I was like, "woah this is wild, it's like all of the hip hop that I listen to but it's self sustained. It doesn't need a vocalists, I can do this myself."
Immediately, I started producing seriously. I wanted something to show for my time. It was a slow process. for awhile I sort of made shitty knock off songs. It's hard to have good direction when you are still learning basic skills. But hey, after 5 years of refining I finally feel like my music is pretty good.
TSS: Track of yours you're most proud of, be it an edit or original?
Y2K: Honestly my best music isn't out but out of the stuff I have out probably my Uzi Vert remix.
TSS: If you could grab one artist, any artist (dead or alive) for a collab, who are you rocking with?
Y2K: Super ultimate dream collab would no doubt be Enya. I also want to work with Damon Alburn and Lana Del Rey…
Elliott Smith (I dont know if that would even sound good so I'm kind of hesitant). He's my favorite artist ever, though.
It'd be dope to have gotten the chance to do something with David Bowie, also.
As far as artists that I'm… fuck I don't want to spoil anything. I'm gonna get really lit features. Just trust me, they're coming. I don't wanna say anything and then not have it happen.
TSS: What are you looking forward to most about 2018? Collabs, eps or anything else major planned?
Y2K: I have a few really dope songs with Killy. Also there's a couple really cool covers that I've done with some of my favorite vocalists.
As far as my EP goes, Five or six tracks are pretty much done and just waiting on features. I'm holding off until I can get literally the most insane features. That's the only reason I haven't really dropped any original music. I just keep dropping remixes because I like playing them, I like putting out music consistently, and it's something I can keep doing easily. I grab existing vocals that are dope and flip them. I treat remixes like my version is the original.
TSS: You have anything to say to anybody? Fans? Whoever's gonna read this? Last words?
Y2K: Ummm.. fuck that's a hard question, hold up. Oh yeah, buy my merch!
For all of the Denver fam, you can catch the homie at Temple Night Club on February 17th. Grab your tickets here!
Y2K Facebook/Twitter/SoundCloud
Comments
comments