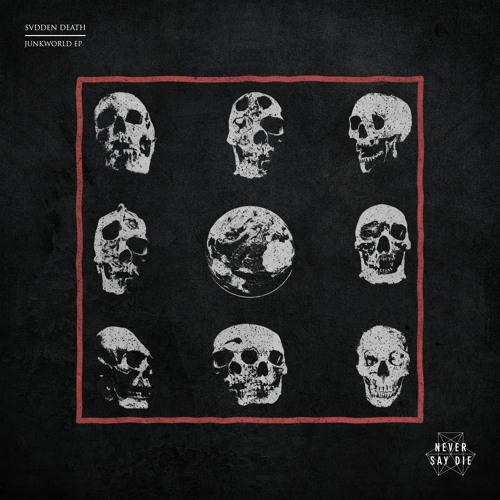 It's funny to think not too long ago many were preaching that dubstep was dead when in the grand scheme of things that was the furthest thing from the truth and here we are in with 2018 with the bass music scene thriving. The dubstep is alive and well thanks up promising talents like Svdden Death.
Swiftly turning into one of the hottest fresh faces in the world of dubstep and fresh off of a mind-blowing collaboration with the one and only Borgore, we had the opportunity to chat with the bass phenom to discuss his new "Junkworld" EP and to get to know him a little better. Check out our interview with Svdden Death below!
Svdden Death – Junkworld EP | Download |
TSS: For those who aren't familiar with Svdden Death, tell us a little about yourself.
Svdden Death: Not much to say really, grew up in the Bay Area and moved to Los Angeles after spending a few years working shitty jobs and learning how to produce. I started off making house and beats and hipster stuff. Started making dubstep a couple years ago. Met a lot of people sharing the same interest in dubstep as me through the internet and started learning from them how to DJ better and make more interesting music. 
TSS: How would you describe your music to someone who had never heard it before?
Svdden Death: Keep an open mind…
TSS: Who or what introduced you to the world of dubstep?
Svdden Death: Started listening to dubstep around 2008 when a friend of mine introduced me to some deep dubstep. Once I discovered guys like Skream and later on Rusko, I fell in love with the genre.
TSS: Have you always been into this genre of music?
Svdden Death: Pretty much, yes. Always paid really close attention to every artist and trend within the genre, even though I wasn't always interested in making dubstep when I was younger because I was really bad at it. When I started listening to people like Phiso, Samplifire, Uber, Midnight T, Code: Pandorum, etc I fell in love with the really heavy side of the genre and made it a goal of mine to make aggressive, high-energy music like them.
TSS: When did you start producing? Any musical background?
Svdden Death: Started producing in 2012 with some interesting choices for aliases. All my friends hated my music, it happens to everyone. I have a very large musical background, played in metal bands, an indie band, jazz band.. I was in marching band.. played mostly guitar, bass, and piano but learned a bunch of instruments thanks to the people I worked with back then. Can't play anything for shit now though, so remember to practice to keep that muscle memory if you like playing instruments.  I started the project Svdden Death in mid-late 2015.
TSS: You've had releases on Black Label, Buygore and now Never Say Die, how does it feel to have these bass
music juggernauts supporting your music?
Svdden Death: Amazing, and although these labels were my goals from the beginning when I first started "Svdden Death," the reality for me still hasn't quite set in. 
TSS: What was your inspiration for your "Junkworld" EP?
Svdden Death: Anxiety, anger, depression.. writing music is my outlet for negative emotions so I guess that's my inspiration as well. 
TSS: What would you say has been the most surreal moment of your career so far?
Svdden Death: Probably seeing a bunch of artists I look up to playing out my songs at EDC last year. Most notably seeing Ookay drop "Shut Em Down" by me and Yakz on main stage during a livestream I was watching with my friends. Couldn't believe it at the time. 
TSS: What is some advice you'd like to give to all those up-and- coming producers out there looking to take their career to the next level?
Svdden Death: Don't ever rush it. If you want to make music, be as broke as you can allow yourself so that you have more time to learn and work. Try and work with people that you can learn from, but don't be too afraid of teaching because you understand what you're doing more when you explain it to someone else. Don't be so negative, channel that into your music. Don't do drugs. Don't sell tickets to play shows. If you want to be a producer and not just a DJ, don't even focus on playing shows because you can wait it out. Most of the time and effort put into playing shows isn't worth it unless you really want to work on being a performer. Watch tutorials every day and don't act like you actually understand what you're doing ever, because there's a million things even the most experienced musicians don't know yet. Don't ever rush it. 
TSS: Now that the EP is out, what's next for Svdden Death in 2018?
Svdden Death: Making hella music and playing a ton of shows. Gonna be incorporating a LOT of different shit into my new music so expect things to be different this year.
Comments
comments