Festival season is officially under way and the announcements are starting to pour in. Gathering homies and deciding which events you all will be hitting can sometimes be a tedious task. Especially with most squads including people from all different parts of the country or even the world. I've found that it's often easier to have a general idea of what you want to hit but at the same time have some flexibility. Most of the time, people will plan on an event before they even see who's playing. That's all good and fine; trust me I get it, some festivals just feel like home. But when Psychedelic Sleepover comes out of left field with the most fire lineup of the summer, you better be ready to pull up.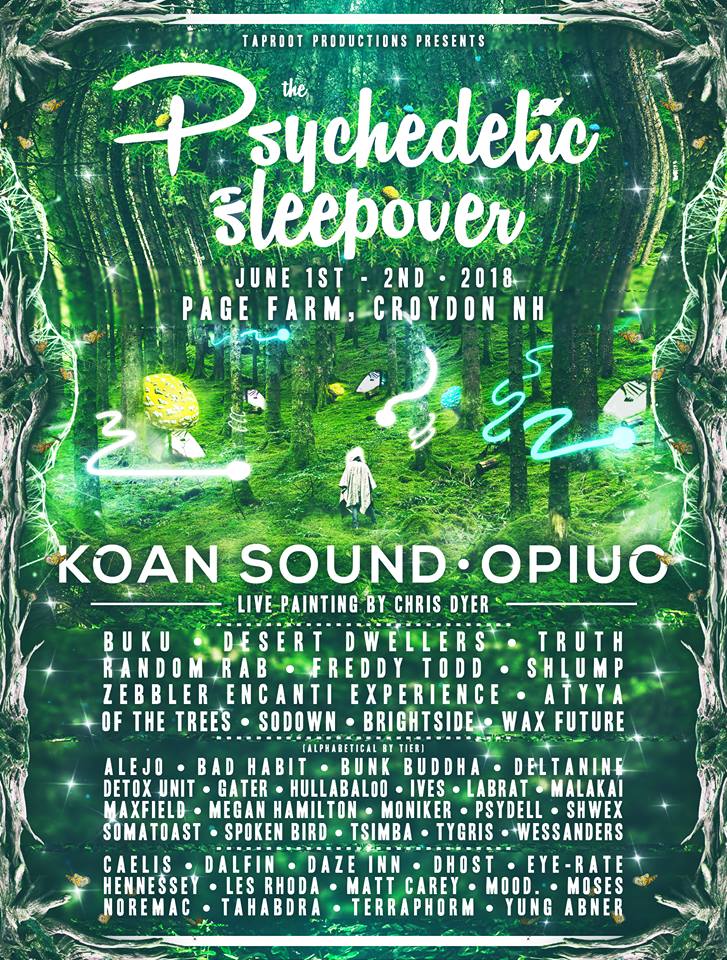 The most recent additions to the 2018 billing include Koan Sound and Opiou. However, if you've been following this one from jump then you're hip to the goodness already announced. Some of the hottest names in the underground bass scene will be blessing this one. Detox Unit, Of The Trees, Hullabalo0, Zebbler Enchanti Experience; it's about to get strange. Rounding out this dope lineup you have Buku, Desert Dwellers, Truth, Shlump and so many more!
Psychedelic Sleepover will feature three stages, all of which will be booming Hennessy Sound Design. The homie Chris Dyer will be in the building doing live painting. All things considered, tickets for this are a steal and I'm betting they won't be available for much longer. Don't sleep on this one, grab your tickets now so you don't miss out on an awesome weekend! Head over to their Facebook and drop a like to stay in the loop and check out some of the dope pre-parties they have planned.
Psychedelic Sleepover Facebook/Instagram/Website
Comments
comments