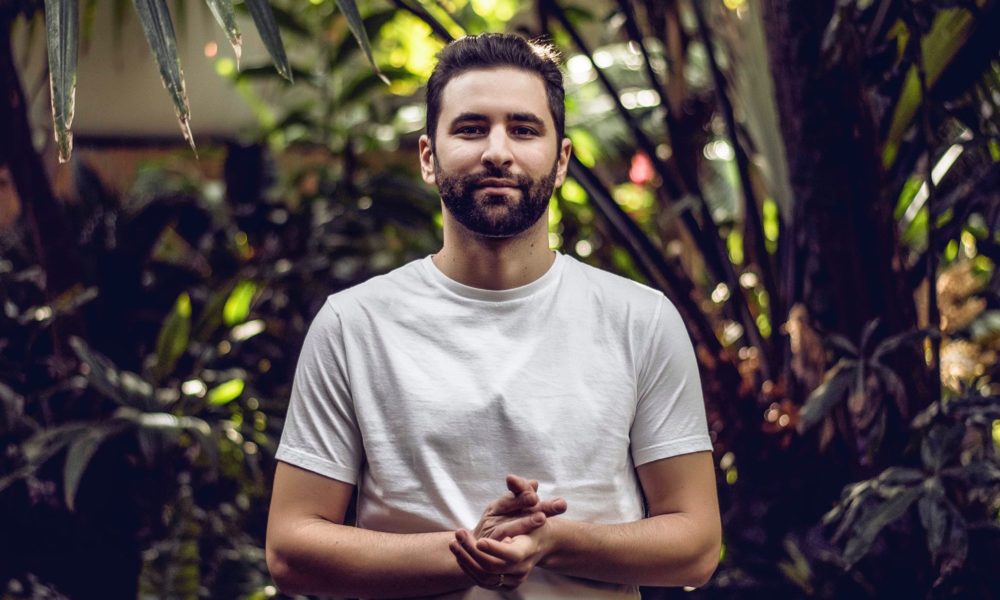 To generalize a response to an entire album is simplistic; allowing yourself to fully delve into each track is the proper recognition that any project deserves. Music is complex; it is intricate/labyrinthine. The beauty truly lies within the nonexistent definition of "music" itself. I can sit here and tell you that "Little by Little" is phenomenal from start to finish, but that's common knowledge seeing as how Lane 8 is the mastermind behind this album. My production experience is nonexistent, yet my listening/writing experience is lifelong. I begin:
1. "Daya" – First of all, the eerily synthetic introduction allows you to begin understanding the voyage that you are about to experience. As it continues building sensually, the piano inception truly captures the melodic relaxation at hand. Loosely understood vocals blend intrinsically with the entire production, so this causes you to remain in a state of curiosity.
2. "No Captain" – A lighter ignites, acting as your guide throughout this segment of the album*. (*imaginary world) Long-held notes begin developing a mental imprint that an unknown discovery has just been made. Channy Leaneagh, a member of Poliça, is able to exquisitely merge her pronounced voice and synthetic knowledge with Goldstein's equal understanding of this musical trait. The synthetic progression continues speeding up alongside various instrumental aspects, which ultimately make you want to stay.
3. "Atlas" – There are peculiar sound effects embedded here that force you to analyze every aspect of this tune. An ominous commencement leads you through a difficult portion of your trek. As soon as the drop hits, you are rejuvenated by the ghostly textures and systematic loops. The final portion of "Atlas" has every disposition of wanting to come in heavy, yet it maintains its humble delivery from start to finish.
4. "Clarify" – A fire is crackling beside you as nightfall arrives. Fractures' vocals give off a mystical vibe, yet the various components surrounding this feature stay spooky. The arsenal of elements that express this track continue to exemplify Lane 8's dedication to his craft.
5. "Little by Little" – The following day arises and your journey continues. While unvaried, the upbeat intro halfway through the album sets in a new vibe. An orchestral inclusion gives it a creative approach that is uncommon. The violin/synth collaboration is enthralling, leaving you extremely pensive of the current concept.
6. "Stir Me Up" – You have reached the apex of your journey. The culmination of this lyrical journey is at your fingertips. Beautifully ascending vocals set the carefree undertone within "Stir Me Up". The opening drums become hidden behind the overlapping effects leading up to the drop, yet the remaining half of this tune blossoms into a peaceful awareness of what has been happening.
7. "Skin & Bones" – Your return is gloomy and somber, but this is based on your realization of the end being near. The deep, frightening start transitions into an alluring range of vocals belonging to Patrick Baker. As the vocals begin to dissipate for a brief moment, we are comforted by steady entrances from bongos and hi-hats.
8. "Hold On" – You refuse to finish. The end is near, yes, but that point will come on your terms. (This is my favorite track on the album. As a result, I briefly struggled to continue.) The fixed loop throughout the entirety of this track is sheer bliss. Fractures' vocals are seductive and profound. At no point does it become boringly repetitive, therefore the duration is perfectly appropriate.
9. "Coming Back to You" – You've left. Your idea of wherever it was that you visited shall only ever remain in your thoughts. The vocals are simple and remain identical, yet they properly express what this album will do to you. The early instrumentals here display elements of what is typically associated with Asian cultures. There is a pessimistic downbeat that surrounds other aspects of the song itself, but the oddity is that it keeps it tranquil.
10. "No End in Sight / Outro" – An opening siren inadvertently announces the finale. It initially comes off as somewhat tragic, but then it steadily transitions into a rhythmic phenomenon. It's only ever so slightly bland, yet fully engaging at the same time. This was an incredibly elegant wrap-up to what is an early candidate for my favorite album of 2018.
I had no intention of developing a short story out of this experience, but my interpretation of "Little by Little" was exactly that – a musical odyssey. Please enjoy my elucidation of where this album took me, yet allow it to take you on your own journey shortly after.
Fans can listen to the album here:
Check below to see when Lane 8 will be heading to a city near you: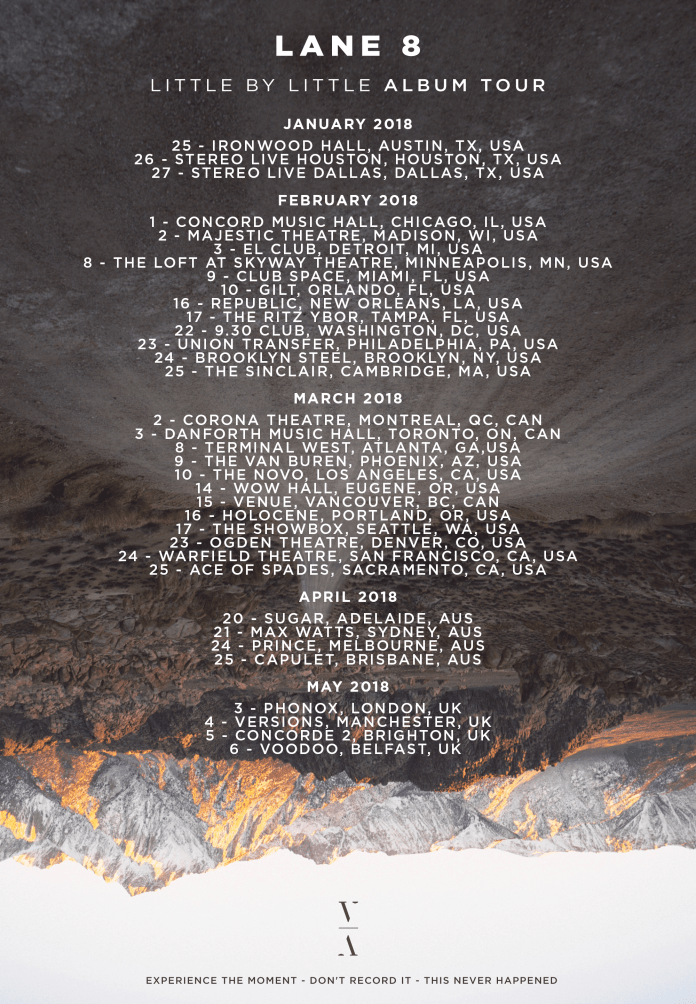 Comments
comments