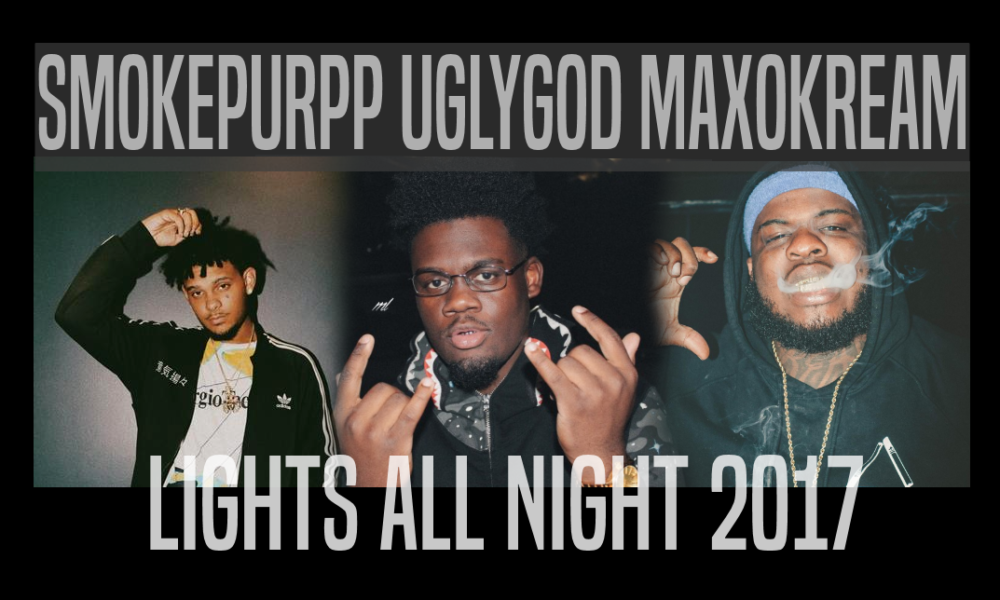 Today is my second Lights All Night artist spotlight series. My first one covered on of the headliners named Illenium. Now I am going to write about the only 3 rappers on the lineup: Ugly God, Smokepurpp and Maxo Kream.
Ugly God is from Houston and has been huge on Soundcloud as he's accumulated over millions of plays on his songs! That's an impressive feat considering he's not the biggest rapper in the game. His lyrics might not sit well with everyone but they do bring enjoyment to the fans. I really like his beats tho. They have that lo-fi feel without the static background noise. One of his biggest hits is Water and to me it's a stupid fun song. The lyrics are fun but hilarious and the cover art is too since I'm a Pokemon fan. And the soft lead sound is an example of the lo-fi element. No Lies is a collab with Wiz Khalifa with heavy 808s and a soft organ like lead. This one's rather good to listen to as the 808s hit so hard, the organ playing a chill melody and both rappers complementing well to the beat. UG also produces as he produced his tune called Straight Like That with Wintertime. Another soft chill piano melody being played with big, punchy 808s.
Smokepurpp is another rapper joining the LAN lineup. A native of Miami, Florida, Purpp became huge this year with his release Audi. He's a part of the Soundcloud Rap genre that has been big for Floridians such as Lil Pump and XXXTentacion. Originally started as a producer, Purpp went into rapping due to people not buying his beats. It has turned out pretty well for him as he is continuing to rise. Besides Audi, Ski Mask is another popular tune of his. The simple faded effect on the main lead sound and hard hitting 808s is just a sample of the simplicity of the beats in Soundcloud Rap. Glock In My Benz has a lo-fi melody and a more moving flow from Purpp.
The 3rd rapper on LAN is Maxo Kream. Another Houstonian making his LAN debut, he differs from the previous rappers named. His style is reminiscent of the classic Dirty South Hip Hop that put Houston on the map. Combined with the new age of Hip Hop beats, he's delivering a new style to people's ears. One of his biggest hits is called Astrodome, which is probably homage to the famous Houston event center. His lyrics are pretty dope on here along with the music production. Invisible Tops is one his latest releases and it's a unique beat with a Twista-like rhyme from the rappers.
Each artist will provide their own style and flair to the crowd of LAN. For those that want to hear hiphop/trap music these guys will provide the sound you want. LAN has always brought DJs and Live acts and have recently been introducing hiphop rappers such as ASAP Ferg last year. It seems like they will continue to do that for future festivals. To listen to some of their tunes, check out the Soundcloud playlist I made.
Comments
comments