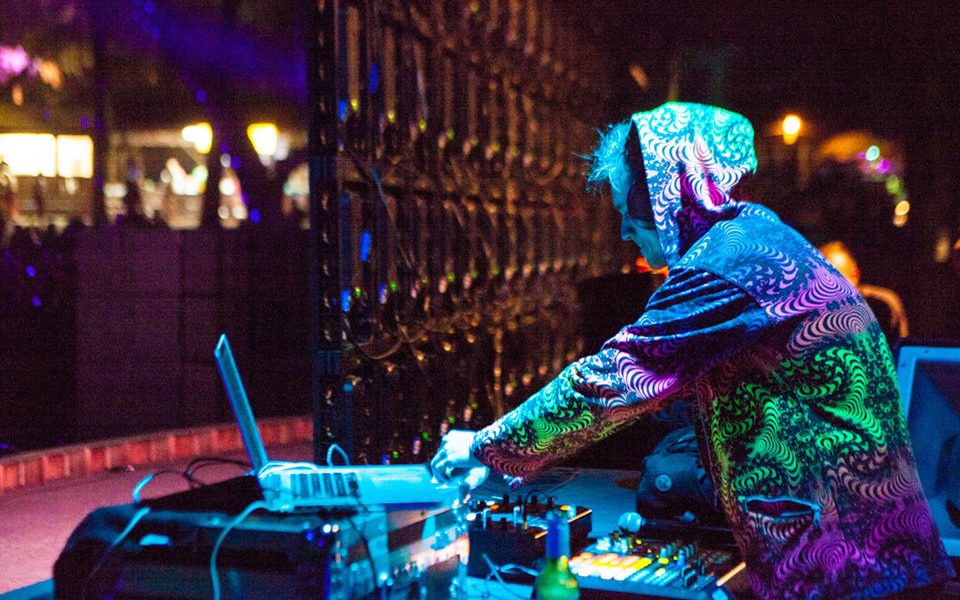 As humans we are constantly growing, this evolution is inherently obvious when you look at the music industry. The drive to capture new sounds and create a new wave is what pushes the envelope. There are so many producers and artists in general who are currently creating their own lane. The mainstream approach is no longer the norm. Big ups to everyone who holds originality in the forefront because that path is most definitely filled with a lot of hate and heavy criticism. On the flip; playing unique games wins you unique prizes. Okay.. bad analogy but you get the gist!
These guys and gals out here doing things that haven't been done are establishing a niche. The fan bases that they build are extremely loyal, it's all organic and you can't beat that! In return, staying true to these fans is something that's really important. Releasing freebies as the love comes in is one way to keep the people happy. An LP that offers insight as to where you are on your musical journey is cool too. Maintaining a consistent connection with your audience is going to be critical to your success.
Hullabalo0, the mysterious/unique producer from all over is really good at doing this. I've been following him for awhile now and boy has it been a pleasure. His sound is like nothing you've ever heard, he's always releasing new new and he was nice enough to set time aside to answer a few questions from us. Hit play on that High Fructose Bass Syrup EP (our favorite *thus far* from him) and dive into the mind of one of the dopest up and comers at it!
TSS: Where are you from?
Hullabalo0: Whoo boy, that's a can of worms right there.. How do I even start haha. Well the short version, and you'll want the short one, is I grew up traveling with my parents and older siblings in a van all over Europe; like Gypsies. I was pushed out in Civitavecchia, Italy and lived mostly around Romania, Italy and Switzerland until 7 years old and made a trip to Russia for half a year before making our way to California. Sounds really cool, and it was at times for sure, but they certainly loved to show people that you didn't need money to travel with 6 kids.
Moving every year since we landed in Richmond, CA, I found myself living in Lake Tahoe and going to Incline elementary school and middle school; Then a year of high school in Reno, NV and then 4 years in Argentina. Hope I didn't lose you haha. By this time I was the only child left in the nest and I realized I needed to come back to the U.S to reunite with two of my brothers and pursue something.
But, the kick is we spoke American English at home all these years so you would never suspect anything. I tell people "Reno/Tahoe" for short, but I might as well been born on the moon.
TSS: Where do you call home now?
Hullabalo0: Well, at this point I've lived most of my life in Reno, NV. Going on 7 or 8 years all together now and I put myself through college here. Also have 2 older brothers here that have helped me out more than I could ever repay and we have family dinner every month or so.
TSS: Out of all the countries you've lived in, which is your favorite?
Hullabalo0: I think it would have to be Russia, St. Petersburg 1999. Didn't think I had a favorite till just now when I got up to take a piss while typing this out and it hit me. It was pretty inspiring. Masterful classical concerts and theater performances we would go to for a few rubles. The incredible history and museums we visited. Hell, even the never-ending yellow apartment buildings and brutal cold.
I remember a lot for only being 8 years old. Teaching myself piano here just to learn Moonlight Sonata but my hands weren't big enough to reach the octave so I'd stride a lot of the notes. I also remember admiring the audacity and strength of the people a lot. Though, Russia was (probably still is) a real crazy place to be. I mean, just walking on the sidewalk you had to watch out for 11-foot icicles that would break off the roofs and kill a handful of people each year.
TSS: Tell us a little bit about your high school experience at Centro Polivalente de Arte.
Hullabalo0: 'Centro Polivalente de Arte' was the high school I attend located in San Rafael, Argentina. It offered art & music classes on top of normal high school stuff. Starting in 2006 I attended and graduated in 2009. I didn't speak a lick of Spanish and was tossed into the school with my skinny jeans, long hair, and skater attitude. It was a very interesting move to say the least, it was also the hardest move I ever had to go along with.
It was a very difficult, yet beautiful experience. Slowly but surely I learned the language and hung out with my classmates or a group of skateboarders that I continued my tradition of skateboarding and videoing and editing parts with; All the while, practicing/jamming at the piano and making beats/psytrance in FL studio and showing them to friends and family.
TSS: Biggest influences to your sound; people, places, things?
Hullabalo0: My biggest influences, as for a lot of people, would have to be my older siblings and relatives. Particularly my brother Mark. Mark showed me Infected Mushroom couple times when I was 14 or 15 and I didn't like their music at first. I was still making beats in Garage Band and looking for rappers haha. Wasn't till he showed me 'Scorpion Frog' and 'Song Pong.' I fell in love with their arrangements and through-composed, psychedelic style. Over the years, he was my DJ so to speak. Always finding the good shit and showing me.
But, I do have a vivid memory of the very first time I got into electronic music production. When I was in Italy visiting my aunt Adele and cousin Iro. Must have been 6 or 7, but Iro showed Mark and I Fruity Loops and we stayed up all night messing with the step sequencer and piano roll. I got back into FL studio again after 15 years old and I haven't stopped making music with DAWs since.
Assimilation always played a decent role in my sound. I would always fight it for a year or two, but the culture I was surrounded with would always end up making a good-sized dent in my style. In Argentina, for example, I would rebelliously DJ psytrance at parties and clubs while everyone else was playing out minimal-techno. Eventually, I started making a fusion of psy-techno stuff.
TSS: If it isn't electronic music, what are you listening to?
Hullabalo0: If the sounds are coming out of nice speakers, I almost exclusively listen to electronic music. However, I listen to just about every genre ever created. There's good stuff in everything. You just have to be exposed to it for long enough period of time and dig through a lot of music once you understand the subtleties that make it meaningful.
And in relatively recent years, Jazz has played a big role in my palette for live and recorded music. After all, I graduated with a bachelor's degree in improvisational music from UNR. I wasn't in love with Jazz at first, but after a year of studying hard and practicing, it felt like I was built for it. But all things considered, I just want piano and Jazz to remain my hobby that I can express myself with and pursue when I please.
That being said, I abso-fucking-lutely love to go out and listen to live Jazz and Funk and sit-in on the keys with a beer in me. It's music for my soul. I encourage anyone and everyone to fuck with some Wayne Shorter, Kenny Barron, Bill Evans, Adam Benjamin (my piano professor from UNR), Kneebody, Chris Potter, and just keep digging.
There is more music out there than we could ever listen to and there is music for every moment. There's no reason to stop listening.
TSS: Favorite production software?
Hullabalo0: Well, since I don't know every DAW out there, hard to answer. It's like asking a person what their favorite language is. But, I would have to say FL studio rewire with Ableton Live. Since I got a Mac about 3 or 4 years ago I've been producing exclusively with Ableton but my favorite time producing was when I had FL studio as a vst running in Ableton! I loved combining the automation, piano roll and Sytrus from FL and the interface, simpler, midi effects, time warping, rack & grouping capabilities from Ableton. If I HAD to pick, Ableton.. but FL studio has a nice butt.
TSS: Describe your music with one word?
Hullabalo0: Adventurous.
TSS: Do you think there are sounds out there that haven't yet been captured?
Hullabalo0: Ouff. I mean, I suppose. Partly what makes making electronic music so awesome is creating sounds that have never been produced by the world. But, I'm sure advancements in technology will produce new, crazy-sounding machinery, which we'll be able to record and sample into our tracks haha.
TSS: Any special projects or collabs we should be on the look out for?
Hullabalo0: Yes! I will be releasing an LP of 11 tracks on November 30! Towers is the name! The project was originally going to be a single but now is the title track with 10 more tracks. I was very creative this summer so I wanted to showcase my various styles that I do. Typically I like to dip into dark, psychedelic vibes with electronic music and that's what I've been gaining momentum with, but I also do a lot of interesting harmonies and melodies and I love to make crazy arrangements that incorporate sweet vs. dirty or dark vs. light.
TSS: Cities in the states you want to play but haven't yet?
Hullabalo0: I really want to play/visit New Orleans. I've heard it is an inspiring place for musicians and the like. Chicago, Seattle, New York, Honolulu are high on the list too.
TSS: Coolest venue you've ever played?
Hullabalo0: Suwannee for Tipper & Friends was excellent in every way. I really enjoyed the layout of the venue; with the artist cabins being behind the main stage and the fact that there was only one, big, main, music stage with awesome sound.
TSS: Where do you see yourself, musically, in ten years?
Hullabalo0: In ten years! Geez. Well. I'm hoping to get some side projects up and running smooth by then. I really miss performing with other people with a keyboard in front of me. I've had more and more success figuring out how to do the live electronic thing with Maschine, APC40, keyboards and Ableton. Latency is becoming less and less troublesome so just a matter of time now. Just waiting for the right musical species to cross my path and let the music steer us!
We hope you guys enjoyed getting to know Hulla as much as we did. Circle back in a week (November 30th) to hear his Towers LP, you won't be disappointed!
Hullabalo0 Facebook/SoundCloud /Instagram
Comments
comments