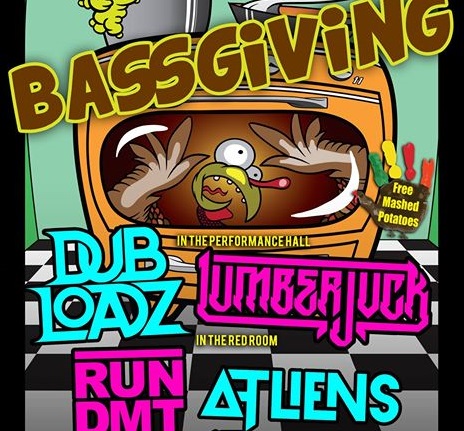 Thanksgiving Eve just wouldn't be without its monstrous BASSGiving leading us into turkey day, and thankfully Slake is serving up the good stuff this year in the absence of Webster Hall!
Dubloadz, LUMBERJVCK, Run DMT, ATLiens and Evac Protocol will be throwing down at Slake until early Thursday morning with a night filled with bone-rattling bass and free mashed potatoes.
We've teamed up with our friends over at Slake to give away a pair of tickets in the spirit of the holiday and simply because this is THE must-attend Thanksgiving Eve party for all your bassheads out there!
Enter in the widget below and one lucky winner will be announced Wednesday afternoon. Good luck!
BASSGiving Featuring Dubloadz, LUMBERJVCK, Run DMT, ATLiens & Evac Protocol | https://www.ticketweb.com/event/bassgiving-w-dubloadz-lumberjvck-run-slake-tickets/7864935 |
BASSGiving: Dubloadz, Lumberjvck, Run DMT, ATLiens

Comments
comments