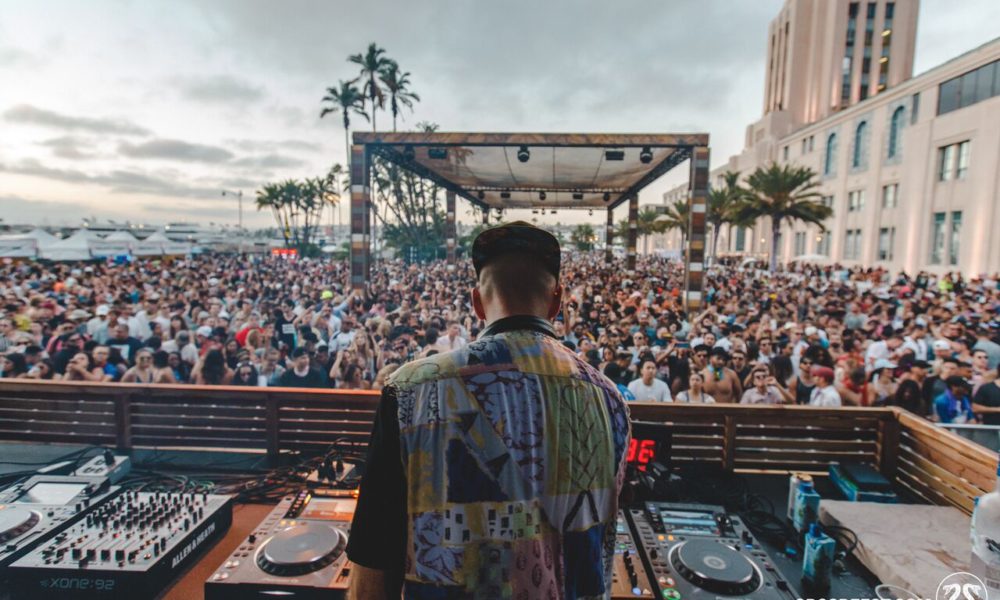 Imagine bright blue skies and light breezes of fresh wind, all topped off with a bangin beat in the background of what feels like a house and techno heaven. Welcome to CRSSD, San Diego's premier music festival.
Just when you think that festival season is over, CRSSD waves hello and proves that it's always festival season in the beautiful city of San Diego. Located on the edge of Little Italy, the park boasts beautiful coastal views, but is also close enough to downtown San Diego for after hour debauchery. Overall, it's hard to imagine a better location for locals and out-of-towners alike being that SAN is just 3 minutes away from the action.
At CRSSD, everybody is welcome. Groups of friends dominate the dance floor, and smiles are permanently plastered onto attendees' faces. On the other hand, if you decide to muster up the courage to go alone, feel free to grab yourself a drink and open your eyes and ears to the vibes. You might find yourself inspired to take a dip in the park's interactive water fountains that serve as fluid dancefloors. It's here where you'll have the chance to dance and take in the surroundings of the sun, ships, and sails which ribbon to the breeze of the bay. Don't be surprised if you're greeted by a local or two because the chillest city would be nothing without it's people. Regardless of whether you're by yourself or with your squad, it's tough to feel alone at CRSSD, especially when everyone around you is just there for the same reason – to enjoy some fabulous music.
The gates for CRSSD open at around noon for both Saturday and Sunday, with festivities running well into the evening. Although set times start early, you'll find yourself wanting to be at the Waterfront Park all day to soak in as much of the lineup as possible. CRSSD festival's stages and setup are satisfyingly familiar, yet refreshingly refined. With each passing event and season, it's harder and harder to imagine city hall without its festive front porch that echoes bass high into the sky.
Fall 2017's lineup presented a plethora of performers, with each stage uniquely orchestrated to showcase a variety of original and groove-worthy acts. City Steps was known for providing that classic and addictive techno sound, while The Palms hosted house beats. Lastly of the three was the Ocean View stage which featured headliners ranging from Rüfüs Du Sol to Chromeo. But across all the stages, one thing that really left us impressed was the amount of female acts on the roster. Although the ratio of men to female performers was still heavily skewed, CRSSD is definitely heading into the right direction which we applaud and appreciate.
Emancipator was a real highlight during the festival. His third-eye cleansing electronic sound sent our worries away and set the dance floor on fire with interpretive dances. Hito, who's from Japan but is based in Berlin, played an early yet dark techno set filled with deep and forward-thinking techno vinyl cuts. Dena Amy slayed the decks with some fresh jungle-house that perfectly matched the lush tropical greenery that surrounded the stage she played on. Elohim felt like a dream with her sweet lyrical flow and electric performance. And Mura Masa really brought the house down despite the sun just barely starting to set.
And of course, with all that dancing came the time to fuel back up. The variety of drinks available at CRSSD truly made my alcohol lovin' side happy. There were a few tasty cocktails, but a myriad of beers – both standard and craft. Being that San Diego is practically synonymous as the capital of craft beer, this hardly came as a surprise. Lastly, there was a bar dedicated to ENTER.Sake aka Richie Hawtin's very own line of sake. The bar featured a handful of sake based cocktails, or just straight up sake for those who wanted to enjoy the Japanese drink.
All in all, there's no reason to cross your fingers for this one. CRSSD Music Festival is a real winner, and you're going to have an amazing weekend at the festival no matter what. From the vibes to the music, CRSSD – we can't wait to be back.
Written by Mars Sartori & James Licata
Comments
comments