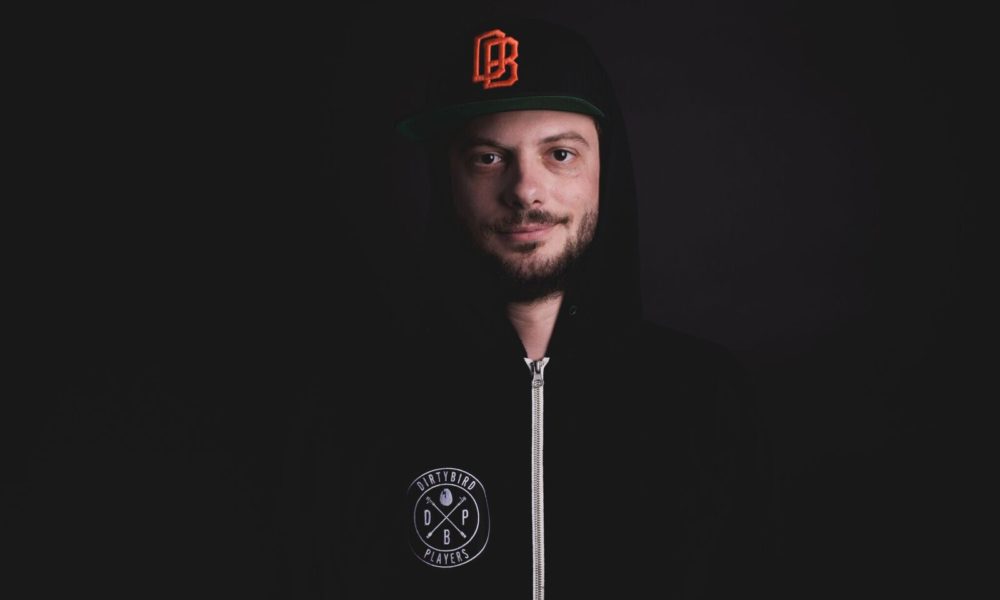 Sacha Robotti has had quite the year. After releasing his first solo EP on Dirtybird Records, the Belgium-bred DJ/producer set out on his highly anticipated SlothAcid North American tour.
We had the pleasure of chatting with Sacha and learning more about his musical influences, his EP, 'Melato Nina' and his plans for the rest of 2017.  Check out the exclusive interview below!
Sacha Robotti- Melato Nina EP |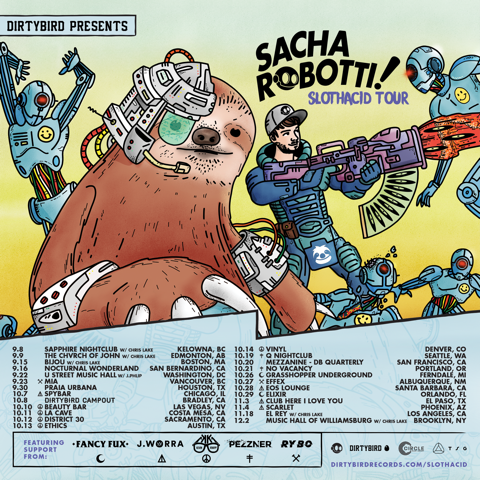 TSS: Did growing up in Brussels, Belgium influence your music? If so, how?
Sacha Robotti: It's there that I discovered electronic music and had the chance to see some artists who are still heroes of mine today, like Jeff Mills, Green Velvet, DJ Funk, Juan Atkins to name just a few. In 1999 I moved to Berlin to study architecture, I happened to stay in this city for 16 years before coming to LA. When I moved to Berlin I immersed myself in the scene and was a regular at Ostgut and Tresor. Around 2005 I started this weird career of DJing and producing, mainly with my former partner, as we formed Robosonic together for over 10 years, traveling the world with our music. Berlin definitely put its mark on my sound! Life influences, art and vice versa.
TSS: How do the electronic music scenes in Berlin and America differ?
Sacha Robotti: This question comes up a lot in interviews. Mainly the opening times of clubs, as well as the alcohol consumption laws differ, which makes Berlin freer in that regard. Some places there stay open the whole weekend, some places are kind of a comfort zone without restrictions in terms of party favors and sexual interactions. Some clubs also ban the use of cellphones for filming and taking pictures, which I think is quite nice. What happens in the club stays in the club.
TSS: You released your first solo EP on Dirtybird earlier this year. What was the inspiration behind 'Melato Nina?'
Sacha Robotti: Melatonin is a hormone that regulates sleep and wakefulness. "Melato Nina" might also be a fictional girl's name at the same time. I got inspired to write that track while returning from shows overseas, heavily jetlagged and in a state of, I guess, post-weekend-depressive feelings, transitioning from Berlin to LA and saying goodbye to a place that I called my home for over 16 years. This record is also very special to me because it's my first solo EP on Dirtybird, after I released like 6 collaborations with Claude Vonstroke, Kill Frenzy, Kevin Knapp, Look Like and Justin Jay in the past years.
TSS: What can fans expect from your SlothAcid North American tour?
Sacha Robotti: Dirty, heavy, emotional music that will hopefully take you on a journey through space and time.
TSS: How do you prepare for a show?
Sacha Robotti: Nowadays, I try to chill with friends before a show or spend a couple of hours in my hotel room prior to going on stage, I dig through new music, take a disco nap or watch something to relax. Tour-life can be tough so I need that balance.
TSS: What's one venue or festival you hope to play in the future?
Sacha Robotti: I want to play more festivals because that's my jam! I would love to play at Movement Detroit, Tomorrowland and Africa Burn, among others. I'd like to play a season in Ibiza, rock Womb Tokyo, Fuse Brussels (the first club I went to at age 15) and obviously, Panorama Bar.
TSS: What do you have in store for the rest of 2017?
Sacha Robotti: My SlothAcid Tour goes on until December, so I'll be on the road a lot in the USA. I'll be performing at Dirtybird Campout again this year, which I'm looking forward to! I'm also playing a Halloween show in London, that will be fun. Finally, I'm working on lots of new tunes, some of which I'll release on my own label, which I'm setting up as we speak… You're the first to hear about this btw!
"Follow" Sacha Robotti: | Facebook | Twitter | Soundcloud |
Comments
comments