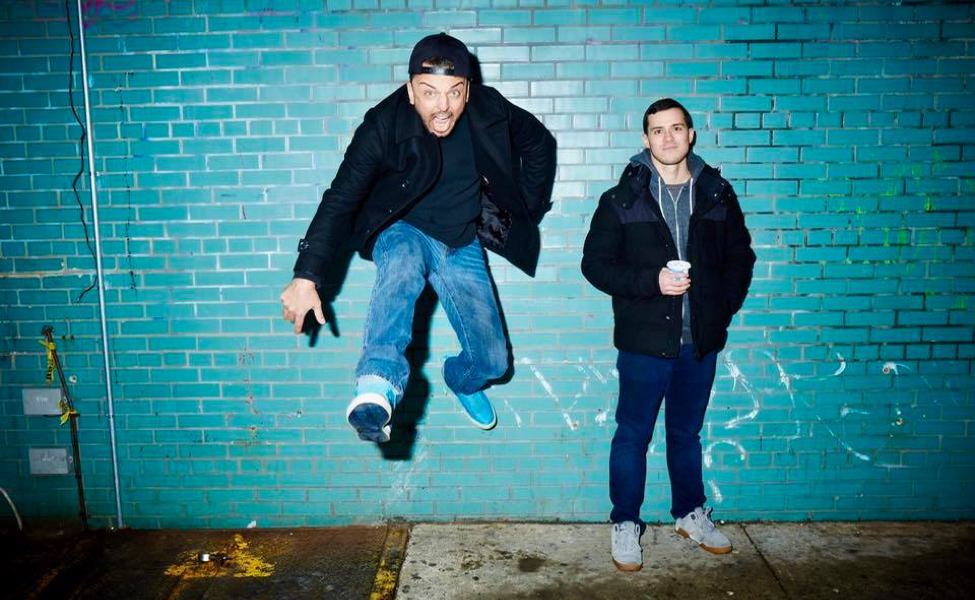 The Disco Fries have been no strangers to crushing the charts over the past couple years. With hit after hit it's about time that we catch up with the New York duo after the release of their latest single. 'Reckless' features the majestic vocal workings of Jared Lee on top of the unique sound inspired by The Disco Fries. The track has a great feel good and warming presence. Plus with an amazing message there's no doubt this one couldn't turn the biggest of frowns upside down.

-What was your inspiration behind "Reckless?" How did you guys approach the production and writing process as a duo? 
D: There was plenty of trial and error with "Reckless" and we spent a lot of time making sure we made something that did Jared's vocal justice. We wanted it to be upbeat and energetic but the vocal really sounded great over everything we did so it made it hard to narrow down haha.
N: Sometimes tracks come together super quick for us and other times it takes us a while to land on ideas we're both into… this was one of those times that it took a little longer than usual to get to a final draft that we were happy with. We spent a ton of time coming up with different drop melodies and sounds until we landed on what's there but the rest came together pretty quickly.
– How did the collaboration with Jared Lee come about?
D: Enhanced came through with that connection for which we are super thankful!
N: Since we run our own label, when we sign a record or in this case an entire EP to another label, we have super high expectations. The guys at Enhanced have worked their ass off in the pre-production stage of this project to introduce us to some of the best top liners in the world. Jared has been awesome to work with on this one and is super involved in helping us promote the record.
-What do you have planned for the rest of the summer? Can you tell us a little more about your upcoming EP? 
D: Really excited to get this music out! We've got some excellent features and I think it's a great mix of styles.
N: Since we've worked for over a year on some of these tunes, weeded out tracks we weren't feeling as much, and really honing in on what has influenced us, it's naturally a pretty big range of styles. We're psyched it really captures everything we're inspired by.
– Any upcoming releases on your label Liftoff Recordings you're excited about? 
N: We've got an upcoming compilation coming at the end of July called "Buckle Up Vol. 1" that features some new music from our Liftoff fam and a ton of up and comers that we've found over the past couple of months online. Everyone following the Liftoff releases should also stay tuned for new music from Tom Rogue, Peep This, and Fahjah.
– Nick was featured on Food Network's '
Cooks vs Cons
' not too long ago! How did that come about and can we expect anymore food related adventures in the near future?!
N: I was laying in bed watching re-runs of the show last Fall and loved the concept. It's two pro chefs and two ordinary people looking to "con" the judges into thinking they were professionals, all going head to head. With a big reveal towards the end of the show exposing the cons and what they actually do for a living, I felt like I could easily make it happen since I love to cook. The idea of the 'Disco Fries' being on Food Network in some capacity was mind-blowing. I applied a day later and was shooting that episode 
2 weeks later
. It was a pretty surreal experience and by far the most fun I've ever had doing a shoot. To answer your question,… YES, you will see many more food related adventures in the future.
– This one is for all the foodies. What's your favorite spot to grab some solid fries in NYC? 
D: Ah so many options…I'm partial to Moo Burger in Brooklyn because they all know me there and will load them up with jalapeños and cheese.
Disco Fries ft. Jared Lee – Reckless|
Download
|
"Follow" The Disco Fries : | Facebook | Twitter | Soundcloud |
Comments
comments