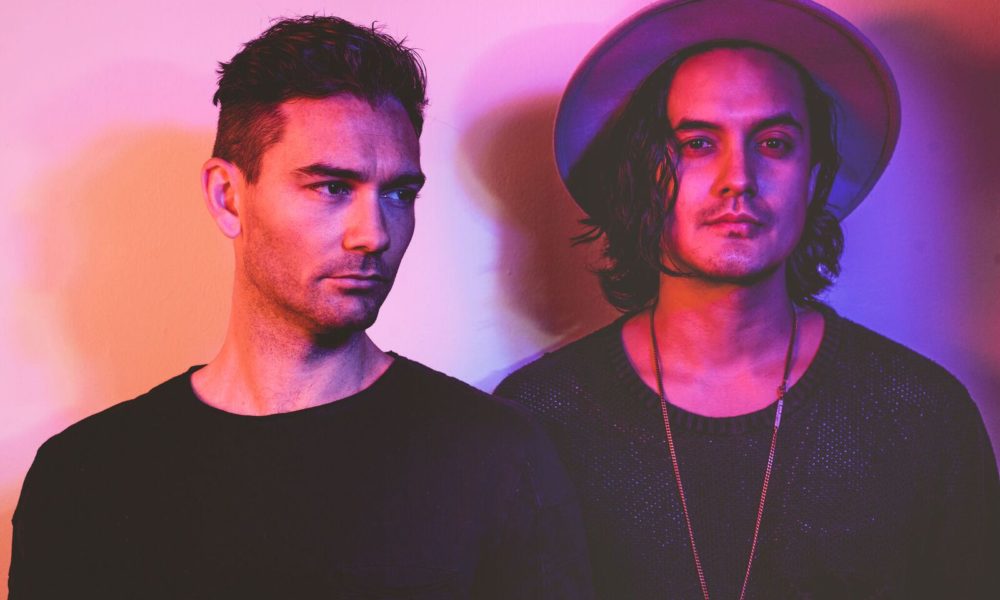 Things haven't always been easy for Aden and Josh, otherwise known as Feenixpawl. Instead of giving up though, they persevered. Now, the talented duo are Grammy nominated DJs with their own record label and no intention of slowing down.
We had the pleasure of chatting with Aden and Josh about their upbringings, their recent single, "Love Me For Life," Eclypse Records and their plans for the rest of 2017. Check out our exclusive interview below!
Feenixpawl- Love Me For Life | Download |
TSS: How'd you two meet and what made you decide to form Feenixpawl?
Aden: We met in Melbourne at a nightclub that Josh was running at the time. I was a young promoter but my passion was clearly in music and DJing. It took me quite some time to convince him to let me play in the club but it eventually happened without TOO many screw-ups.
Josh: I had started DJing at a similar point in time too, but my main reason was so I didn't have to pay DJs at the club I ran. However, once I started I fell in love with it. Aden and I became close friends and just decided one day to play back to back and felt we had great chemistry up there.
Aden: We had a hell of a lot of fun playing together and decided we should just do it all the time.
TSS: You both overcame difficult pasts. Do you think your upbringings influence your music? If so, how?
Aden: Absolutely. I think everything that happens in our life, either good or bad, influences our music. It would have been very easy for the both of us to get down about the world and believe the universe somehow owed us something for putting us through those hardships, but we ended up believing the opposite. We are all only here for a short time, so we're going to work every single day to achieve our goals, and enjoy ourselves as much as possible on the journey.
TSS: The story of your first show in Mykonos is crazy. Could you tell us that story? What went through your heads when you found out you were performing instead of Sebastian Ingrosso?
Josh: For sure. It was actually a really tough time for me at that stage. My father had just passed away and the months following his passing were extremely difficult. I had taken on a lot of responsibility both within my family and in our business, which is something I wasn't expecting or very knowledgeable about. I was thrown in the deep end essentially and had to learn to swim. However, after things began to calm down a little, I said to Aden, "I have to get out of Australia." I just wanted to escape. We booked a trip for the two of us and a couple of friends to Greece. We ended up in Mykonos, and became friends with the owners of one of the clubs there, Paradise Club. One day we got a call from them just saying, "Hey, Sebastian Ingrosso is sick, he can't make his show tonight. Do you want to play?" We were dumbfounded. We had no headphones, no CDs or USBs, so we literally had to borrow headphones, buy some USBs and start downloading music, but we were so pumped up. We couldn't wait. We had no idea how life changing that night would actually be…
Aden: We literally had to run around town and find the equipment. It was only later that evening, right before playing, we discovered they had NOT announced Ingrosso's cancellation and people still thought he was playing. We were terrified people would boo us off stage when they realized Ingrosso wasn't playing… but that didn't happen. It was one of the most amazing nights of our lives and we played well into the morning sunshine.
Josh: That night was actually the night we met Ivan Gough. He liked our vibe, and he said, "When we get back to Melbourne we should make a record," and the rest is history. As much as I'd give back every bit of success we've had to still have my Dad with me, in a way I feel like he gave us a gift that night. It was special in every way and we'll never forget it…
TSS: How'd you decide to create Eclypse Records?
Aden: At the beginning of our production career, we really struggled to get record labels to listen to our music. Emails would go unanswered and we really didn't know how to break into the industry. We decided to create Eclypse so we could help the young artists out there that were experiencing what we did when we started. We also wanted creative control of our records and didn't want a label to just 'put a track out and see what happens.' That attitude was what we really hated about our initial taste of the music industry. We just wanted the label to believe in our music as much as we did. And so, Eclypse was born.
TSS: Who do you hope to collaborate with in the future?
Aden: There are so many artists we'd love to work with, we couldn't possibly mention them all here. I think on the dance music front, Don Diablo is a definite. The way he recreated himself and basically made his own sound is really inspirational to us. Growing up, I always wanted to do a track with Stevie Nicks or Florence and the Machine. They are both so iconic, it would be amazing to have one of them on a track. We can all dream, right?
TSS: What was the inspiration behind your latest hit, "Love Me For Life?"
Josh: I think it's a combination of what we were both going through in our lives at the time. Aden had just gotten engaged and I had just gone through a pretty bad break up. So even though they're polar opposite experiences, I feel like this song can translate to both situations. For me it was realizing who the people in your life are that truly DO love you unconditionally and that's what resonates through this track the most.
TSS: The music industry is ever-evolving. If you could give one piece of advice to DJs trying to make it big today, what would it be?
Josh: Be yourself. Make and play music that makes YOU feel something. I think that's the key with anything, if people can see the passion and emotion you convey through your music, then they will feel it too.
TSS: What does Feenixpawl have in store for the rest of 2017?
Josh: We're going back on the road. Heading back to Australia for a short tour as well; it's been a while since we've been home. Plus, we have SO much more new music coming. We're just super excited for you all to hear it. Some really big collaborations, which we can't talk too much about, but we're pumped about how they're coming along.
"Follow" Feenixpawl: | Facebook | Twitter | Soundcloud |
Comments
comments