Oregon Eclipse has been on the lips and minds of nearly every festival goer since it was announced last year. Truly a once in a lifetime experience, this festival is bringing together 12 festivals to collaborate in one picturesque space in Oregon for a week in August. The event is meant to be an international experience—transcending the traditional perceptions of a festival, this is more of a gathering meant to share a very rare experience. The last total solar eclipse that could be seen in the USA was in 1979 and the next eclipse will not occur until 2024. Since there is a whole week of festivities including 6 stages of music to choose from, we wanted to break down the top five things we think you should check out for sure.
1) The Eclipse Stage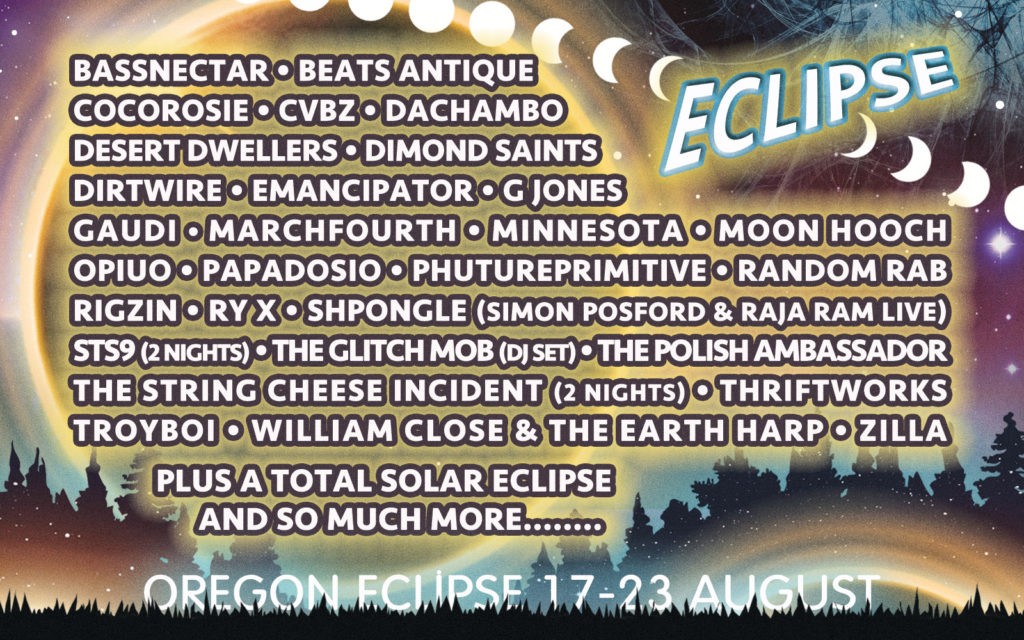 Obviously, we are super excited for all the music over the week but the Eclipse stage is the obvious heavy hitter in terms of big-name acts. Featuring Bassnectar, Beats Antique, G Jones, The Glitch Mob and more, it is also the stage that will have the most visible view of the eclipse. Talk about the perfect way to view such a rare, wondrous natural phenomenon.
2) The Moon Stage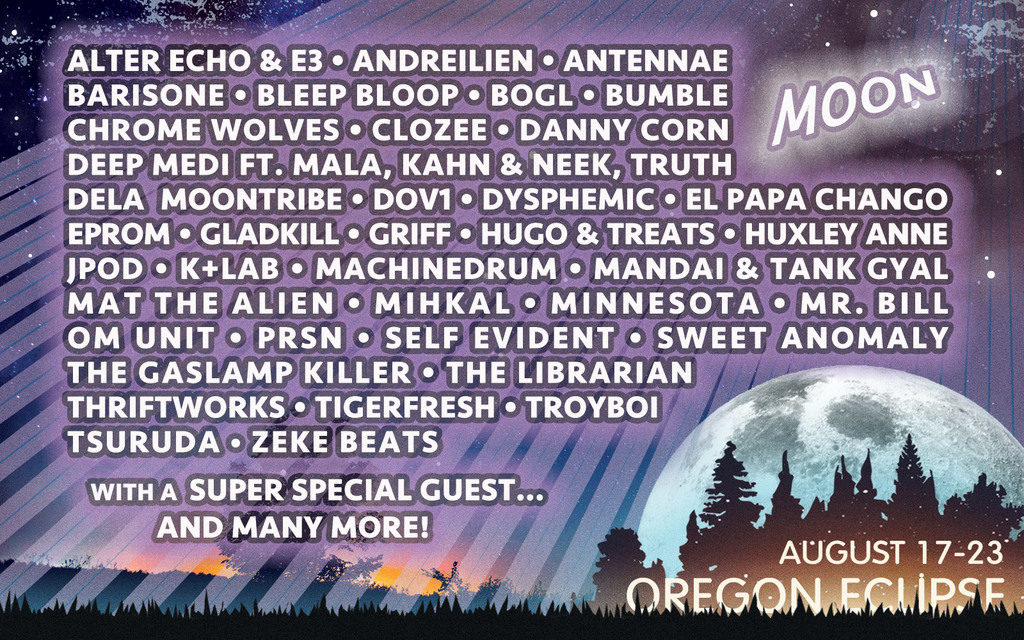 When we aren't at the Eclipse Stage you will surely find us at the Moon Stage appreciating the perfect curation of bass music that it has to offer. We may as well set up camp right here, to be honest. Featuring a wide variety of amazing music, you'll be able to see sets from Machinedrum, Eprom, Om Unit, Clozee, Bleep Bloop, Huxley Anne, Tsuruda, and more. This bill in and of itself reads like the perfect festival line-up.
3) Deep Exhale with Cristi Christensen & Marques Wyatt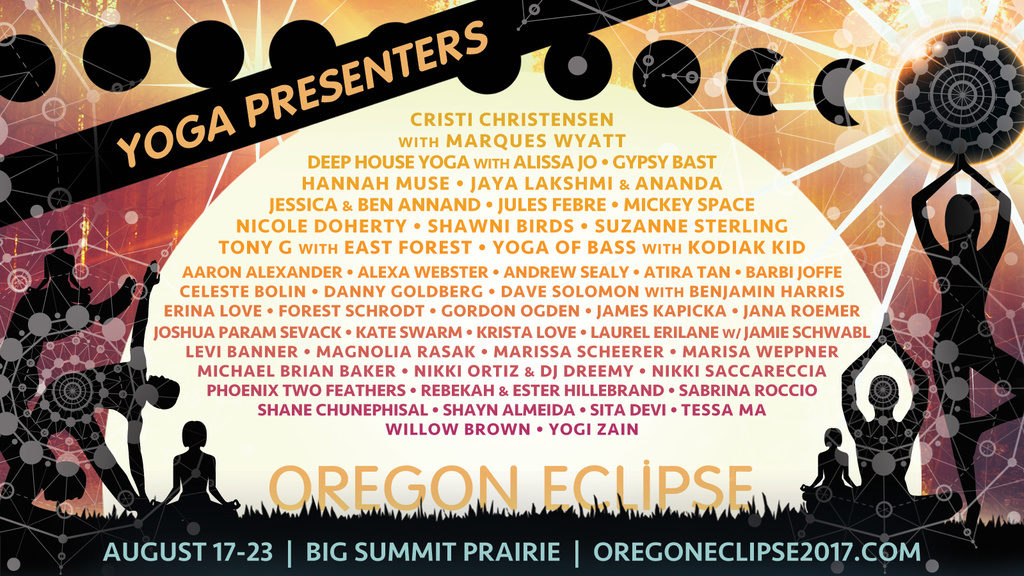 The entire yoga presenter bill reads like a yogi's dream getaway. The one that really caught our eye was billed at the top, and even if you aren't super into yoga we suggest you give this one a try. Cristi is an an Olympic-trained platform diver and she's known all throughout California for her inventive yoga classes. The fact that you get to catch her with famed house DJ Marques Wyatt providing the soulful soundtrack is a game changer.
4) The Keynote Speakers
When you need some downtime from the music, yoga or dancing but still want to enrich your soul, Eclipse truly has you covered. We love the variety of speakers they have lined up for the event. Some of the speaking events we're looking forward to are: Lydia Violet Harutoonian – Music as the Medicine of Our Time, and Amikaeyla & Jasmine Fuego – Arts as Activism. Other talk subjects range from consent, to farming, to gender issues, to spiritual awakenings.
5) The Environment Itself
Sitting on 55,0000 acres, Big Summit Prairie is MILES from anything else and a straight up paradise. With visible stars, while the sun is setting, it is literally the perfect location to view the eclipse. Not to mention the fact that Do Lab will be building out our wonderland for the week, bringing in the structural installations. Do Lab is known for their inventively epic and architecturally impressive stages that have graced LiB, Dirtybird Campout, and Coachella in the past. Wandering around you may also stumble upon the Wheel of Fortune, a popular Burning Man installation, or even hot air balloons. If you can shell out $30 for a tethered ride, you get an affordable and crazy view of the full landscape of the festival.
Tell us below what you are most excited for about Eclipse and keep up to date as the festival gets closer!
"Follow" Oregon Eclipse: | Website | Facebook | Twitter | Soundcloud | | Instagram |
Comments
comments