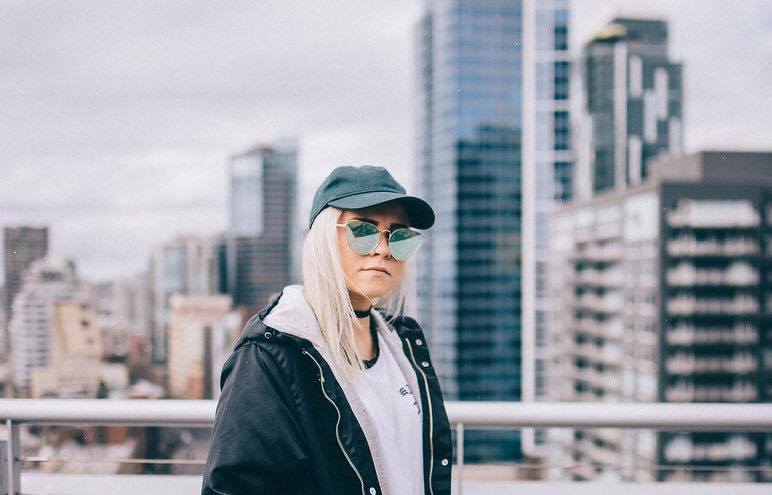 Kendoll is an LA based, Washington born producer and DJ on the rise. Today, she is getting ready to open for the Night Bass Summer Phases Tour in her hometown. Her first show in Seattle was opening for Fritz Carlton last year and since then she's moved to LA to work on music production. Seeing her growth over time has been impressive. Releasing several tracks and a self-released EP, she has been a force to be reckoned with.
She gave us a chance to release her new track "Y3W" as a TSS Premiere. This track is a dancefloor must have for any tech house party. A driving bassline and insanely cool layered samples make it danceable as all get out. You can check it out via the link below!
[TSS Premiere] Y3w (Original Mix)
We were lucky enough to have the chance to sit down with her right before she opens up for Night Bass at Q Nightclub's popular night, Low_pass. We got to talking about her newest releases, her upcoming ones, and more!
TSS: We absolutely love "Y3W", is there a story behind this dope track? 
Kendoll:  The inspiration behind this song was to make something funky that I could throw in a tech house set, but also keep that Kendoll UK house sound to it. I love the art that Jack Anderson has thrown together for it, he kills it.
TSS: Kendoll, is there an "origin story" to this name?
Kendoll: There's really not, it has nothing to do with the Barbie doll either which most people like to think. It just worked so perfectly with the spelling of my name "Kendall" to switch the A to an O, one of my good friends actually suggested the name 3 or 4 years ago and it just stuck!
TSS: You are releasing  EP on Build it Records very soon! Can you talk to us about what inspired this EP?
Kendoll: This EP I have coming out August 7th called "4 the night" Is an EP inspired from completely different styles. I mainly enjoy making more UK inspired house music but this one was a little more on the funky side of things! One of the songs featured on the EP was actually played out by LondonBridge at splash house and featured in a couple of his mixes!
TSS: Do you have more music you are releasing soon?
Kendoll: I do! I have another EP coming out with four40 records called "Strange Tings" which I'm extremely excited about. It's definitely on the UK house/bass side of things which I really enjoy making. If you are attending Night Bass' Summer Phases Tour in Seattle this Friday you will hear some of it! Besides the two EP's, I have another 5 or so songs I've been keeping to myself to play out until I decide to self-release some of them.
TSS: If you could collaborate with anyone, who would you want to collaborate with?
Kendoll: If I could collaborate with anyone I would collaborate with Volac, they have such a crazy and unique style of production and I think it would be really cool to see our two styles come together and make something that hits.
TSS: What are the record labels you are most hyped on right now?
Kendoll: I mean I've always been incredibly hyped up on Night Bass, I've been listening to AC Slater for forever and I think his taste in garage and bassline is impeccable. Another label I've always had my eye on is This Ain't Bristol owned by the one and only Billy Kenny. That label does an amazing job of meshing together tech house and a gritty UK style. I would love to release with them at some point in the future.
TSS: You are opening for Night Bass Summer Phases in Seattle today! How does it feel to be opening for a major tour in your "hometown"?
Kendoll: It feels incredible! I've always wanted to play at Q Nightclub, let alone, alongside AC Slater, Shift K3y, Sinden and Petey Clicks, is an honor. I think this booking fits my style perfectly and I'm excited to throw down some unreleased tunes for my hometown!
'Follow' Kendoll | Facebook | Twitter | Soundcloud |
Comments
comments