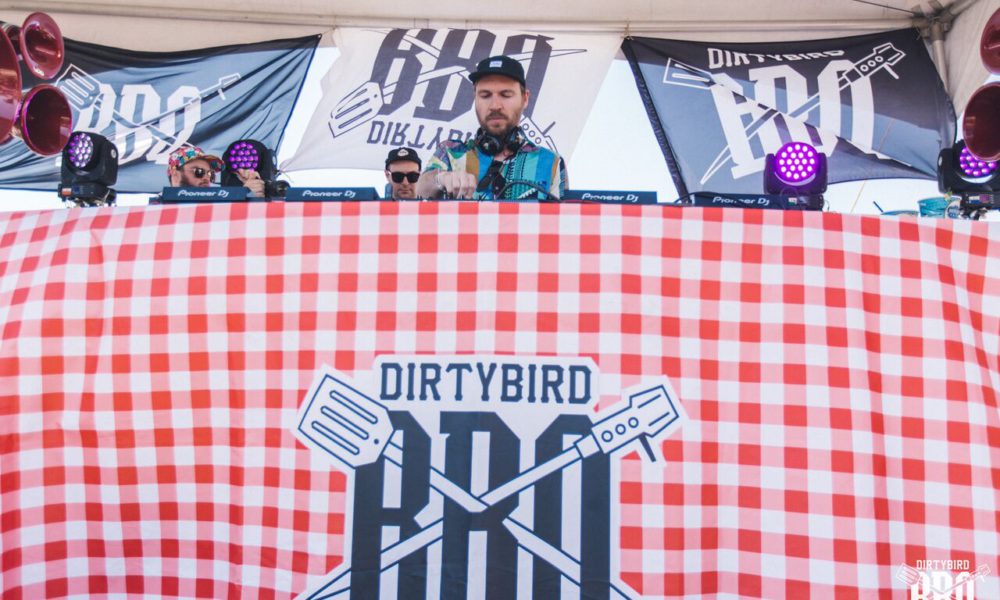 If you've never been to a one-of-a-kind Dirtybird BBQ, you're missing out on one of the best traveling events around. I somehow missed the past two after attending my first one 3 years ago, so when I heard that this years festivities included sets from Claude von Stroke, Justin Martin, Christian Martin, J Phlip, Ardalan and Worthy, there was no way I wasn't gonna be there.
VENUE
Last year, the Dirtybird familia moved their beloved BBQ event to a different, more spacious part of Treasure Island. A foreign venue space paired up an astronomical number of attendees, especially when compared to the previous year, meant that Dirtybird had to completely scale their event to an appropriate size. Was it still fun? Of course! Dirtybird events always are. However, were there a few minor kinks that needed to be worked out? Definitely.
Unsurprisingly, Dirtybird took note of all that needed to be fixed which ultimately led to an incredibly successful 2017 event. The biggest improvement in my opinion was the production set up. For example, the main stage in 2016 was located nearby the entrance of the event which led to a claustrophobically condensed section of the venue. This year, the stage was moved to the opposite side of the venue, which completely opened up the entire space. As a result of the better situated set up, the new venue really began to feel like home for all the birdies – a place that was cozy, comfortable, and of course, had the best tunes to get down to.
FOOD & DRINK
Quality food is an essential part of any BBQ, so let's take a minute to chat about the food and drink situation at the event. Not only did I devour some delicious ribs and baked beans prepared by the birds themselves, but I even found some extra room in my stomach for a few bites of a pork belly BLT from an additional food truck at the event. This isn't a BBQ where you're eating some store-bought frozen burgers — the birds absolutely brought their A+ food game to the table. We're talking about "lick your fingers clean" type of BBQ from these guys and gals. If you don't like BBQ (who are you), there were many other options available as well.
Back when I attended my first BBQ, outside alcohol was permitted, but as the event has grown over the years, that is no longer realistic to allow. To my pleasant surprise however, drinks were very reasonably priced, and locally sourced to boot! Nothing could've washed down the BBQ better than a refreshing Lagunitas IPA from right across the Bay Bridge, but if you're more of a cocktail person, there were plenty of signature cocktails available as well. I'd recommend the Disco Slut (what a name, right?).
MUSIC
Worthy kicked off the day by masterfully weaving together groovy tech house tunes both new and old before handing the decks over to J Phlip for an hour of records so acidic that your mouth would pucker up by just hearing them. Soon after, Christian Martin took the stage and ignited the crowd with his groove. As the sun slowly started to descend, Dirtybird boss-man Claude Von Stroke took us under his wing by jumping on the decks. Lastly, and certainly not least, was Justin Martin. Not only did he play his iconic house sound, but also tracks off of his latest full-length album such as "Hello Clouds" which all the birdies floated and sang along to. Needless to say, it was a day filled with epic tunes and endless dancing. A perfect Sunday at the DB BBQ indeed.
ACTIVITIES
Oh y'all thought we were going to end at music? This ain't your average music event, folks! Aside from a great venue, delicious food and drinks, and top notch tunes, the Dirtybird BBQ also features a "Best In Show" contest for attendees to partake in. There are three different categories for Dirtybird lovers to compete in to compete in, with winners winning a one year subscription to the Birdfeed: 1) Best Custom Creation 2) Best outfit 3) Best dance moves. At 4PM sharp, Grillson (DB BBQ's beloved Grill cook), rounded up the crowd and assembled participates in a line. After each attendee strut their stuff, judges picked the best off the best. Once it was down to final three, one lucky grand prize winner were awarded 2 tickets to the Dirtybird Campout.
We saw some epic creations, with one of my favorites including a jean jacket handprinted with a neon orange DB egg logo on it. A lyrical/ballet dancer stood out from his competition and ended up winning in his category. Lastly, a circus troupe dressed from head to toe in stunning yet quirky outfits won the hearts of the judges for best outfits. The Best In Show contest is a fun addition to the BBQ, and allows for fans to show their Dirtybird lovin' peers their true colors.
Dirtybird, you've done it again. Thanks for another fantastic year at the BBQ.

Follow Dirtybird
Facebook | Twitter | Soundcloud

—-
Written by Wyatt Tucker & Mars Sartori
Comments
comments