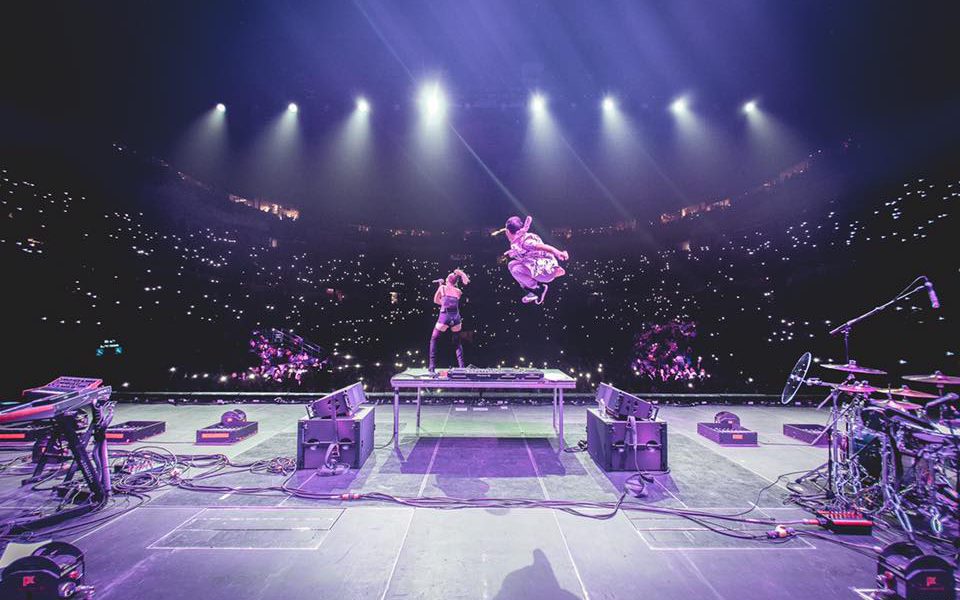 Photo by Yoder
We recently had a chance to sit down with Shaun Frank while he was on tour with The Chainsmokers. Shaun has had countless hits over the last few years with some massive artists by his side. His latest track 'No Future' is absolutely amazing from start to finish and was released at the end of March on Ultra. After the interview we got to watch Shaun crush a jam packed arena playing a wide variety of music. He brought out Ashe and Delaney Jane as special guests to come perform live which was an amazing way to round out his set.
TSS: How did your career start? From the beginning moving on you've had a ton of monster releases.
Shaun Frank: I started way before this and I actually sang in a band for a long time. My transition to electronic music was singing on records as well. I was doing vocals for a lot of different producers where you might not even recognize that I'm the one singing. That's what introduced me to the industry. I met a lot of guys like Oliver Heldens and Borgeous that my initial collaborations were with and it sort of took off from there. Every artist has their story and I think mine is how I met up with these guys and made these records. That's what launched me.
TSS: So how did these artist interactions take place?
Shaun Frank: A lot of it happened just hanging out at shows. I was a resident at a venue in Toronto called The Hoxton which is closed now. Everyone came through to that that club and It gave us an opportunity to hang out. I'd play them my tunes and they would come to my studio which is how all of it really started.
TSS: Do you have any dream collaborations?
Shaun Frank: I've always really loved the overall sonics of Oliver. They have the sickest productions and mixdowns in the business. I've always been a huge Matt Zo and Porter Robinson fan. Madeon as well. I'm really into the more melodic stuff. I think it would be dope to write a song with any of them. It would be sick to get Radiohead to feature on a track or something haha.
TSS: Going off of that. How did working on 'Closer' come about?
Shaun Frank: So I met the guys in Toronto, again kind of the same deal as the other artists I mentioned. My manager at the time was booking their shows. They invited me to go on their tour last year, it was called the 'Friend Zone' tour. I did about 10 of the shows and one day we were chilling in the back of the bus. Drew had this beat that he had been working on, we wrote the rest of the song together and basically that was it.
TSS: Growing up who were your musical influences?
Shaun Frank: I was a big Nirvana head. I grew up with Nirvana, Sound Garden, and all the grunge stuff. Also the stuff that my dad listened to. Stuff like Bob Marley, Paul Simon, Bob Dylan and all the songwriters. I was really into songwriting, lyrics, songs with substance. You know, just songs about things that matter. That was a big shift for me when I switched to dance music. I was making a lot of house stuff. The lyrics in house music didn't really need to be anything special. They're usually just one line repeated over and over. I made some records like that but what I really became passionate about was writing proper songs which is what I'm doing now. Even my stuff like 'Shades Of Gray' are more vocal oriented.
TSS: What do you do for inspiration when you're stuck?
Shaun Frank: You get stuck a lot! It's kind of easy to sit down and crank out a beat, but to write something with substance you've got to live your life with your eyes open. You've go to experience things but also try to feel what other people are experiencing. It's all about keeping an open notebook. From that you'll find the real songs.
TSS: On tour you've got tons of traveling time. Who are some of the artists you're currently listening to so you can pass the time?
Shaun Frank: I've been throwing back a lot of old records lately. Kid A by Radiohead and old Coldplay records right now. The stuff that K?D and Rezz are doing is super unique also SNBRN. I just usually listen to my homies.
TSS: Where do you see Shaun Frank in five years?
Shaun Frank:  Five years is a long time. If I look back five years I never would've expected to be doing this. I don't plan ahead that much. I know what I want to be doing which is more live vocal stuff. Drew has been really inspiring and singing half his set. I also want to get back to my roots which is playing guitar, piano, singing, programming, and stepping away more from the DJ stuff to do something live.
Comments
comments