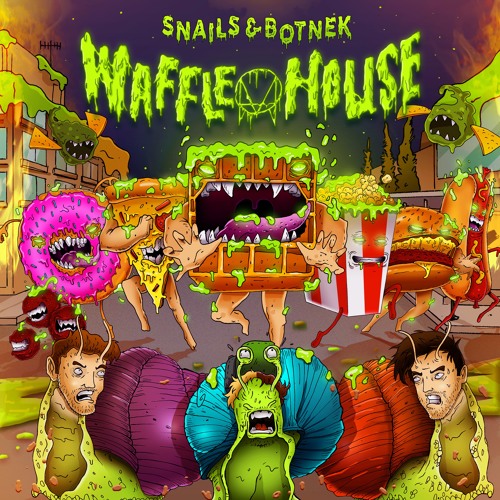 Usually the fist thoughts someone has when they hear either Snails or Botnek for the first time: god damn those Canadians are making weird music. Snails & Botnek have a knack for combining strange synths and melodies with bone rattling drops that always guarantees frenzied dance moves. These guys have collaborated frequently in the past with "ur 2 cool" and "happy hour", even waaaaaaaaay back in the good ole days of 2014 with a monster track that not enough people know about, KRMT, which is another filthy house track that will have your brain melting out your nose in joy.
Snails & Botnek – KRMT
Surprising no one, Snails & Botnek's latest collaboration "Waffle House" is another journey towards the stranger side of house music. With an aggressive build and the signature sound design we've come to love from these artists, this one doesn't disappoint in the slightest. "Waffle House" comes accompanied by an absurd music video complete with a zombie fast food apocalypse that has to be seen to be fully appreciated. Check it out below and be sure to download this insane song asap.
Snails & Botnek – Waffle House | Buy/Stream |
Also as his Snailedit Mix Vol. 4 indicated, this is just the first in a long line of Snails tunes. The vomitstep master is has a TON of new music hidden away, possibly even a full length album, hopefully dropping after or during his demanding summer schedule so stay tuned!!
"Follow" Snails: | Facebook | Twitter | Soundcloud |
"Follow" Botnek: | Facebook | Twitter | Soundcloud |
Comments
comments