The fortune of being able to duplicate an initial concept must come from the overall efforts and execution of an original entity. To mimic your first structure is proof of its success built on high levels of expertise. Having announced their forthcoming installment following its socko outcome in 2016, Shaky Beats Festival committed and prepared itself to continue acting upon these delivered results. This year's edition surpassed its own capabilities with dazzling amenities and spectacular performances, leaving the need for any alterations in future versions at a minimum.
Shaky Beats Festival had the inceptive pleasure of commencing their existence at Centennial Olympic Park. Stemming from the authentic creation that is still Shaky Knees Music Festival, Shaky Beats Festival has solidified itself as an anticipated presence in the city of Atlanta by aficionados of electronic and rap/hip-hop music alike.
Exploring the grounds of any Music Festival and discovering endless features will forever remain as my unmatched weekend highlight, but being introduced to new artists constantly sits side-by-side with that excitement. Any lineup is capable of attracting an audience based on multiple factors, the most common one typically being the placement of world-renowned artists at the helm. What is exemplary of Shaky Beats Festival is their ability to intertwine these praised artists alongside those that are ascending to equal levels of recognition.
My mother is the owner of a Tex-Mex restaurant, Tijuana Joe's, meaning that I am inevitably obligated to work every Cinco de Mayo and partake in the festivities at our beloved establishment. Upon completing my preexisting duties, I was finally able to begin my coverage the following day! My artist discovery began immediately when I approached the Ponce de Leon Stage and stumbled upon Kaiydo, a young rapper out of Orlando. His ability to engage his audience was mesmerizing, his articulate flow steered away from the unfortunate mumble that has become unbearably common from artists in his generation, and he maintained an actual expression of happiness throughout his performance due to this being his true passion. The chemistry between Josh December (his producer) and Kaiydo seemed to be more than a professional pairing between two colleagues, but better yet a brotherhood built on an old friendship. (I came to discover that they actually are best friends, which only further proved my observation.) The Ponce de Leon Stage might be the smallest of the three, but it was the most intimate and provided some of the biggest performances of the weekend.
Size was certainly not a concern for the Ponce de Leon Stage as there was a mysterious energy present constantly attracting everyone. Immediately following Kaiydo's set, we had the privilege of witnessing CID, a Grammy award-winning DJ based in New York City. His set transitioned the hype from the rising Orlando rapper flawlessly as the crowd refused to leave while they kept the dance floor alive. From beginning to end, he delivered seamless execution by focusing on DJing as opposed to merely hyping up his set. We can't wait to see him in a club setting soon!
One of the most ideal aspects at Shaky Beats Festival was the straight pathway that inadvertently connected each stage, simplifying the transition from one point to the next. This led me to the Peachtree Stage, which was currently hosting Slushii's dominating performance. Filled with original tracks and sensational remixes, it was an uplifting set that nestled itself perfectly into the middle of a star-studded day. His one-of-a-kind jersey and blue hair are as identifiable as his music, which all display his creativity differently. I must admit that some of his track choices were rather comedic and oddly selected, yet they coincided with his personality perfectly. Julian is another young individual that is embracing his talents while never abandoning his goofy personality that makes him the cherished fellow that he is. (I still owe you a sushi date in Atlanta, buddy!)
When I initially saw "Special Live Performance: Illenium" on the lineup, I knew that this performance was going to be remarkable and different from what Illenium has delivered in previous productions. Needless to say, it exceeded all expectations with its uniqueness and sole occurrence for the foreseeable future. I had the pleasure of witnessing this phenomenon unfold before my eyes from the sound booth, which provided me with an alternative perspective of Illenium's brilliance. Not only that, but being in that element gave me brief insight of the magic that goes on behind the scenes. Illenium has performed live in the past, yes, but to bring out Said The Sky and other artists to perform alongside him for this performance was what made it special. To see these tracks be brought to life in a different light was an inexplicable delight.
Prior to making my way over to Flosstradamus, I forced myself to stay for part of Flatbush Zombies solely based on their raw energy. Their intense vocals properly laid over their heavy-hitting beats had the audience hype! I was well aware that these two consecutive performances would be two of the most extreme during all of Shaky Beats Festival, so I mentally prepared myself for the madness. The admiration and adoration for Flosstradamus is sincere. In all of my years of covering and attending Music Festivals, I had never seen an ENTIRE audience jump in perfect unison to a song. I was compelled to tell everyone in my vicinity about the synchronicity; I was convinced that it was scripted. As soon as "Soundclash" came on, all levels of madness broke loose.
Sunday was a day built around relaxing and exploring the benefits that were available. One of the most remarkable and memorable pieces was LOUDLAND, an intrinsic installation brought to life over the course of three days. (Shaky Knees Music Festival had its own version of LOUDLAND, so be sure to look for pictures!) Greg Mike, one of Atlanta's most beloved artists, was able to expand on his Larry Loudmouf creation by blending his iconic face with the likes of Pluto, Pinocchio, and Stimpy! As if the final product wasn't captivating enough, the fact that only Shaky Beats and Shaky Knees have ever hosted each origination provided a sense of prideful exclusivity.
LOUDLAND was strategically placed next to the Piedmont Stage, which allowed you to witness the musical and artistic expressions happening simultaneously. One of the acts that our team was most looking forward to was Lost Kings, an incredibly talented duo out of Los Angeles full of infinite potential. Though they may be lost, they continue finding themselves upon countless lineups on a worldwide spectrum. Their seductive style and ability to use relevant situations as the premise for their songs (listen to "Phone Down") makes you connect with them on an intellectual level. Their remixes are brilliantly crafted and equally exciting, yet Nick's acrobatics might have been the true spectacle of their show.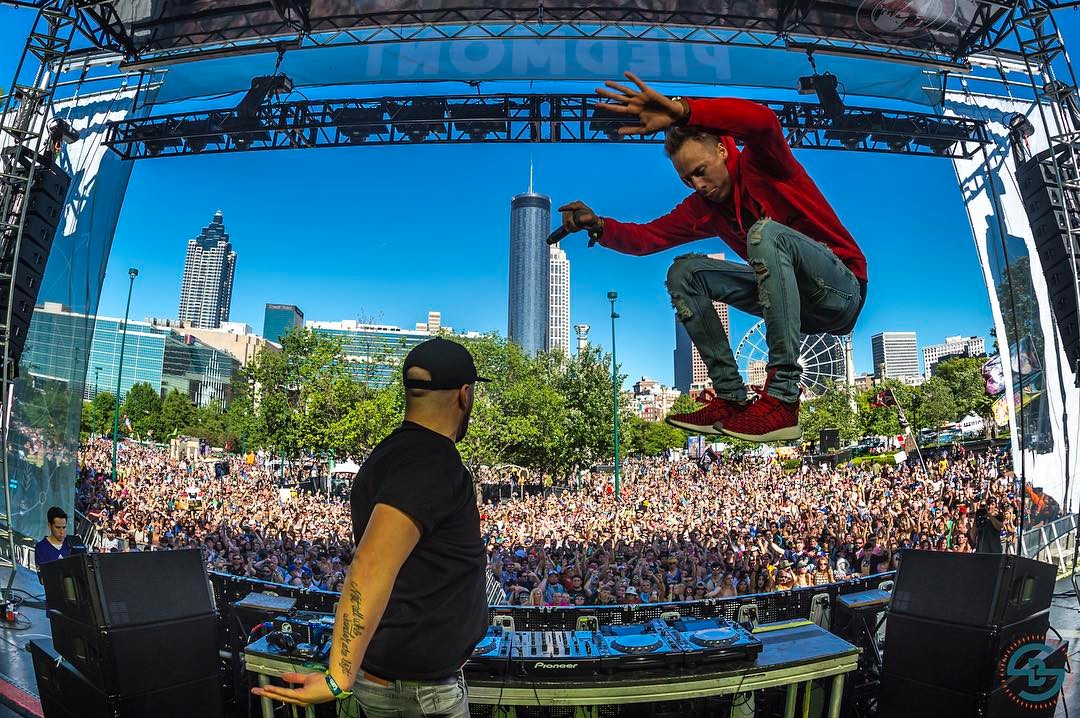 It had been six years since I had last seen Girl Talk. His ability to mash together tracks is truly unparalleled. Blending multiple songs together may come off as easier said than done, yet Girl Talk's aptitude of combining tracks from different genres and eras is done with unfathomable precision. From the moment that I arrived at his set, a dance party that seemed never-ending completely engulfed Girl Talk himself as he tirelessly kept us grooving! As soon as his set (sadly) came to an end, I was confident that I had just witnessed the best performance of the entire weekend. Hands down.
We witnessed some incredible sets throughout the weekend, but we knew there was going to be a lot of anticipation around the closing headliner on the final day. The Chainsmokers kicked off their set in complete chaos by mashing up their singles "Closer" and "The One" with Riot Ten and Sullivan King's "Fuck It." They maintained a constant rotation of originals, mashups, and remixes that had the crowd singing along to every word. The energy mixed with the production provided by Shaky Beats was a sight to see. The fireworks paired with "Don't Let Me Down" topped off the whole weekend and filled the memory banks of every attendee. Thank you for an incredible experience, Shaky Beats. We're already looking forward to 2018!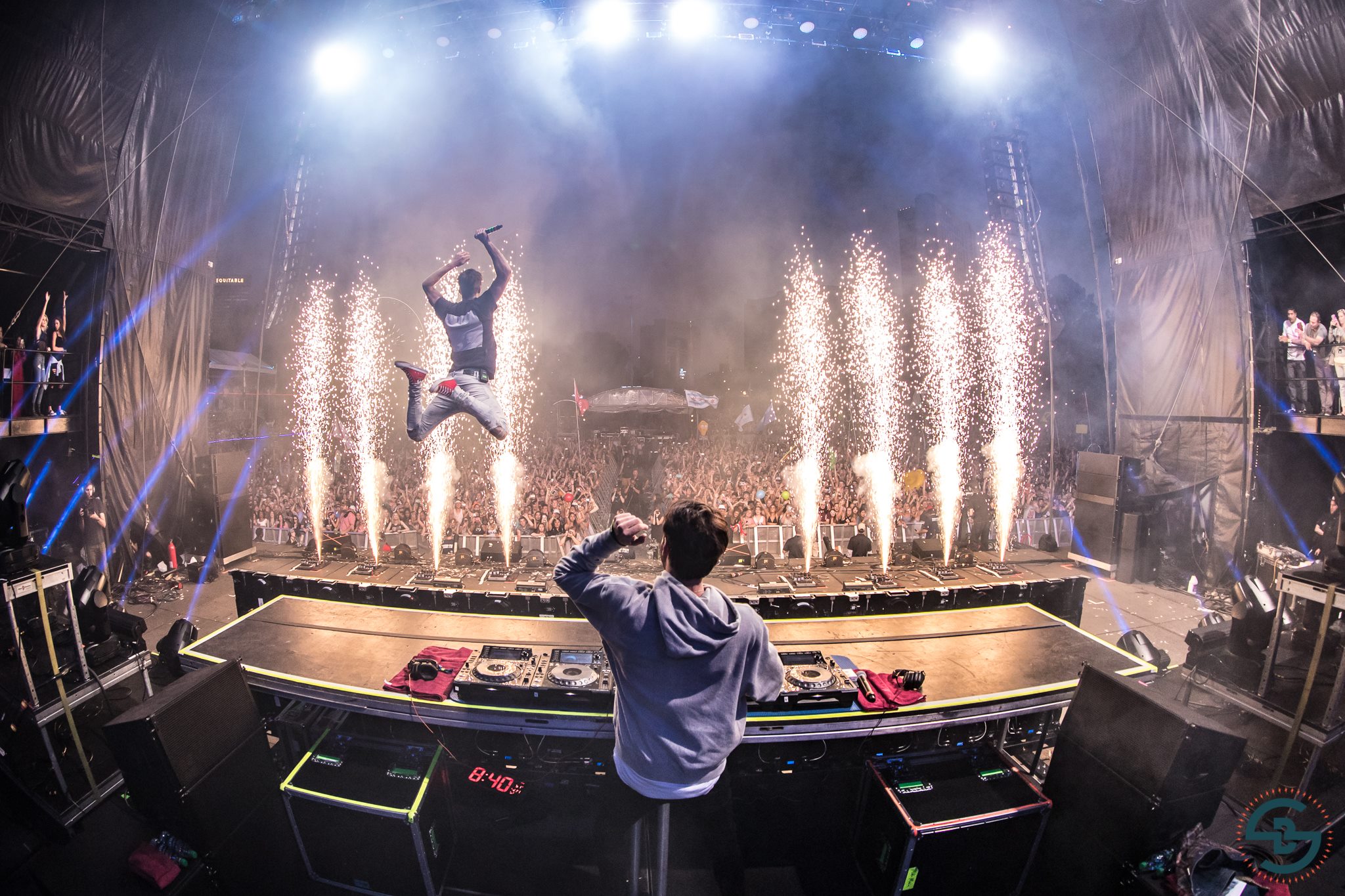 Shout-out to our very own photographer, Tyler Church, and aLIVE Coverage for the astonishing photos!
Comments
comments