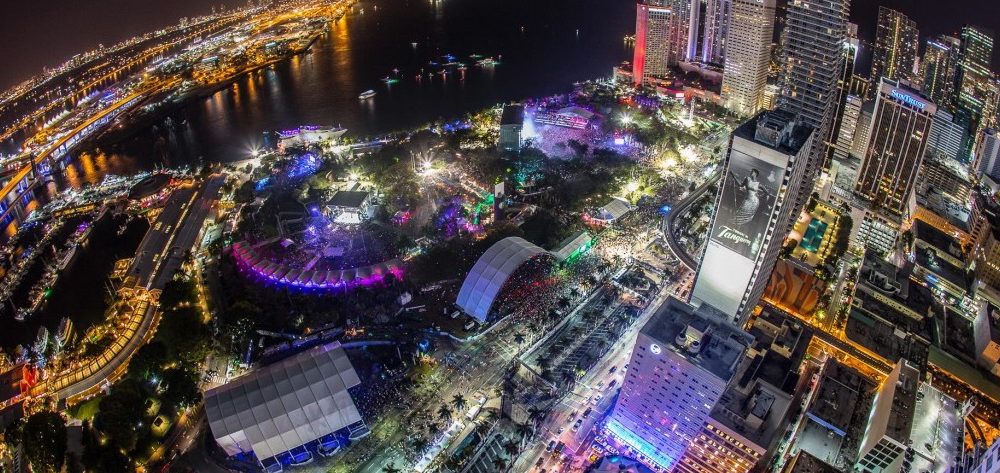 It is that time of the year again, the Miami Music Week festivities have begun and Ultra Music Festival Miami will be taking place this weekend kicking off our beloved festival season. In honor of "Throwback Thursday" and to celebrate Ultra Music Festival, we compiled some of the most iconic moments from the festival to prepare us for all the new memories electronic music fans are sure to make this weekend.
Swedish House Mafia – Ultra Music Festival Miami 2013
For the last stop of their One Last Tour, Swedish House Mafia paid a visit to the main stage of Ultra to close out the festival back in 2013. It was the only proper goodbye to the Swedish trio that did so much for electronic dance music landscape, the perfect storybook ending if you will. There hasn't been a set quite as emotional as this one in the festival's history, but luckily for us and thanks to the Internet, we will be able to relive this historic set forever.
Skrillex b2b 12th Planet – Ultra Music Festival 2012
If you are a real fan of dubstep, this set goes without saying. It is not too often we see these two go back-to-back, but that's exactly what went down back in 2012. Skrillex back-to-back 12th planet, they certainly don't make them like this anymore.
Hardwell – Ultra Music Festival Miami 2013
This set right here, this is the set that made Hardwell a household name in the world of electronic dance music which later catapulted him to the title of the world's #1 DJ, and it was not even a discussion. Sprinkled with some IDs (at the time), the Dutch talent took full advantage of his main stage opportunity and never looked back.
Skrillex – Ultra Music Festival Miami 2015
Skrillex is always up to something, so it comes as surprise to no one that he pulled out all the stops when he closed out Ultra back in 2015. The world witnessed the bass icon call upon Diplo, Justin Bieber, Kai, CL Kiesza and even Diddy to create one of the wildest sets the festival has ever seen.
Avicii – Ultra Music Festival Miami 2013
Avicii has always been one of the biggest names in dance, but the Swedish producers set back in 2013 was unlike anything we have ever seen before. Debuting a number of tracks from his yet to be released album True, he stole the show premiering "Wake Me Up" which fused the worlds of electronic and country music.
Jack U (Debut) – Ultra Music Festival Miami 2014
There were rumors of a dream team duo of that featured Diplo and Skrillex making their debut at Ultra 2014 which had the whole electronic dance community buzzing and boy did they, not disappoint. This was our first taste of Jack U, and while this legendary tandem no longer exists, we have this set to always remind us of where it all began.
Krewella – Ultra Music Festival Miami 2013

Krewella Live @ Ultra Music Festival 2013… by f1838514513
Back in 2012, Krewella's smash hit "Alive" took over the airwaves, yet no one was quite familiar with the trio until the took the stage at Ultra Maimi back in 2013. This is when the electronic dance fans fell in love with Yasmine and Jahan for their stunning vocals and in you face attitude. After this set, Krewella had officially become a household name in the world of electronic music.
Deadmau5 – Ultra Music Festival Miami 2014

Deadmau5 UMF 2014 Mainstage by fryczek
Deadmau5 had made a name for himself with his undeniable production talent and his whole "fuck you" attitude so when he took the main stage back in 2014, we all had a tickling feeling he would seize the moment….which he did. Dropping Avicii's "Levels" and dropping an "Old MacDonald Had A Farm" edit of Garrix's "Animals," the world witnessed the biggest trolling in UMF history.
Knife Party / Pendulum – Ultra Music Festival Miami 2016
Knife Party was closing out the festival last year with the return of Pendulum, Rage Against The Machine's Tom Morello, and a wild Deadmau5 appearance, enough said.
Above & Beyond – Ultra Music Festival Miami 2014
Inclement weather has never stopped the party down at Ultra Music Festival, but it came damn near close during Above & Beyond's mainstage performance back in 2014. While the rain was coming down during their set DJ gear shorted out forcing them to finish their set with their backs to the crowd using a backup set of decks behind a LED screen. Talk about an iconic moment!
Martin Garrix – Ultra Music Festival Miami 2014
Once upon a time, Martin Garrix was THE face of electronic dance music taking over the world with his hit "Animals," but it was his set back in 2014 that showcased his ability to the world and proved to any naysayers that he was no one-hit wonder.
OWSLA All Stars (Valentino Khan b2b Snails b2b Mija b2b Getter) – Ultra Music Festival Miami 2016
Now a back-to-back of this caliber just can't be forgotten. Last year at the OWSLA stage, Valentino Khan, Snails, Mija and Getter or shall I say the OWSLA All-Stars all went back-to-back to close out the night for what can simply be descibed as a barrage of bass.
Comments
comments