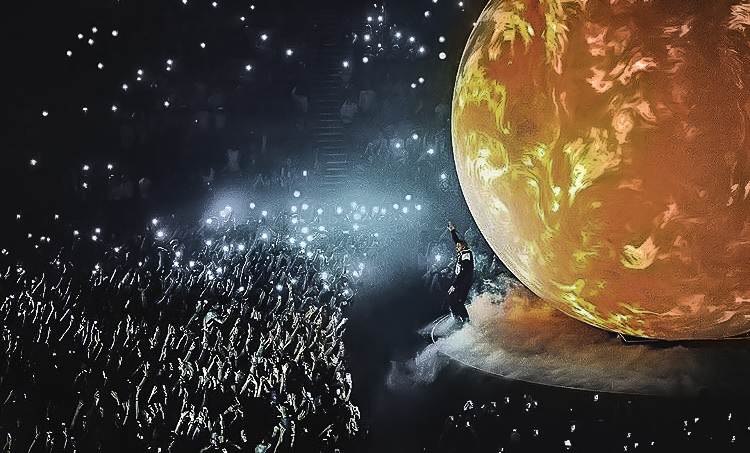 UK grime, a South African house DJ, 1970s funk and untested experimental sounds… is this really a Drake project?
After being teased for five suspenseful months, Drizzy fans everywhere were losing their minds last night (March 18) when Drake finally revealed More Life during the 39th episode of OVO Sound Radio.
The project started gaining hype in October 2016 when the Toronto rapper disclosed that he had a "playlist" in the works. The unfamiliar term raised questions of whether the 6 God would maintain his legacy or fall off. The man behind some of Drake's biggest hits, Nineteen85, backed him up in a January interview with Billboard stating, "[Drake] has so many good ideas that he just wants to put out without making it a big ordeal."
More Life was expected to showcase fresh handpicked artists, but did it actually take a top spot among the Legend's previous albums? Twitter thought so. The social platform blew up with millions of fans hashtagging their support during the initial debut on Apple Music's Beats 1 Radio.
Drake dropped a hip-hop bomb by releasing one of the genre's most original projects to date. He flaunted his unforeseen love of UK grime by featuring: Giggs, Skepta, Sampha and Jorja Smith. Mr. October also teamed up with South African house DJ, Black Coffee, for a sound that no ears anticipated. Champagne Papi even tied in a sample from J-Lo's 1999 hit "If You Had My Love." ("Teenage Fever" wasn't the only time he shouted out his recently rumored ex bae. In the playlist's debut track "Free Smoke" Drake rapped, "I drunk text J-Lo/Old number, so it bounce back.")
Some fans were worried they were listening to a completely different Drake until the Cash Money Running Back dropped the mic halfway through the playlist. The addition of a hip-hop all-star lineup including: Travi$ Scott, 2 Chainz, Quavo, PARTYNEXTDOOR and Young Thug dubbed More Life legendary. The surprises kept flowing. "Glow," a collaboration with Kanye West, received the most attention. The top two rated rappers alive had followers believing they'd been beefing for months. More Life shut that rumor down. Pablo's vocals were even tested on the epic track that concluded with a 1970's funk sample from Earth, Wind and Fire's "Devotion" to maintain originality.
The project wouldn't be complete without paying respect to Drake's homies and fellow hit-makers. During "Lose You" Mr. OVOXO boasted, "If we not on the charts my XO n*iggas eatin'/fifty-two consecutive weekends, shout out The Weeknd." He also acknowledged his Young Money roots. Lil Wayne contributed a voiceover to close out "Blem," "Good morning, good afternoon, goodnight!/I'm here to talk about More Life/One Second," followed by Weezy's signature blunt spark.
More Life exceeded the realm of hip-hop by clearing up NBA gossip. Lebron James fans felt unresolved tension when King James tweeted a "Lose You" lyric in January, "Sometimes I gotta just make sure that i didn't lose you. Did I?!?! Did I?!?! Did I Lose You." The dramatic post fueled speculations that there was trouble in Cleveland with fellow teammate Kyrie Irving. Turns out the NBA star was just honoring The Lebron James of This Rap Game, who had blessed his boy with the playlist months prior to its release.
Needless to say More Life changed the game in a major way and the masses can rest easy knowing this is not the finale. The Young Money Superstar completed his masterpiece with a promising line from the final track, "Do Not Distrub" vowing, "I'll be back in 2018 to give you the summary."
Comments
comments