Last year I embarked on my very first Coachella bright-eyed and bushy-tailed. I had heard of the legends and myths from many attendees of an array of experiences that ultimately led to a deep desire, no NEED, to cross Coachella off my festival bucket list. While there were several different "starting" points of which my journey could have started, I chose the Camping path. My friends had all camped their previous years and insisted that there was no other way to do it. So here I am, a year later, still bright-eyed and bushy-tailed, sharing the same sentiment with you. There is no other way, but there are a couple tricks and tips that will certainly help you as you undergo what can only be described as one of the best weekends of your life.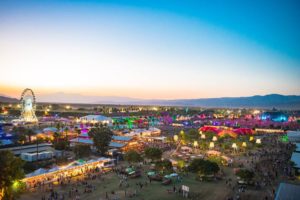 THE BASICS
1. Bring your tent and don't forget the stakes!I can't stress this enough.The polo fields get windy. I'm not talking a gentle breeze on a sunny day, but a sandstorm with a hidden agenda to blow all your stuff across the grounds. So keep it safe, keep it secure.
2. WATER. If you think you have enough water, grab a case more. Not only is it hot, but it's dry. It's very important to stay hydrated regardless if you are consuming alcoholic beverages or not. You might also want to invest in some Gatorade for electrolytes just to be on the safer side. The heat has the tendency of sneaking up on you instantaneously and this is a great fix.
3. Invest in an umbrella or an E-Z Up. As I said before, it gets hot. You'll want some shade and your tent won't provide the kind you're looking for. Tents trap the hot air while the umbrella/E-Z Up allowing for a free flowing spot to rest and relax.
4. Bring blankets and towels. These are a necessity for many reasons. Besides needing the blankets for keeping you warm at night (don't forget deserts get cold too) it'll provide either an option to lay on in the grass or extra shade to attach to your E-Z Up. The towels also serve the same purpose, but as you might have expected help in wet situations. Did something spill? Do you want to shower? Maybe you just want to brush yourself off. Either way, bring some towels.
5. Don't shop for food when hungry. You'll probably end up buying a lot of snacks that sound good, but ultimately don't eat and end up ditching last minute in the trash. Buy protein bars, gummy snacks, beef jerky, or things with a little extra sustenance. If you plan on BBQing, there's a whole different list of items you'll need, but this is to be amended as needed.
6. CLOTHES. You'll want garments for every kind of weather. Be sure to include tank tops and shorts for the heat, but pants and sweaters for the cold. The desert will vary from day to night in the blink of an eye and luckily you have the option of multiple wardrobe changes since your home will be just a walk away.
7. SUNSCREEN & BANDANA. The sunscreen might be obvious, but the bandana was a lesson learned. The winds are a lot stronger and sandier than you'd expect. There were dozens of times when I had to shade my eyes or keep them close- and if you're watching a killer set that is the last thing you want to have them shut for.
8. SANDALS/SLIP ON SHOES. While it might be nice to frolic barefoot in the grass, it's not cute being in a dirty porta potty with no barrier to protect your skin. Tying your shoes will take too long and feel like a hassle, so skip the stress and get the slip ons.
9. BATTERY BACKUP PACKS. You will use your phone a lot and the battery that at an alarming rate. If you're like me you'll use it for not only music but also to find your friends. There's nothing scarier than a dead phone and a lost person, so make sure to keep something ready to recharge with at all times.
10. Make your lock screen with a photo of who to contact when lost. Unfortunately, I am one of the many poor souls who lost their phone at Coachella and never had it returned. However, I did have a friend who lost her phone and had the brilliant idea to make her lock screen a photo with her name and who to contact if found. If you're smart you'll put a loyal friend's contact who is also camping with you.
11. TRASH BAGS. Don't be that person who litters. There are trash cans located throughout, but this will ultimately stop you from the trek and easily disposing of your garbage.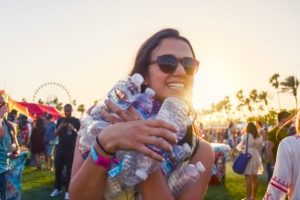 THE LUXURIES
1. Battery generator for your car. My friends and I used this to power our BOSE sound system and also to charge our phones. It was a pretty simple set up which used the car's battery to power up an outlet. If you bring a power strip, you can power multiple things at one time. Basically, it's genius and you should get one. Wal-mart sells them at a reasonable price and if you end up loving this route just as much as me, you'll have it for next year.
2. SOLAR LIGHTS. These were a last minute purchase for cheap at Wal-mart. If you can find them, grab them. They help at night when looking for your site and quite frankly if you'd like to see. We tend to forget the sun provides the light when camping and this is a must.
3 COOLER. While this isn't a necessity, who doesn't love a cold beverage on a hot day. The campgrounds will be selling ice and these are the perfect keepers for you and your water and even food items.
4. CHAIRS. You don't need these if you have plenty of blankets and towels, but the ground isn't always the most comfortable spot to spend your free time in.
5. BABY WIPES. The showers will inevitably always have a long line. You might not have the energy, but you'll probably stink. Baby wipes are good for cleaning yourself up in the easiest way possible.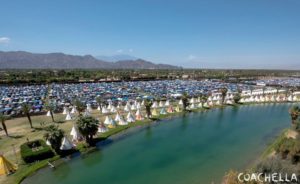 HELPFUL HINTS
1. Arrive early Thursday morning for camping. The fields get stacked fast and best spots are based on first come first serve. There's a good chance you'll be waiting in the car line for hours, before even entering so prepare for a neutral car party as you roll through the line waiting to be checked.
2. Don't pack your car tight. The security will need to check your car thoroughly and it's a pain to take things in and out. It's best if everything is easily accessible for a fast and speedy check in.
3. Buy ice before heading in. If you're stopping at the grocery store like most campers do, don't forget the ice for the cooler you brought. The ice cold water will taste extra nice after prepping a campsite.
4. Park next to your friends and create one big common space. My group personally had 6 spots and we were able to create one of the most relaxing common areas for everyone. Decide which area gets the tents and which side will be utilized for play. Think Step Brothers. Think of all the activities.
5. Go back to your campsite in downtime before the sun goes down. While the schedule might not allow it, this is the perfect time to change to warmer clothes as well as grab a drink or food. If you're on a budget, you won't want to spend all your money inside. ALTHOUGH, the food is phenomenal and there's a lot to choose from.
While Coachella provides incredible music and activities, the camping is really what can sets the scene for the weekend. With a good camp site and some great friends, you'll create an environment that will make this place like home. Coachella 2016 might have been my first, but it certainly won't be my last. Pack smart, play safe, and I hope to see you on the fields!
Comments
comments