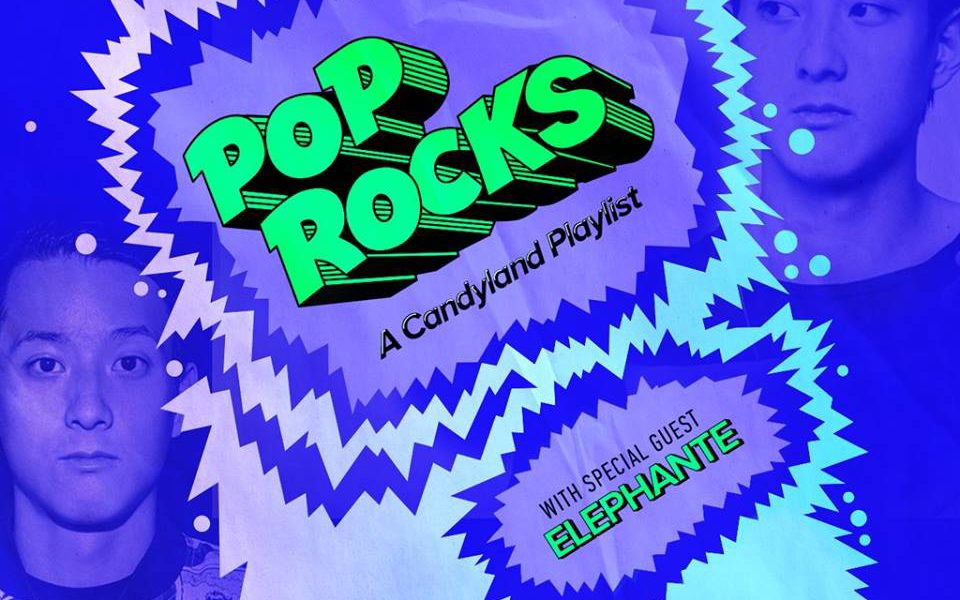 Happy Sunday Funday everyone! We are back with another edition of Candyland's Playlist, Pop Rocks. Last time we had The Chainsmokers as a special guest and this week Josie has dialed up Elephante to another stacked list of tunes.
You all know the drill by now, so without further adieu here's Candyland and Elephante to explain their picks, enjoy!
Hey! Super stoked to bring you guys the third volume of the Pop Rocks Playlist. This time I have my buddy Elephante doing the guest selection. I recently had the opportunity to remix one of the tracks of his new record called Hold, which is in the playlist so definitely check that one out haha.
Got a solid selection from a bunch of new artists that I've recently found and old jams that I think people should know of! For those new to Pop Rocks I try to encourage my guests to pick songs that they think their fans wouldn't expect them to listen to, and I'm doing the same with my selections! Enjoy. – Josie
LISTEN TO THE PLAYLIST HERE:
ELEPHANTE'S PICKS:
Glass Animals – Life Itself Glass Animals is probably my favorite band right now – their entire album is amazing, but this song especially hits home for me. The line "she says I look fat, but I look fantastic" is the best line of 2016
6lack – PRBLMS I grew up LOVING hip hop, like Eminem and Jay-Z, but for a few years I think it got pretty stale… the last few years though there has been so much good stuff coming out. This is a song that everyone should know about – it's so weird and dark, and it's one of those things that just appeared on the internet and exploded completely organically
Banks – Gemini Feed Another dark, moody one – just love the vibes on this one, it has a lot of elements of electronic music that are popular right now, but it does it in such a unique and tasteful way
Jack Garrett – Weathered Jack Garrett is everything – I saw him live a couple weeks ago, and it was the first time I've been absolutely blown away and melted and chills all over and made me feel like a kid again. This song slays me, the vocal is so powerful and the production is what I think all electronic production should strive for – super cool and unique, but it's all contributing to the emotional story of the song. The bridge at 3:14 leading into "when my heart stops beating" is an absolutely incredible musical moment.
John Mayer – Bold As Love Believe it or not, John Mayer was the reason I started making music. "Continuum" changed my life – everything on that album is perfect, but this song especially means a lot to me. It's a cover of Jimi Hendrix, and I pretty much learned how to play guitar trying to learn this song. I even got a tattoo of "Bold as Love", so there's that… give JM a shot, he's the GOAT.
Comments
comments