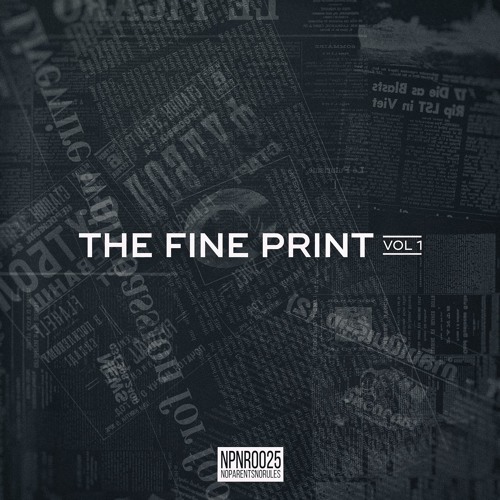 Dallas based label No Parents No Rules (NPNR) doesn't judge. If the tune is dope, they will release it. They don't care about genres only good, booty shakin' music. They have released a 5 track EP called The Fine Print Vol. 1 and features a variety of sounds.
Kicking things off is Swedish producer First Gift's Discussion. It's a fun, big room tune that will rock the crowd. The second tune is by solo producer Hookers N Blow and the track is called L.A. Bound. It's a Bass House tune that will get you up off your seat. The 3rd tune is called Rice Village by Junk Food which features some 8-bit sounds, video game samples with a Future Bass drop. The 4th track is by Owl-B and his production is called Ask Yourself. For the Househeads, this Tech House tune will leave your hips a rockin'. The final tune is by Zenon and it's called Desolate. It's a Trap, Moombahton-inspired track that will get you lit.
This diverse cult of music will please anybody who digs all types of dance music. Not only that, the EP is available for the price free. So peep it out below, get your freebie and follow these talented artists.
No Parents No Rules – The Fine Print vol. 1 | Download |
"Follow" First Gift: | Facebook | Soundcloud |
"Follow" Hookers N Blow: | Facebook | Soundcloud |
Follow" Junk Food: | Facebook | Soundcloud |
Follow" Owl-B: | Facebook | Soundcloud |
Follow" Zenon: | Facebook | Soundcloud |
Follow" NPNR: | Facebook | Soundcloud |
Comments
comments