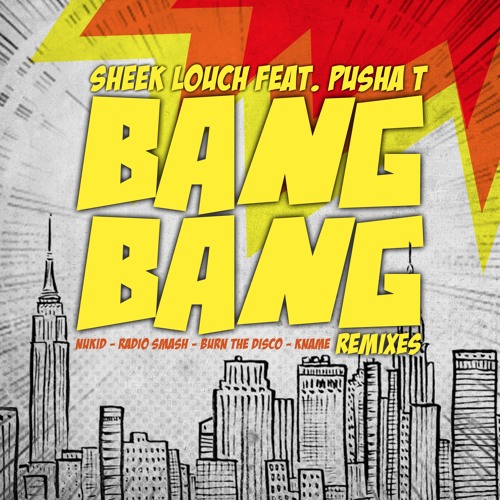 Flying under the radar last year was Sheek Louch's heavy song "Bang Bang" featuring Pusha T. This year it has seen a revitalization through a four-track remix package which features NuKid, Radio Smash, Burn The Disco, and KNAME.
NuKid takes the hard beats and reggae styling of the song to the g-house. Funky beats and synths drive the song into an entirely new direction while keeping the eeriness of it alive. Radio Smash also goes into an entirely new direction but with a hard trap sound. Menacing drums are the focal point here with deep and hollow synths backing the lyrics. This remix is probably the most suited of the bunch for big rooms.
Burn The Disco turns the song completely on its head and turns it to a clubby house dancefloor heater. The lyrics are sped up and deep synths with drum snares are used to back the club sound. This remix is the most unique of the bunch and my personal favorite. KNAME opens up the song by slowing it down a bit and removing the heavy production in the original. He then chops and screws the lyrics and uses that as the drop. The feel of the song is darker than the original with the sounds of static he uses and lack of production, letting the lyrics speak for themselves.
These remixes are out now via Tommy Boy and are available to purchase or stream from all major services. All four remixes go very different routes so there is something for everyone here. So check these out now down below and get down to the sound of these four remixers.
Sheek Louch – Bang Bang (feat. Pusha T) [Remixes] | Download |
Comments
comments