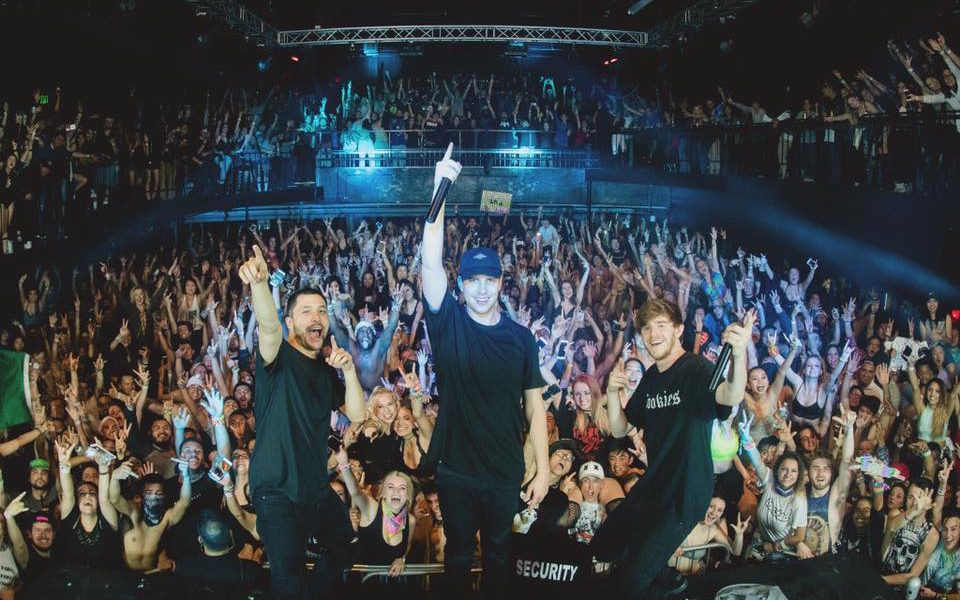 On Saturday December 3rd Slander and NGHTMRE's Gud Vibrations tour came through Dallas at famed venue Stereo Live. It was a night packed with amazing sounds, obnoxious bass and good vibes. Check out my review for all the deets!
KRNE got the night started dropping the heat on a cold night in Dallas. I rarely get to a venue early but I had to catch this dude play. He did not disappoint. Some of the tunes KRNE played was a mashup of RL Grime's remix of Mercy, Future bass remix of The Weeknd of Can't Feel My Face, his remix of Drake's Summer 16, and the jaw dropping collab Supernatural by Quix & Boombox Cartel. 2 wicked ass tunes were dropped past the midpoint of the set. I tried Shazaming a lot of the tunes KRNE played but to no avail. Managed to Shazam his tune Bonezzz with Havok Roth tho. Every tune he played was great not a single complaint from one.
Next up Habstrakt takes the stage and starts off with his wicked remix of Slander & YOOKiE After All. Luckily the crowd wasn't scared of Clowns as that was the next tune he played. Propaganda remix he dropped was dope af. Played a mashup of Subskrpt's remix of Woo Boost by Rusko damnnnnnnnnnnn old school. 20 mins left and he goes heavy with his VIP mix of On The Block. The tune after that was massiveeeeee! Last track he played was his unreleased remix for DJ Snake's 4 Life.
Time for the headliners. Never seen Slander or NGHTMRE but was ecstatic for their set. Their intro was a special edit of the classic House track Black Box Ride on Time; using the good vibrations lyric as the sample. Dropped Saria's Turn Up by GTA shout out Legend of Zelda. Click Clack patty whack this track by NGHTMRE is bangin! A Porter Robinson Unison mashup was played but idk the other track because Shazam ain't getting it. RL Grime's Core is still insane. The tune before DJ Snake's Oh Me Oh My was out of this world. Oh surprise of the night is the edit they made using Aerosmith's Don't Wanna Miss A Thing. Slander dedicated Just a Friend by Biz Markie for the first timers watching them play. Followed up is Yeah by Usher with the drop being NGHTMRE's tune with Dildo(Dillon) Francis Need U. Damn and the remix they played right after was tightttttt. Good lord hour 1 was ridiculous, I ain't ready for hour 2 tho. Shout out to the light technician he was getting jiggy with it while managing the lights. NGHTMRE gets hour 2 started with his remix of Tommy Trash Luv U Giv. Glorious by the way. 4B & Aazar Pop Dat remix/edit was insane. Slander dropped their remix of U Don't Know by Alison Wonderland and it was phenomenal. As the set was inching closer to the end Slander dropped some new new, fresh future bass. I won't tell y'all about the ending and let y'all experience it yourself.
Overall it was a badass night filled with the dopest tunes. They all slayed and was happy my cherry got popped for all 5 dudes as I came in never seeing any of them to being bigger fans of theirs. Check out the rest of the dates for their tour.
Dec 05: Music Farm – Charleston, SC
Dec 06: Music Farm – Columbia, SC
Dec 07: The International – Knoxville, TN
Dec 08: NorVa Theatre – Norfolk, VA
Dec 09: Rams Head LIVE – Baltimore, MD
Dec 10: The National – Richmond, VA
Dec 14: Rex Theater – Pittsburgh, PA
Dec 15: Town Ballroom – Buffalo, NY
Dec 16: The Fillmore – Philadelphia, PA
Dec 17: Playstation Theater – New York, NY
Dec 20: Westcott Theater – Syracuse, NY
Dec 21: Higher Ground – Burlington, WV
Dec 22: House of Blues – Boston, MA
Dec 23: The Dome – Wallingford, CT
Comments
comments