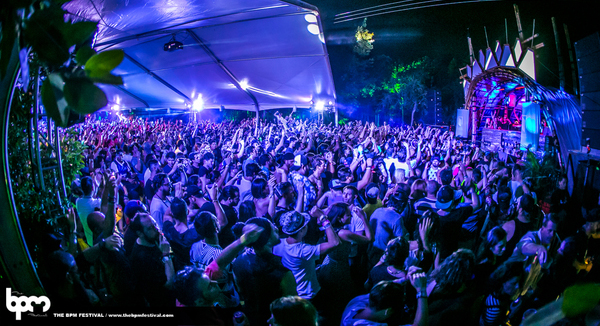 The BPM Festival has released it's full list of over 80 showcases and more than 460 artists for the tenth iteration of the festival that begins January 6 in Playa del Carmen, Mexico. With only a week to go we've compiled a list that includes some under the radar showcases to keep your eye and ear on. The BPM Festival passes (3-day, 7-day, and 10-day) and single event tickets are on sale now while supplies last via www.thebpmfestival.com/tickets.
Ovum – January 6, 2017
The Ovum Records showcase lands on opening day of the festival and there will be no better way to get BPM started. Label head Josh Wink brings together celebrated pioneer D'Julz with fresher faces Manik and Truncate for a full spectrum of house music.

Crew Love – January 8, 2017
While not necessarily an under the radar collective, Crew Love's showcase will host live performances from Soul Clap and No Regular Play that we can't wait to see. Expect some sultry live vocals with beats to match from the New York outfit.

Making Shapes – January 8, 2017     
Los Angele's Making Shapes has showcased some of the best names in the industry while starying true to its focus: make people dance. Organizers and resident DJ's Sonns and Jenniluv will be joined by Michael Meyer and San Proper; for an event that is sure to keep your feet moving.

Suara – January 8, 2017
If you're reading this and haven't heard of Coyu's Suara label, get over to the site and jam out to some of the label's PodCats releases. Suara's consistency is unparalleled with a steady stream of releases and DJ mixes from both new and established names since its inception.

Keinemusik – January 9, 2017
Keinemusik's showcase last year featured Adam Port, &Me and David Mayer going B2B for one of our favorite sets of the year. This time around they're throwing Till Von Sein into the mix; whose blend of house, soul and techno should mesh perfectly with label head Adam Port and label artist &Me.
Voyage Direct – January 10, 2017
Dutch dynamo Tom Trago understands the power of simplicity like no one else. His tunes are no frills jams that lock you into a groove. He's just as much of a force behind the DJ booth so be sure to check out Voyage Direct and maybe even double it up with his set at A Club Called Rhonda.

Kaluki – January 13, 2017
This line-up has us excited for the Playa Del Carmen sun like no other Day Party on the bill. With sets from Skream, Richy Ahmed, Waff, Citizenn and more, expect to be moving till sundown. Since Kaluki formed in a Manchester basement in 2006 its risen to events across Europe, South America and a six year run at Sankeys Soap.

Visionquest – January 13, 2017
Visionquest is nearly a household name for its releases from a roster of artists any fan would recognize. Likewise, Seth Troxler needs no introduction. That being said, seeing Troxler, a founding member of Visionquest join his former label impresarios Ryan Crosson, Shaun Reeves and Lee Curtis on the same night is an event surely not to be missed. The label is over five years strong and is not slowing down.

[a:rpia:r] – January 14, 2017
The founders of Romania's [a:rpia:r] will join forces for their minimalist, striped down version of most everything else playing during the festival. The label is just as notorious for its significant Eastern European sound as it is for it highly limited vinyl releases. Rhadoo , Petre Inspirescu and Raresh will take listeners on a journey and we can't wait to hop on board.

The Bunker – January 14, 2017
Mike Servito playing alongside fellow Bunker residents Bryan Kasenic and Derek Plaslaiko will have festivalgoers feeling like they're in the big city. The Bunker party series and record label has been throwing events in New York for over a decade. They wouldn't have gotten this far without bringing consistently great music out, so expect the special guest to turn heads.

Full showcase lineup announcements and other breaking news are also occurring daily. Check out The

BPM

Festival's official
Snapchat
account for exclusive sneak peeks at lineups, artist takeovers, and behind-the-scenes looks
(add @TheBPMFestival here).

Also, in celebration of the 10th annual BPM the festival is releasing 'X : 10 Years of The BPM Festival' compilation album mixed by Vatos Locos head honcho and Mexico's own son Hector. This special release highlights key players from the festival's decade long history including Carl Cox, Dubfire, Jamie Jones, Jonny White, Josh Wink, Nicole Moudaber, The Martinez Brothers and more.
'X : 10 Years of The BPM Festival' is out on CD on January 6, 2017 and digitally on Beatport January 14, 2017. All profits from the release will be donated to local charities in thanks for the support of the local community in hosting The BPM Festival for the past decade.
Comments
comments