I know everyone who had the opportunity to be apart of the inaugural Okeechobee is as excited as I am about this announcement. Amidst some controversy between the suits of Soundslinger, a lot of people were skeptical about the future of their beloved festival. In its first year, Okeechobee was able to do what I personally have never witnessed another festy do; secure its spot as one of the best in the country. The venue and the lineup gave them a good start but the magic they were able to create was something else.

I knew as soon as I left Okeechobee this past spring that I would be returning in 2017 and I've been waiting on the lineup to drop ever since. To be honest, after my experience at #OMF16 I was convinced that I would attend next year regardless of what the lineup looked like because it was just that great. As cliche as it sounds, I've never been to a festy where the vibes were so on point; everyone and everything about this festival just seemed perfect to me!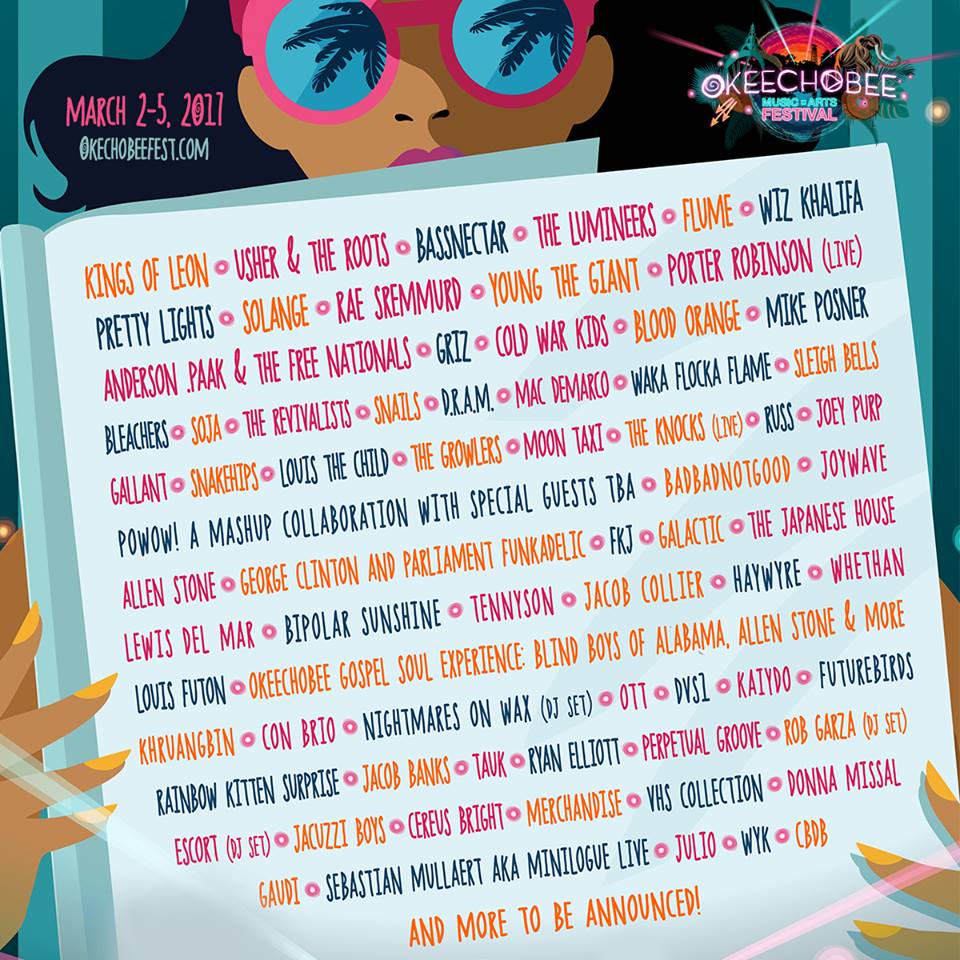 Next years lineup is similar to this past years in the respect that it is extremely diverse and includes artists that are currently making waves. Being one of the first big festivals of the year gives them a huge advantage because they have the element of surprise. You can generally get an idea of what names you will be seeing on lineups later on in the year from the spring festivals. I'm stoked to see Usher & The Roots and there's no way I could've guessed that would be a thing but now I expect to see them on at least a few other bills this year. Don't get me wrong it's still going to be dope at whatever fest they play after Okee but the pioneer always takes the gold medal. Then you have Bassnectar and Pretty Lights in the same spot; this will do numbers regardless and the fact that there is no BassLights happening this year just makes it that much more monumental. Bringing out Kings Of Leon to fill the shoes of Mumford & Sons was a good move in my opinion, they're fresh off a huge year that included the start of a world tour, a new album and an EMA nomination for best alternative. The first year of Okeechobee boasted an impressive collection of rappers and this year is no different! The emphatic duo that goes by Rae Sremmurd and currently has the #1 song in the country will be joined by the likes of Wiz Khalifa, Mike Posner, Anderson .Paak, Waka Flocka, Russ and D.R.A.M. on the list of rappers announced thus far. Other names that stand out to me on this massive lineup include: Griz, Tennyson, SOJA, Flume and Louis Futon to name a few.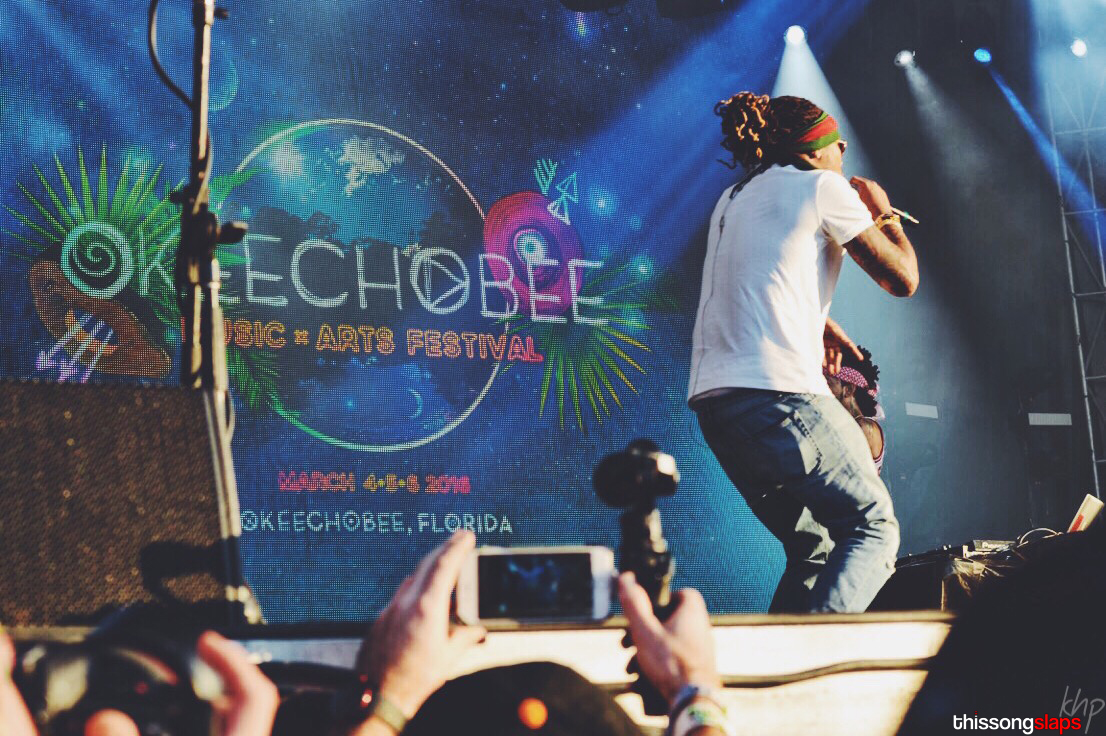 Of course you cant forget about the "PoWow!" which is curated with the same prestige as Bonnaroos historic Super Jam. Last year at Okeechobee Arcade Fire's Win Butler, Miguel, Mac Miller, Mumford & Sons, Skrillex, Preservation Hall Jazz Band, Hall & Oates all collaborated on what was a crazy first of many. The main thing about this lineup that sparks my interest is that all of these names are fresh (excluding one certain individual towards the very top). A lot of festivals are bringing out the same 3 or 4 headliners every year and thats not a good look. I guess we'll see what comes with these next two announcements but I have faith that they will keep things relative and put on another amazing event. For those of you aspiring to be apart of an event like this, you're in luck because Okeechobee holds a contest every year for you & your friends to win a chance to perform in paradise. Destination Okeechobee provides bands, DJs & musicians of all kinds with the opportunity of a life time; the December 15th deadline for that is coming in hot so if you're about it, get on it!
Tickets for this are on sale now starting at the low price of $249 and (I know it seems almost pointless to say) this will most definitely sell out so secure your pass into Sunshine Grove! Check them on social media to make sure you're in the loop and don't miss these upcoming announcements.
Okeechobee Music & Arts Festival Facebook/Twitter/Website
Comments
comments