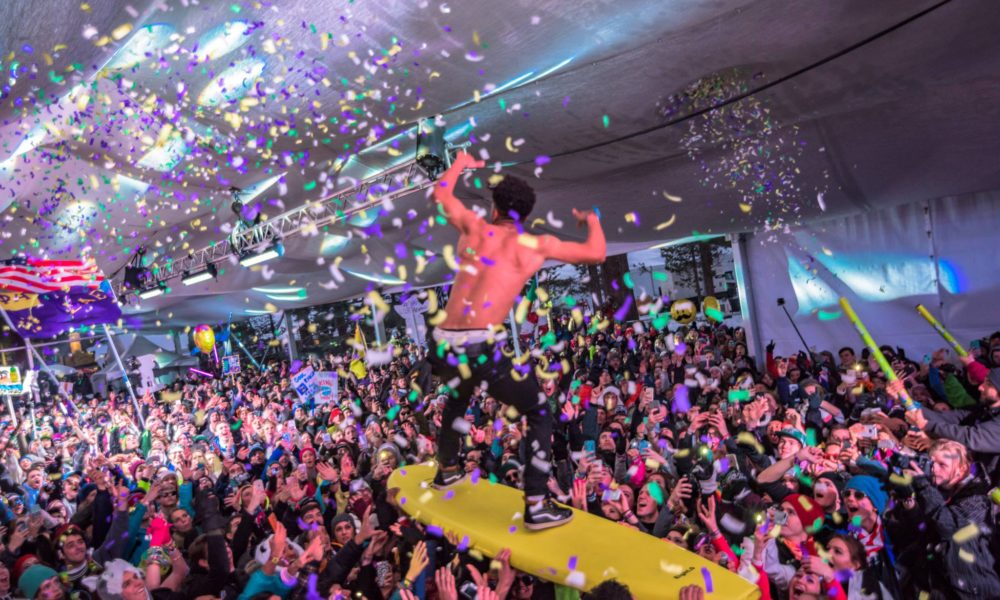 With the end of the year and Snowglobe just about a month away, we thought it was time to help you start planning your new years weekend. With a lineup as stacked as this year's Snowglobe, you're going to have to pick and choose who to see, so take a look below to see our 5 artists that you can't afford to miss at Snowglobe 2016.
VINCENT

Whether you're a fan of trap bangers or more melodic bass music, Vincent will surely have something that pleases your eardrums. The artist formerly known as XVII made a name for himself under his previous moniker by putting out some of the heaviest trap originals around, and by flipping mainstream hits such as Drake and Meek Mill's "Rico" into certified club destroyers. Since then he has transitioned his sound into what I like to refer to as baby making electronic – songs with undeniable electronic elements that are as well suited for the bedroom as they are the dance floor. Something tells me that Vincent's sound and a South Lake Tahoe winter night are going to be a match made in heaven.
---
ECHOS

If you're a fan of the likes of Seven Lions and Crywolf and you aren't familiar with Echos yet, you need to take a minute to familiarize yourself with this incredible duo hailing from Portland, Oregon. Tal, a producer formerly known as Clark Kent, and vocalist Lexi Norton joined forces a couple years ago to create Echos, and their sound can be simply described as pure bliss. Tal's beautiful instrumentals pair perfectly with Lexi's cherubic voice, and their music is stuffed full of emotional beauty, and will be a sight to behold in the snow.
---
HOTEL GARUDA

A few years ago when I heard Hotel Garuda for the first time, I knew they were on their way to being something special. The first track I ever heard from these guys was their remix of "Rhythm of the Night" by Corona, and I instantly fell in love with their sound. Simply put, these guys make groovy tracks that make you want to dance until your feet fall off. Something about their pairing of beautiful vocals with groovy four to the floor beats makes for infectious dance music that serves as a perfect soundtrack for any party. Be sure to catch Hotel Garuda member Chris performing under his other alias, Manila Killa, at Snowglobe as well!
---
CHET PORTER

While we're on the topic of Moving Castle Collective's Manila Killa, I need to point out the Moving Castle artist I'm most excited to see this year, and that is Chet Porter. The Canadian born artist jokingly notes on his Soundcloud page that he is "not chet faker & porter robinson's side project", as that was a common rumor spread around when his music first started reaching a broad audience's eardrums. There are certainly worse rumors that could be spread about an up and coming artist, and Chet's musical ingenuity and blissful sound is likely what caused the rumors to pop up in the first place. Although Chet's music is loosely categorized by many as electronic, it for the most part doesn't contain the jarring elements that most people associate with dance music. Instead, Chet's vibe is much more mellow in nature. Fluttering synths, lofty vocals, sustained chords and cleverly positioned percussive elements dominate the foreground of Chet's tracks, and give them the warm feeling that he's become known for. Winter weather is what Chet Porter tracks are made for, so I can't think of a better place than Snowglobe to see him perform.
---
MR. CARMACK

In a time when so many artists were getting big off of the same sound, Mr. Carmack kept his uniqueness and managed to stand out from the crowd. Whether you want to label to his sound as experimental electronic, hybrid trap or something completely different, once you hear a Carmack track, you immediately know it's his. The man has put out dozens and dozens of tracks over the years and every time he unveils a new one, I'm overtaken by the same level of excitement and awe. Even while pushing out the huge volume of tracks he does, each one is very uniquely Carmack, and I've never once heard one of his tracks that felt rushed or incomplete. If you like thunderous bass and funky grooves you're going to absolutely love Carmack, and you'l quickly realize why I can never pass up one of his sets.
Comments
comments