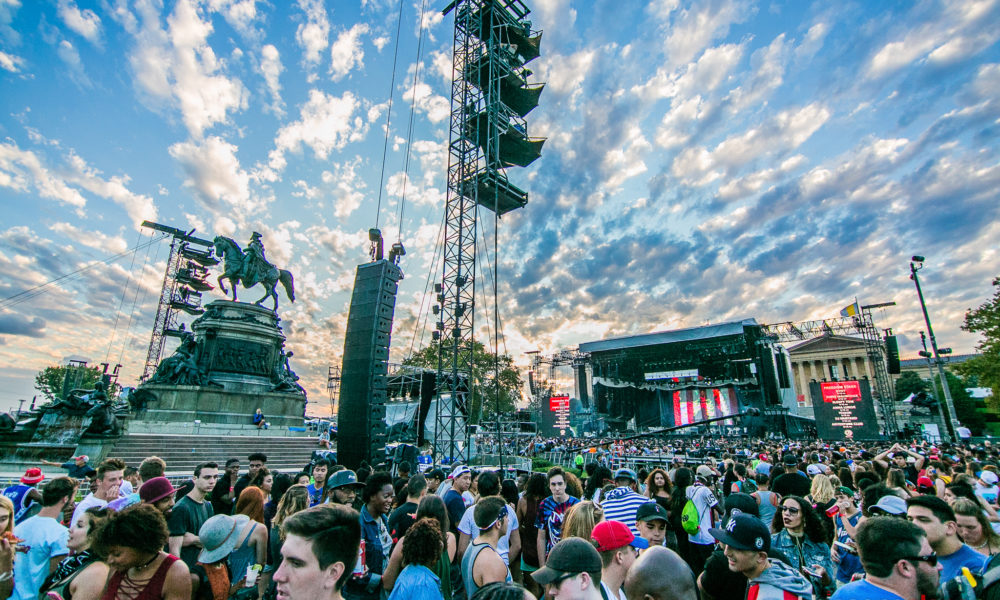 Philadelphia. The City of Brotherly Love. The home of Rocky, cheesesteaks and the Declaration of Independence. And, now in its 5th year, the home of the Made In America Festival. Growing to now include five stages (six if you count the sparsely used karaoke stage), the Budweiser-sponsored, Jay Z-curated music fest just had another banner year over Labor Day Weekend.
This was my third MIA fest, having attended the inaugural edition in Philly back in 2012, as well as the one and only Los Angeles chapter in 2014. It was great to be back home in Philadelphia and see how much the festival has grown. What I love about Made In America is that it really tries to embody what makes America great. Besides a very wide-range of music genres represented, the festival employs the staples of any festival like giveaways and rides, but also engages the attendee with other interesting attractions like the Skate Stage, where skateboarders roll around on a small course directly attached to where a musician is performing. Another great aspect of MIA is the Cause Village. A series of tents and volunteers from different causes set-up shop for people to come by and get more information as they take a break from the music. It's also where Bill Clinton made a surprise visit to the Hillary 2016 tent, before he was seen canoodling it up with the likes of Jay Z, Chance the Rapper and Alex Ebert from Edward Sharpe and the Magnetic Zeroes in the VIP section.
Like Philly, which is experiencing a boom in Millennials moving into the city, the festival-goers were a very diverse and mostly young crowd, thanks to performers all over the musical genre map. They were also overwhelmingly patriotic. Probably the only thing more abundant than Allen Iverson jerseys was red, white and blue attire of all kinds, which was very cool to see on young people these days.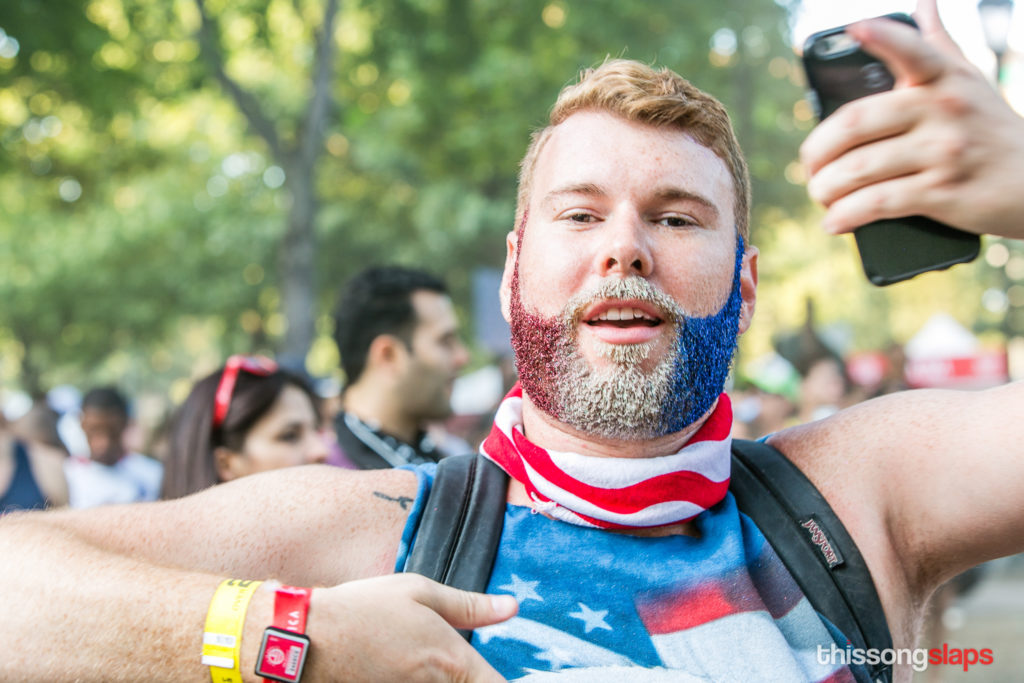 There were many highlights and really cool performances. The headliners, Rihanna and Coldplay, were both amazing. Rihanna was a perfect choice to close out Saturday night as she electrified the crowd with hit after hit and building anticipation as Day 2 approached. Coldplay was equally magnificent in their own way. With fireworks behind the stage and light-up LED bracelets on almost everyone in the crowd, they ended the festival with an exciting and culminating finale.
With over 30 performers on five stages throughout the two days, there were many other highlights, including a lot of performers getting the crowd involved. Although he was about 25 minutes late for his early Saturday slot, Philly-born Lil Uzi Vert lit up the main stage and got the crowd involved quickly. Literally, as he ran off the stage, jumped a security fence and took off through the crowd, causing hundreds of fans to trail after him. From the same stage the next day, Edward Sharpe and the Magnetic Zeroes frontman Alex Ebert asked the audience to tell him some stories. One girl in the front row said she had never heard of the group, but instantly fell in love with their sound. Next, Ebert passed the mic to a young man who blessed the crowd with an amazing freestyle about community and positivity. Yet it was Jay Electronica who wins the crowd participation award with his invitation to the entire audience to join him on stage. Many people took him up on the offer and set up camp on the stage. It didn't last long, however. After some idiot decided to jump up onto and subsequently knock over the DJ's table, security shut down Electronica's performance and blared riot horns into the crowd to clear everyone out.
I was able to see some old favorites over the two days, with shout outs to Adventure Club, Madeon, Anna Lunoe, Gallant, Gary Clark Jr. and Tchami. All were super impressive in their sets, regardless of whether they had a sunny afternoon slot on one of the big stages, or a smaller stage under the lights in the evening. I was also able to discover some new artists that I really enjoyed, including Justine Skye and Disciples. With so many artists competing with other stages for audience members at any given point, many artists seemed to bring a real energy to their set, which helped draw in some wayward crowds. Lil' Yachty, who came out in full Rocky Balboa boxing gear (just feet from the famed Rocky Steps) played a medley of DMX and air horns that worked in bringing me over to watch.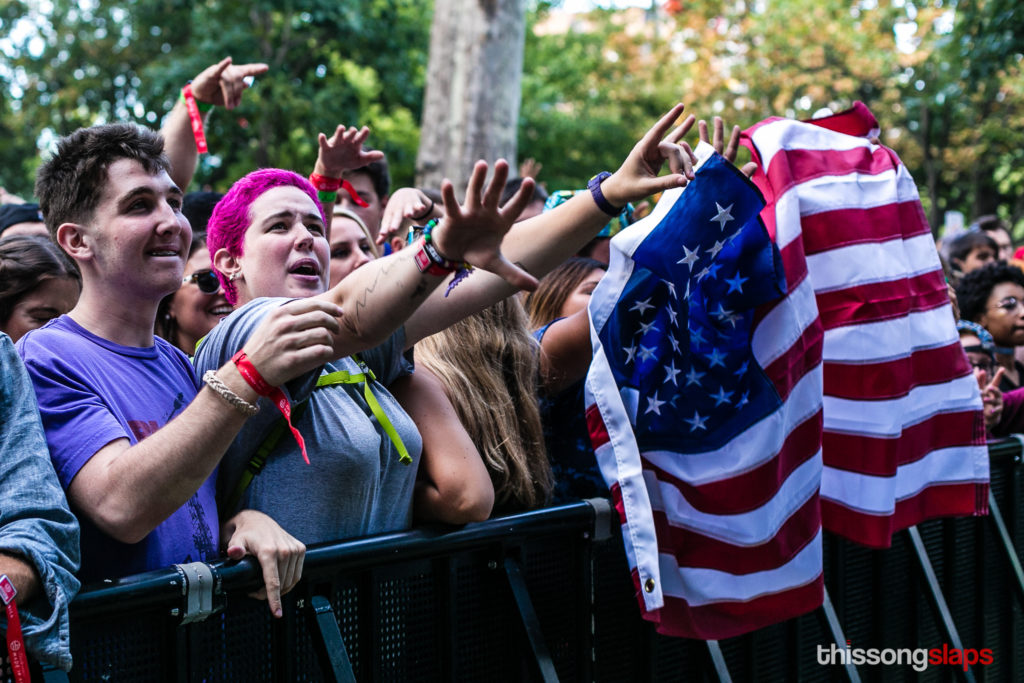 As for the overall organization and logistics of the festival, I was mostly impressed. We all waited way too long for set times to come out (which finally happened, with little fanfare, just under 48 hours before the gates opened), but once in the festival everything seemed wonderful. I'm not sure why they put all the port-a-potties on only one side of the Parkway, but they were in abundance and there was only a few instances where we had to wait for them at all. After the food truck disaster in Los Angeles in 2014, where people waited for hours for food, everything seemed to move much faster in Philly this year. Obviously, there was beer availability everywhere so there was almost no need to wait in lines, but the the selection was super scant. I understand that Budweiser is the sponsor and I'm fine with drinking Bud heavy and Bud Lite in the sun for two days, but there was very little in the way of options for more. My colleague, who is gluten-intolerant, had a very hard time finding options to drink. And then by Sunday afternoon, many of the booths that had a cider for her to drink had run out, causing her to run all over the festival looking for her one and only option. Surely with such a sponsor like Budweiser, there could have been a large dedicated beer garden with lots of options and a high supply, similar to the Beer Garden at Coachella. It was very frustrating, when all you want to do is listen to music and sip some alcohol on a late summer day.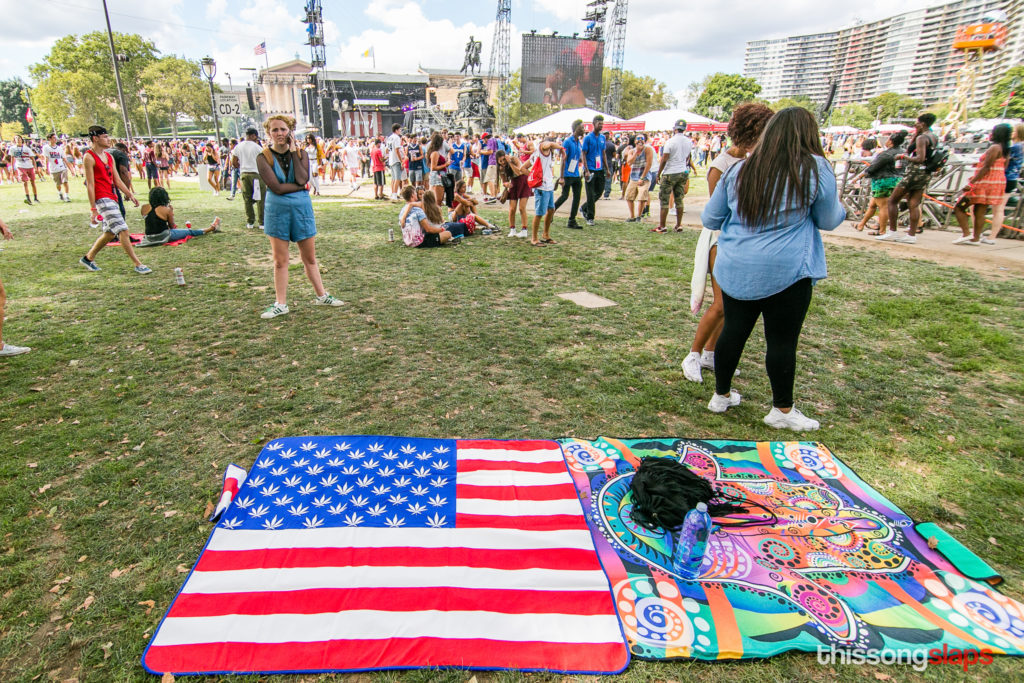 Overall, I had a fantastic time. While the medical tent remained busy throughout the weekend with lots of dehydration cases, things were mostly peaceful and police reported few arrests. Personally, I had some issues with many of the kids rudely pushing through crowds at various times, but then again I'm old and they are young. One of the best parts of the amazing weekend was the lack of Hermine. The hurricane/tropical storm moved off to the coast providing two absolutely beautiful days in Philly. As we walked out of the festival, the sounds of Coldplay could still be heard throughout downtown Philly as I turned my attention to already thinking about Made in America 2017. More photos from the festival on our Facebook page: https://www.facebook.com/thissongslaps/
Made In America Festival | http://www.madeinamericafest.com/
Live Nation | http://www.livenation.com/
Tidal | http://tidal.com/
Comments
comments