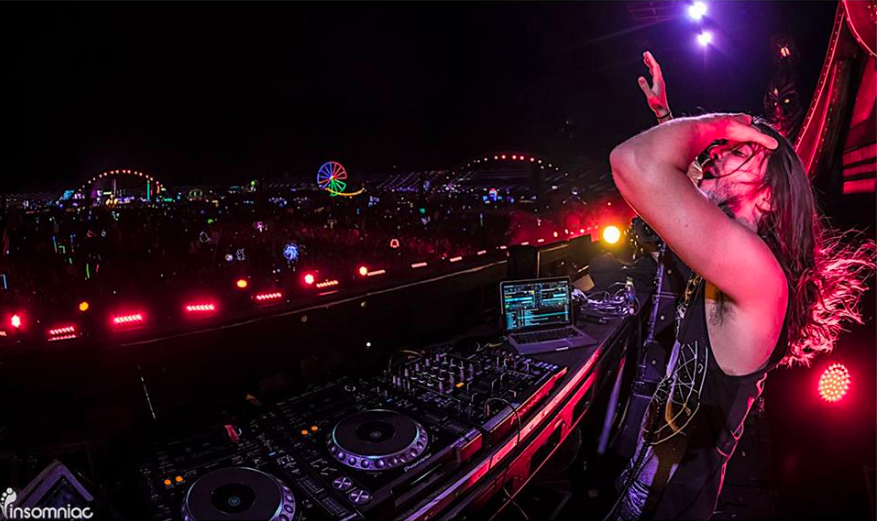 Ranked as number one on our list of 16 best sets at EDC20, Seven Lions is the king of the electric carnival. Having graced the daisy-embellished fairgrounds three times, it's clear that Seven Lions, aka Jeff Montalvo, is an EDC fan favorite.
We at TSS has the extraordinary pleasure of chatting with Seven Lions before his set at kineticFIELD, the main stage at EDC. Jeff seemed nothing short of cool, calm, and oh so collected prior to hopping on stage for his massive performance. Playing for thousands of music loving attendees and giving them all a night to remember…just another day at the office for Mr. Lions!

TSS: How does it feel to be back in Vegas for EDC!
Seven Lions: I'm so stoked! It's my third time playing the festival. EDC is the show of the year for me for sure.
TSS: What can we expect from your set tonight?
SL: Just your average Seven Lions set! Which, like usual, is a bunch of different things. I play a little bit of everything.
TSS: That brings me to the next question! Your sound is very unique and is a blend of multiple genres. How exactly did you come to find your sound and what goes in to your creative process?
SL: I think it's because I like a bunch of different genres. I get pretty bored of doing the same thing over and over again [laughs]. Even going to watch sets where people play only one genre gets really boring to me. I try to switch things up, even if it means I'm going to generally play the same genre for one set, I like to add a few tracks here and there that are different, before going back to that one genre. I think there's something that is to be said about trying to blend things and making it interesting, but of course having it make sense too, having it flow and all.
As for my creative process, it really just depends on my mood. There's two main things that I do when starting out – the creating, which includes the writing and getting ideas down. Then, there's the chipping away and carving out, being meticulous about glitching things, etc. Just trying out different things to see how they finalize.
TSS: So you just released "Creation" a few months back. Can you dive a bit into your experience of creating the record?
SL: Well "Creation," just like all my EPs, the songs I've been working on for a long time before they've been released. That EP I've been working on for well over a few years, like 2014 to 2015. Some of those songs are super old, like "The Journey" I probably started working on back in 2013. Now it's finally released which is awesome, but it takes a long time. Sometimes I start them off with half thought out ideas, or I won't have time to finish it. I have to find time to sit down and finish them. Overall, it's a long process. I'm not the kind of person to just sit down and bust out an entire EP in one sitting. Everything in the record is something I've been working on for a long period of time.
TSS: I'm a huge fan of "Falling Away" with Lights. How did you two meet and ultimately decide to collaborate?
SL: That was actually all through management. We send out songs to multiple artists at once and then get different demos back. After that, I'll choose the one that I'll feel the most and then work on it from there. Working with Lights was really great though. Anytime I have something new, she's the first person I send it to. She's at the top of my list of people I love to work with, she's amazing. I think we're actually going to start another one soon which is exciting.
TSS: If you had to pick a favorite song off of "Creation" what would it be and why?
SL: I'd say "Leaving Earth" is my personal favorite. Writing it…some songs you just really get in the zone, and I felt that with "Leaving Her." It was a really cathartic experience. Recording all of the guitars and all of that. That's the kind of music I want to make at some point down the line. I love playing festivals, but that's the kind of music I want to ultimately create for smaller crowds that's more meant for people who really care about melody and dynamics.
TSS: Which do you prefer, smaller more intimate venues or huge festival crowds?
SL: It's hard to say. Sometimes intimate venues can be nuts, in either a good way where they're all there for you, or nuts in a good way where they're all wasted. [laughs] It makes me think, "Oh my god these people are insane!" But it's never a bad thing.
At festivals, it's kind of the same way too. It's like, "These guys are awesome, these guys are crazy." Or everything is a shit show. Nobody knows what's going on, there are people running up on stage. It's just crazy. They're very similar. People that say there's a huge differences, I don't really believe that.
TSS: A bit of a silly question, what toppings are a must on your pizza!
SL: I actually don't eat pizza anymore! When I used to eat pizza, when Emma and I would make pizza, my favorite thing to do would be get pizza dough and then throw on a bunch of different hot sauces rather than using tomato sauce. I'd literally go into the fridge and grab every single hot sauce before adding cheese on it. I stopped eating bread though. Eating on the road, it's so easy to just have a bunch of food like pizza. Don't get me wrong, I love pizza and miss pizza, but it's too easy being on the road to get out of shape.
TSS: What can fans expect next from Seven Lions?
SL: More music! I'm actually working on more collaborations now more than I have in a long time which is cool. It's nice to do that again, which I haven't done in quite a while.
TSS: Anymore touring? I know Emma told me you two are moving!
SL: Yeah! We're moving to Seattle. Otherwise, I'll be playing a bunch of festivals as well. But my main next focus is setting up my new studio in Seattle which I'm really excited for. Seattle is beautiful, and I absolutely can't wait.
"Follow" Seven Lions: | Facebook | Twitter | Soundcloud |
Comments
comments