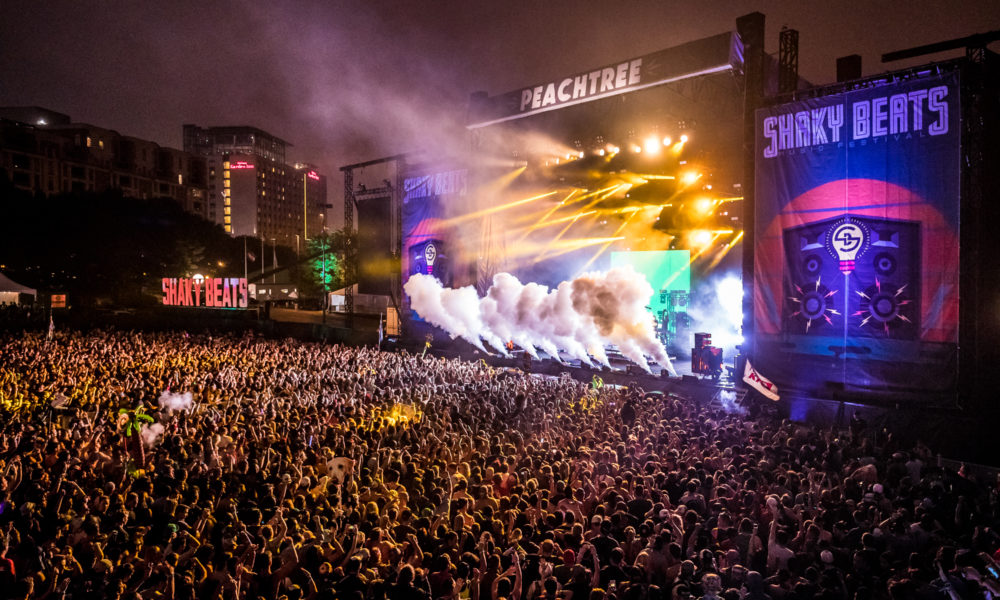 The beauty of an inaugural event is having the opportunity to truly appreciate it from its commencement and optimistically seeing it prosper throughout future installments. Of course, these aspirations always bring a multitude of concerns that can only be solved once they have been presented. Is everything placed adequately throughout the grounds? Are there enough bathrooms? Are the stages far enough from one another, but not too far/close? Will the flow of traffic be comfortable with the amount of expected patrons? Is there enough staff to properly tend to any unexpected occurrence of any type? Will the weather miraculously hold up?
When it comes to speaking about the launch of Shaky Beats Music Festival, each one of these potential dilemmas and many more were tackled flawlessly. Shaky Knees Music Festival, the original concept in Tim Sweetwood's vault of Shaky projects, served as an original canvas the previous weekend that would be transformed accordingly to the most suitable diagram for Shaky Beats. By downsizing the overall layout and utilizing solely what was necessary, the simplicity of these grounds facilitated everyone's maneuvering. Held within Centennial Olympic Park, Shaky Beats Music Festival was filled with curiosity and inquisitiveness by locals and visitors alike. Atlanta has always maintained a strong presence throughout the electronic domain; still, the arrival of Shaky Beats Music Festival undoubtedly expanded on that appearance.
Having attended Shaky Knees Music Festival (I've never missed one) as a patron the weekend before, I had an idea of what I was getting myself into again. Once I was able to assess the restructured arrangement for the electronic/hip-hop influenced weekend, my coverage immediately commenced. If you have yet to become familiar with the likes of Jai Wolf, just take a gander at nearly any lineup from the past few months. An individual that initiated his musical abilities as a violinist has effectively transformed himself into one of the most dominant players throughout the electronic realm. Jai Wolf will forever possess the title as the first artist to ever play on the Main Stage at Shaky Beats Music Festival, so that in itself allowed him to set the standard for the following acts.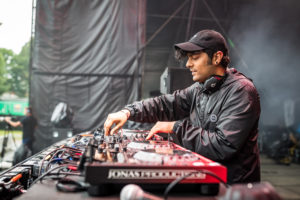 As I mapped out my route for the remainder of the evening, I solidified an impeccable viewing area for Duke Dumont directly in front of the sound booth. There's no other way to put it: Duke Dumont is the truth. His performances always provide the finest vibes, people are losing their minds at the indescribable brilliance currently on display, and he remains as poised and nonchalant as ever behind his decks. His cigarette keeps him relaxed and undisturbed, while his audience physically can't stop dancing. I could spend the rest of my article talking about this genius, but Shaky Beats made the one mistake (personal opinion) in overlapping ZHU at the same time.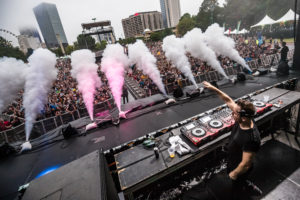 I have seen Duke Dumont on multiple occasions at countless Music Festivals, but ZHU was one act that had been on my radar ever since I heard "Faded" for the first time. His method of production, incognito presence, and overall approach to his music is one that I hadn't heard nor seen from any artist in many years. What truly caught my attention regarding his (then) unidentified persona was reading about one of his performances in which neither photography nor cameras were allowed during the show. This wasn't to prevent people from documenting the occurrences throughout the night, but to make sure that every patron was fully engaged with what was actually happening right in front of them. (Disclaimer: the view through a telephone screen is terrible compared to seeing it in person.)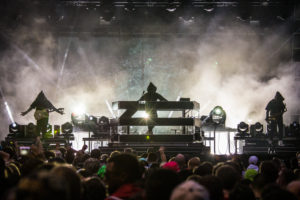 My phone and I were as unattached as possible, my eyes were glued to the stage, and my ears were solely focused on experiencing the entire reason that I was here today. The emergence of a saxophonist and a guitarist immediately proved that this set would contain all of the fundamental elements necessary to truly dazzle me. I personally put a lot of pressure on ZHU due to my obsession with his music and the fact that I was finally getting to see him perform, but the man brushed it to the side and effortlessly blew my mind. From "Stay Closer" to "Superfriends" to "Cocaine Model" and everything in between (I had to…), ZHU was catering everything that I could have ever requested. 07.29.16 flashed behind him at the end of his gig, a date originally questioned by many, has now been confirmed as the release date of Generation Why.
As I gathered myself after witnessing ZHU display his panache behind the decks, it was time to watch Major Lazer close out the wildness that was the first day of Shaky Beats Music Festival. With no overlapping conflicts during their set, everyone still in attendance had gathered at the Main Stage as Walshy Fire and his gang of misfits began to blow us away with their headlining performance. As "Peace Is The Mission" was plastered behind them, it was truly remarkable to see an entire fan base fully take this concept to heart. Major Lazer's performances constantly display an understood level of craziness throughout their enthusiasts. Whether it be the provocative dancers on stage, the interaction that the members create with their admirers, or the banging beats surrounded by confetti and enticing visuals – Major Lazer ALWAYS brings the party.
Wedding Season and Music Festival Season are arguably the two greatest seasons of the year, but the fact that they coincide makes it that much more difficult to determine the true victor. As the only representative of ThisSongSlaps that lives in Georgia, I had to pause my coverage of Shaky Beats Music Festival on Saturday to attend a close friend's wedding in St. Simons. (Congratulations, Katie and Kyle!) Once our festivities had ended on the island, it was time for me to make my triumphant return to the heart of Atlanta as I prepared for the living legend that is Nas.
Nas is the definition of hip-hop. If not the defining image of the term itself, then he is certainly a synonym. Nas is able to convey personal experiences and societal situations with such finesse throughout his eloquent expression. His storytelling is second to none as his fans are able to physically feel the lyrics that he is preaching. The city of Atlanta is able to relate with his hardships as it has had to endure trivial moments since our introduction into the hip-hop/rap scene. With so much sadness and sorrow repeatedly recognized across Nas' rhymes, he is able to use those occurrences as proof that difficult obstacles can be overcome. He instills an optimistic mindset in any individual witnessing his prowess with the notion that they can achieve their full potential. In a world currently clustered with so much negativity and tragedy, moments of reinforcement and positivity are always refreshing; Nas made sure to deliver that.
Last but certainly not least, the culmination of Shaky Beats Music Festival was upon us as Big Gigantic began to grace the Peachtree Stage to wrap up this insane extravaganza. I don't have enough fingers nor toes to count the amount of times that I have had the pleasure of catching their sets throughout the states, but a weird sensation came over me letting me know that this one was going to be special. A few days prior to the initiation, Shaky Beats and Big Gigantic's Facebook pages announced that a Special Guest would be brought out on Sunday night. If you go look at either post, you'll see that I made the first comment: "Big Boi". Nobody informed me of this, nobody gave me a clue, nobody leaked this information accidentally; I just had a strong feeling that one of my favorite rappers of all-time was going to perform alongside one of my favorite duos of all-time. As Dominic and Jeremy donned their white uniforms for their headlining routine, all that was left to do was embrace the final moments of this successful voyage.
These two possess individual talents in their respective instruments that allow them to bring together hip-hop, funk, and jazz into a truly unique blend. Their lighting and production is constantly changing, so you rarely have an actual idea of what you're going to get. I will forever hold a special place for these two because they were the first people to really accept me as more than a mere acquaintance out of the artists that I've had the pleasure of befriending. I've seen these two bring out an entire Marching Band to perform with them, I've seen Dominic perform with STS9, I've seen them perform in Miami and immediately catch a plane to Brazil, I haven't caught Big GrizMatik (yet), but for them to bring out Sir Lucious Left Foot was a highlight in my Music Festival career. To hear them perform "The Way You Move" together was everything I could have ever asked for.
Shaky Beats Music Festival, thank you. If I can help with ANYTHING whatsoever for 2017, please don't hesitate to ask. You were spectacular. I can't wait for your return!
Comments
comments