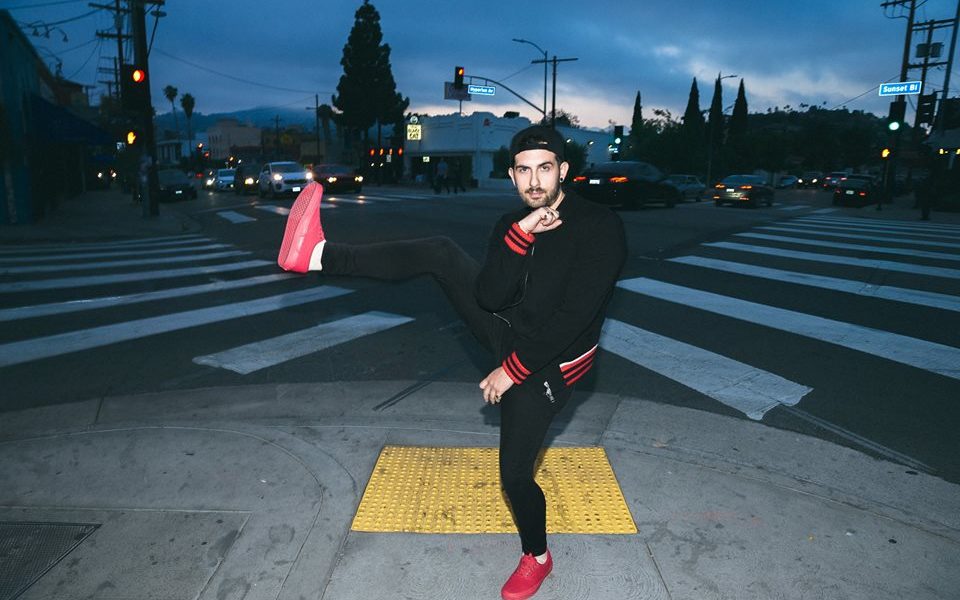 A little while back at Spring Awakening we had the chance to sit down with Borgore after his set for a few minutes. It was honestly one of the deepest conversations I've had with an artist. We talked about his music and basic things, but at the end you'll see where it was much more about that. It was cool to see an artist's perspective on art and I think you will like it too. That and we got to nerd out about Heavy Metal for a little while.
Are you a tits or an ass man?
Ass. Tits are too easy to fix. If they have a great ass it means they take good care of themselves. Usually that's the first thing to go so if you have a really good bottom, it means you're working out.
You travel all the time, what's your favorite thing to do when you have a day to yourself?
I like being home playing and working on music. I also love to play Counterstrike too. I've been playing since 1.3 all the way back. I talk a lot of smack online, then will probably get head shotted a bunch. Try me on steam @ therealbrg.
You were in a metal band called Shabira. How did you translate that into electronic music?
I did electronic music, I played Jazz, I did pretty much everything at the same time. When it comes to music I don't believe in monogamy. For the band we started as an At The Gates and Lamb Of God cover band. We were super influenced by them at the time. Chris Adler was very inspiring to me as a drummer. What I like about his drumming is that he actually makes melodies. The drums don't just support the music they actually have a space of their own and contribute as part of the song.
What else are your musical influences, besides producing you've also ventured into rapping?
Obviously Hip Hop in general along with Trap has been an influence with that in general. But to be honest all music inspires me. Pretty much everything from Brittany Spears to Dying Fetus. If it's good music, it's good music.
This latest music video includes both vocals and production from yourself. What was the concept behind the video?
We wanted to do a video that shows that if you get money it doesn't need to change you as a human being. It's about being true to who you are.
What's the biggest challenge running a label/brand while still doing your own stuff?
There are a few problems with running a label. You don't make a lot of money out of it because nobody buys music. Running a label is just a passion to music. You're just helping all these kids, you're not going to see anything out of it. Also a lot of the time in my career I've pushed my label over myself. I really do care, and I do want to help people by bringing new music to the table. I want people to open up to new stuff.  So a lot of the time if it was investing money to the Borgore brand or Buygore, it mostly went to Buygore. I will do stuff for Buygore that doesn't make sense for my career, but just because I believe in a cause and I want to push it.
What's next for Borgore and Buygore?
Buygore is pulling big events this year. Electric Zoo we have our own stage, Escapade we have our own stage, we're having a huge pool party during EDC week. We're killing it on the events side. Releases side, like you mentioned we just released "Hundreds" which was trending on Facebook. For Borgore, 2016 is the year where I'm tired of giving a F*#K. I gave some for a couple years, I wanted to be in the DJ Mag Top 100, and I was trying to make the top charts overall. This year I want to do music for myself. I worked with Barrington Levy on Blast Ya, and I worked with him because he is one of my idols. I don't care if you don't know who he is, I grew up up listening to him and he's a legend in Jamaica. I'm not trying to please anyone else right now.
You're one of the few artists I regularly follow on Snapchat. I know you give your tour manager, Justin, a lot of crap on Snapchat. What's your biggest pet peeve from him?
I actually love him to death, he's such a great dude. There's nothing I hate about him except like when he tries to wake me up. He likes to be annoying about it. He doesn't just call me and say 'Wake up lets go' instead he stands outside my door and knocks. He does one knock…. then one knock…. then one knock…. It's like torture, and he'll be there doing it for ten minutes straight. He's a dad.
Lastly, how was your trip to the Guggenheim? That one giant display of shaped walls looked absolutely insane. Later found the name: 'The Matter of Time'
I didn't understand that piece at first but then when you go up and watch it from above it actually makes sense. So when you're super small and standing in front of a brown wall it doesn't make sense. But when you go up and look at the piece as a whole then it hits you. There is actually logic behind it. Plus I was talking to Justin about it, like imagine trying to make this. One of the things I had an argument with Justin about, which he totally won, was that we were standing in front of a rock. And someone curved the rock and it was an art piece. To me I thought what's the big deal about curving a rock. I could take a diamond chainsaw or whatever and do this myself. And Justin just goes, "But you didn't." That's the whole point. You didn't think about it, you didn't go out and do it. They are geniuses. Anyone can go and make a square, but you didn't do it and they did. So Justin won that for sure.
Comments
comments