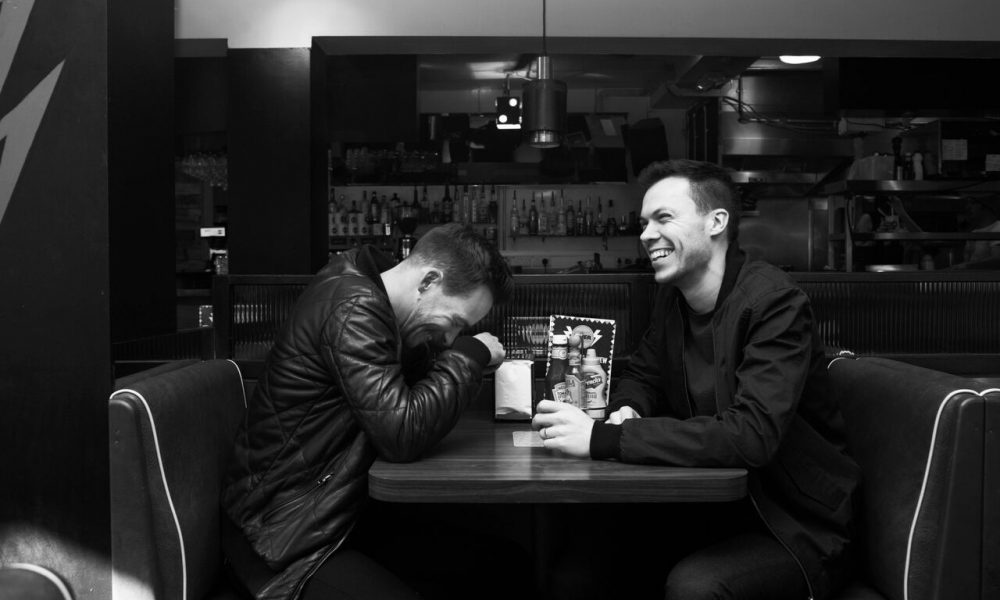 When the name Delta Heavy comes to mind, I think it's safe to say that the words Drum N Bass masterminds, bass creators, or DnB Gods shortly follow. It was with their hit, Space Time, five years ago that the duo really left their mark, but it wasn't until a couple months ago that Simon James and Ben Hall aka Delta Heavy unleashed their debut album Paradise Lost to the world. Much like the name of the album, the pair explore their musical boundaries and all different walks of creative influences while keeping one thing in common: the signature heart and sound of Delta Heavy. From the elaborate animated videos to their etherial yet grimey melodies, Delta Heavy have found themselves lost in a Paradise fueled by a labor of love.
After hearing this album, I knew I had to learn the process or better yet get the thoughts behind the tracks, the soul behind the sounds, and pick the brains behind the bass. Without further adieu, Delta Heavy.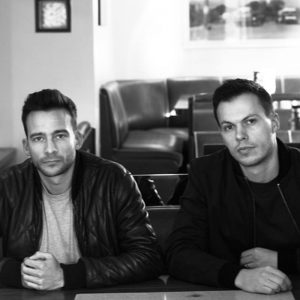 I know you each met in Uni, but where and when did each of you start playing around with the idea of producing your own music?
For both of us it was the time immediately after leaving University. Faced with the typically daunting prospect of forging a way ahead in the adult world and working out what career to start out, we both realised the only thing we wanted to do was to DJ and make music.
Did working together happen organically? What was the conversation like to start Delta Heavy? Where does the name come from?
At the time we were both learning to music on computers from scratch so decided we would try learn some skills together and naturally that progressed to trying to make some music together. The name came from a tour the house DJs Sasha and John Digweed did in 2000, we just thought it sounded cool! It's a also type of rocket booster.
Did you guys start out with making remixes or creating originals?
Originals, although we did do a couple of remixes from a very early stage such as one for the Crystal Fighters.
How and why did you get your start? Any interesting anecdotes there? Is there anyone you owe "big time?" Why?
We had a few connections already with the drum and bass world, and had met a few people who were already fairly established such as the Brookes Brothers. We were handing out demo CDs at events and sending stuff out to people on AIM. This led to us signing a couple of tracks to Viper Recordings. Our big break was signing exclusively to RAM in 2010. Ben's sister Sophie was working for the club,Matter at the time where Ram had a residency. She passed on our music to Scott and Andy C and soon we were invited in for an interview which would change everything for us.
Most of your singles come accompanied with visuals that not only capture an audience and tell a story, but thematically have been animated. What is the motivation to making sure there are videos alongside these releases? Do you guys help direct or guide the idea for each one?
From an early stage we always sought to make our visuals stand out and be very distinctive, as well as work thematically with the tracks themselves. We're big fans of various types of animation such as stop motion and it has been great to explore these in our videos. We've been fortunate enough to work with some very talented young animators and directors such as Ian Robertson and Chris Bristow. We do get involved in terms of the narrative and guiding the project but we very much leave the direction to them and try and support their vision for the videos. We're really proud of our music videos and this aspect of the Delta Heavy brand.
I read in a previous interview that a favorite track collectively is "Space Time" and you guys play it in every single one of your sets. Is this true? What makes this track timeless and stand out from all the rest.
It's true – we've probably played it in some capacity in every set we've ever done. It is so important and timeless for us as it was the track that got us signed to RAM and really noticed. We actually made it in about 3 days which is really rare for us and somehow the production and the mix down still stands sounds good today which is pretty crazy to us!
Name me one song each that you've had on repeat or played almost regularly this past month. Can be any genre and why?
Flume feat. Little Dragon – Take A Chance. Personal favourite of this incredible, incredible album. Just amazing.
This LP has been a long time coming. How does the song writing process work between the two of you? Can you pick a favorite track off the album and walk me how a song starts as an idea to a finished mastered product?
Every song generally differs in its creative process but as a general rule we'll start with a vague concept or idea which may come from finding a new sound, sample or an acapella. We'll then build the track with the drums, then trying to get a drop and then we'll flesh out the intro musically. At this stage if it's a club track we'll produce it to a level where we're happy to play it out and from there it's a case of finessing the track and perfecting the mixdown. A favourite off the album would probably be Ghost as it probably has had the best reaction and still does when we play in our sets. It also came together very quickly from starting the basic idea with the vocal topline. As soon as we head the vocal we knew musically what we wanted to do with with the track and it really turned out exactly as we wanted which is very satisfying.
Is there a story you're trying to convey behind "Paradise Lost?"
Paradise Lost as a title came from the poem written by John Milton but it can be interpreted however you like. It is not a specific reference to the poem itself but more harnessing the epic sense it provides. The title came at the very end when we had finished writing all the music and it felt like it suited the sound. Musically, when we started writing we didn't really have a plan as such. We have used the themes of Space and large scale drama in our songs and often reference movies when writing dance floor tunes like Event Horizon. We wanted the album to feel like a piece of work that would be an audio journey when listened to from beginning to end, so maybe you could compare the album to a movie in that it tells a story through music.
Did you guys have any musical influences that really helped spark the sound and direction of the album?
The soundtrack work of Hans Zimmer would be a definite influence, and there are various influences reflected in a few of the tracks – such as future house in Punish My Love, Flume-style future bass stuff in White Flag, Gesaffelstein in Paradise Lost.
For someone who hasn't heard your music until this album, what is one of maybe two things you'd like them to take away from it, about you or the music itself?
A definite sense of a journey while listening to the album, a feeling of drama and cinema – maybe visualising epic landscapes and space scenes. Also the urge to dance and go nuts to the heavier club stuff!
If you could translate your life into BPMs what would it be and why?
105 – 130 – 174 – 174 – 174 – 140 – 110 – 174 – 128 – 174 – 150. Try and work it out!
**Also be sure to check out their latest EP, White Flag out now via RAM Recordings**
Follow Delta Heavy on Facebook | Twitter | Soundcloud
Comments
comments