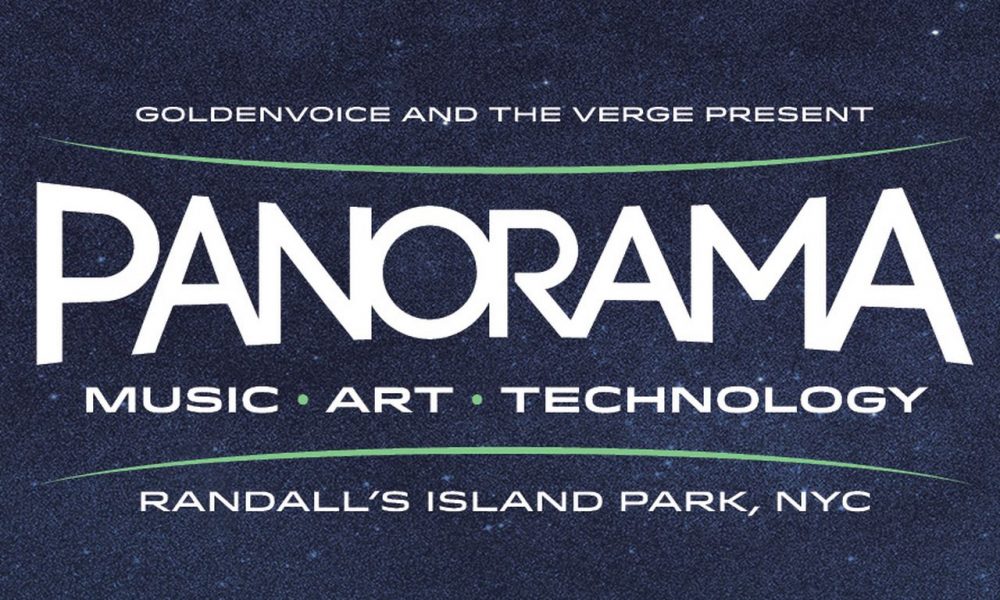 Panorama Music Festival is quickly coming upon us. With 30 days to go until July 22, the hype is cresting for what has been dubbed as "Coachella East", a play on the organizer's affiliation with Coachella (Goldenvoice also heads production of Coachella in California).
With tickets quickly selling, we're going to take a look at what Panorama has to offer, and if you should go ahead and buy that pass.
Background
When Goldenvoice announced that Panorama was coming to Randall's Island earlier this year, they ran into opposition from the organizers of Governor's Ball. The organizers of the latter protested that holding festivals two weeks apart on the same sliver of land in Manhattan would cannibalize ticket sales. Moreover, Gov Ball is the original New York Coachella-type festival, having been operating in the Big Apple for six years, so Panorama waltzing in was understandably upsetting. They even tweeted a taunting "panorama" of Gov Ball, challenging Panorama to duke it out over who would be the winner of EDM fans' hearts.
Here's a panorama pic.twitter.com/7zJquMLQzV

— The Governors Ball (@GovBallNYC) March 2, 2016
Now, with Gov Ball behind us, we can have some retrospect as to how it went, and what to expect from Panorama.
Lineups
Verdict: Leans towards EDM/hip hop, but there's something for everyone. Similar sound to Gov Ball, but no overlapping artists.  
The major acts lined up for Panorama are the same exciting names you'd expect to see at any festival claiming to be NYC's premiere music destination. Headliners include Arcade Fire, Major Lazer, Alabama Shakes, Kendrick Lamar, LCD Soundsystem, and Sia. There are a host of other semi-underground and underground artists that are sure to put on an incredible show, such as Madlib, Kaytranada, Anderson .Paak, Netsky, Tensnake and Rufus Du Sol, scheduled for all three days.
In general, Panorama skews slightly towards the EDM/hip hop spectrum of music, but certainly accommodates for lovers of alternative music and rock with appearances such as Alabama Shakes and Ex Hex. Compared to Gov Ball, the lineup is markedly different in terms of performances, but not in terms of genre. There's not a single artist who will be performing at both shows, but headliners such as Kanye West (Gov Ball) and Kendrick Lamar, or Vic Mensa (Gov Ball) and Anderson .Paak, have similar brands.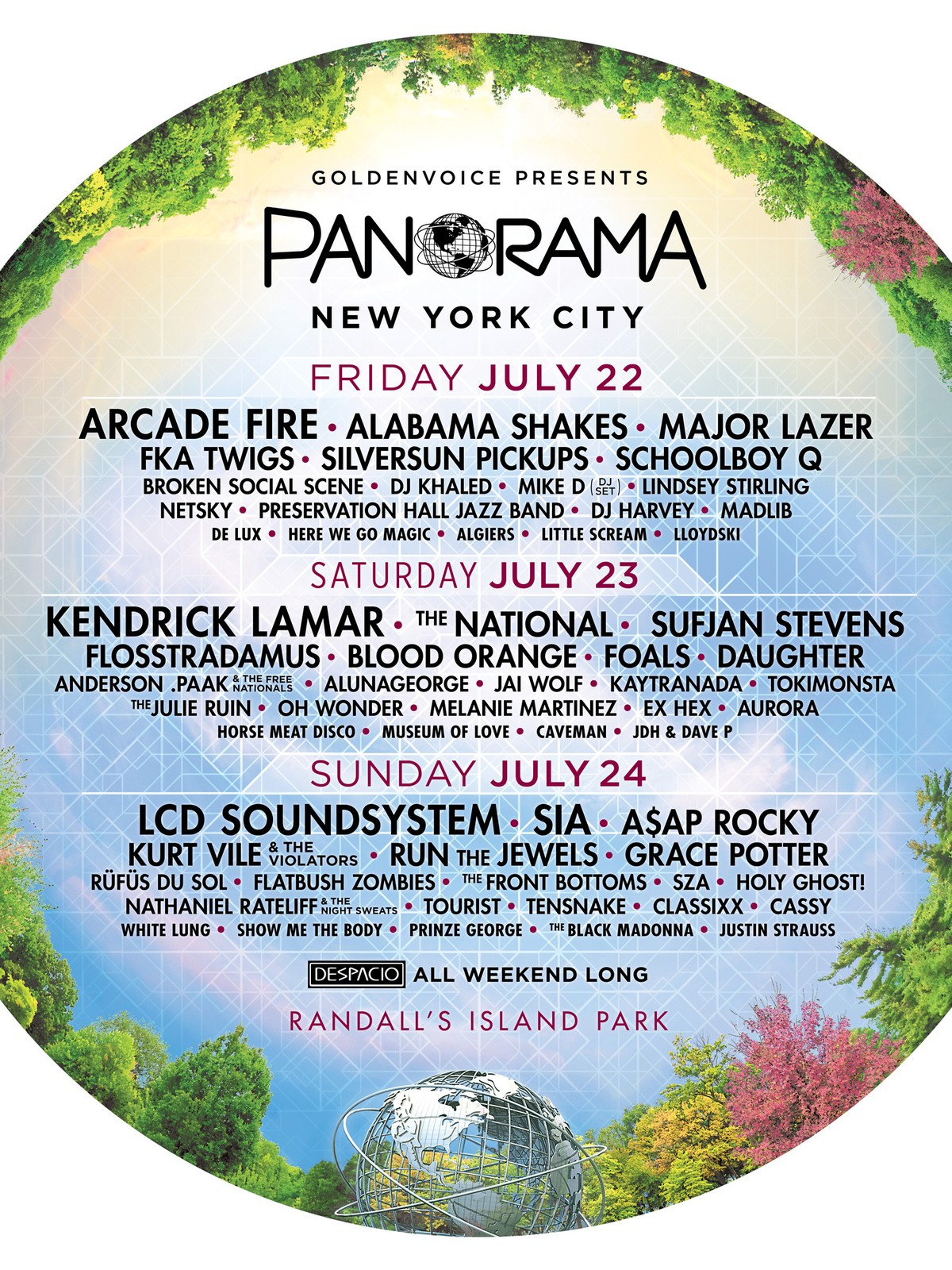 The lineups per day are evenly split between the genres that Panorama is offering. Buying a ticket to a certain day won't mean missing out on a certain type of music, but your favorite acts from your favorite genre may be performing on three separate days. This is a good segway into our next consideration – is buying tickets to all three days worth it?
Price
Verdict: Simple and transparent – it's a good deal. 
The pricing chart is as follows for Panorama:
1-Day General Admission (to any day): $125
3-Day General Admission: $369
This incredibly simple pricing scheme is a win in our book. In an age where festivals try to skim as much money as they can from attendees, such as Gov Ball's per day pricing scheme stacked to get more money from more popular acts, Panorama keeps it neat and simple. Should you go for a three day pass ($369), ferries and shuttles ($25/$30 per day, $55/$65 for three days), and drinks and food on site (about $60 for all day), you're looking at spending $550 – $600 for the weekend. For a one day pass, you'll take a $180 – $200 hit.
Spending $200 to see major superstars and some big underground names perform on a sunny day in New York City sounds like a decent bargain to me. If you've got the cash, then spending a weekend is even better – the opportunity to see so many big names comes only a few times a year.
Setup
Verdict: Hard to tell, but it seems that only one stage could be problematic. 
This year, Gov Ball's stage setup was set up for disaster. Reviewers wrote that one of the main stages, the Honda Stage, is "tucked in an awkward corner of Randall's Island, at an angle that allows the wind to carry all sound back out to the bridge. Speaking of 'sound,' there's barely any."
Since Panorama and Gov Ball are held on the same island, it'll be easy to tell if the organizers have found a fix for this issue. However, the organizers haven't released a map of the festival, so there's no way to know until you go. The good news is, though, that's it's only one stage that's proven to be an issue, and it's not reserved for the very biggest headliners, so your chances of missing out are slim to none.
Here's a map from 2014 – the setup has changed minimally since then. Notice Honda Stage in the upper left corner.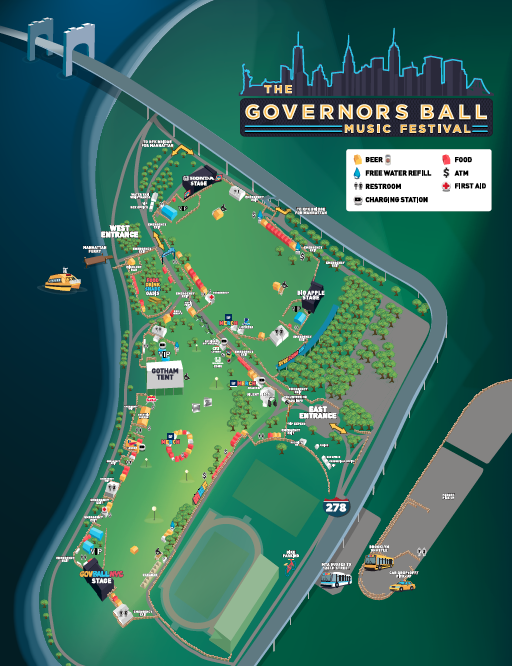 Other Than The Music
Verdict: Remains to be seen how much art and technology will be included. 
Panorama promises to include art and technology in its festival. Although there is extensive coverage of the music, there has been no mention by third parties or the organizers themselves about what "technology" and "art" will include. Will there be separate art installations, will they be by prominent artists, or will the technology and art be incorporated on stage?
Final Verdict: Buy.
It seems that Panorama has really set up an incredible operation for its inaugural season in New York. The lineup is stacked with headliners, there's tons of artists promoting new work and original sound, and the pricing is fair and reasonable. We're excited to see if the organizers can follow through with their promise to create a better, more memorable operation than Gov Ball. Either way, who doesn't enjoy some healthy sibling rivalry?
Stay tuned for more updates as we get closer to launch date!
Comments
comments