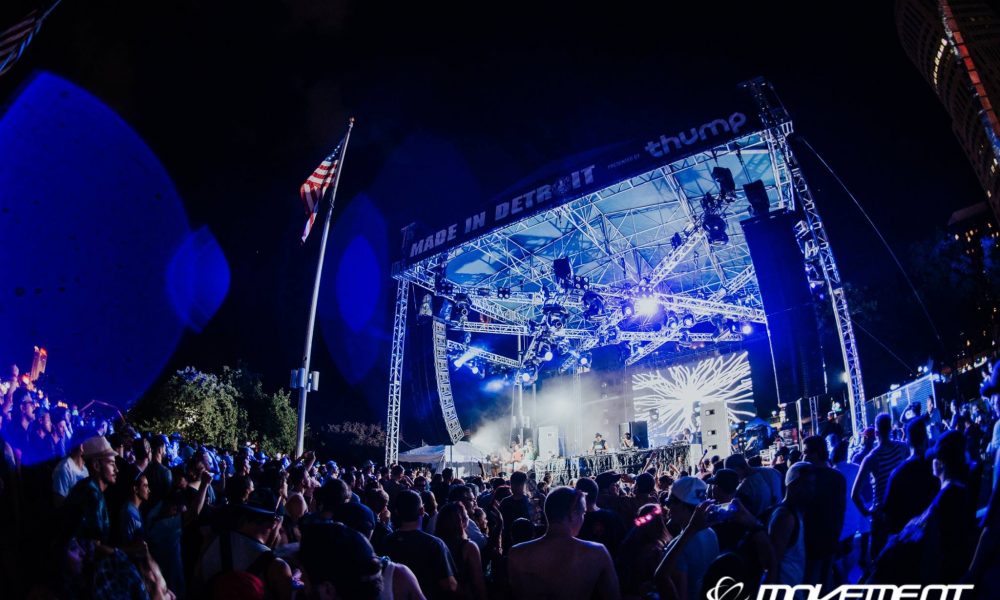 Photo Steven Pham
Well I'll be the first to admit that Movement was something I didn't expect nor could I ever have imagined. Coming from Chicago this was my first festival outside the city and needless to say I was pumped. I got to try out the newer mixer that Richie Hawtin created, the Model 1. Unfortunately he wasn't able to make it to Detroit himself due to travel issues but that was only a minor setback to a crazy weekend that was in store.
The first day was headlined by a Kraftwerk 3D set which was literally insane. Everyone was given 3D glasses to wear and the visuals were, well, pretty out of this world. Though I didn't know too much of their music, just the entire spectacle of them playing alone blew me out of the water. Just before catching Kraftwerk, I saw pretty much all of Four Tet who had a super groovy dance filled set that kept people moving from beginning to end. Unfortunately due to travel delays I was only able to catch the end of Seth Troxler's set but he slayed for an overpacked crowd that showed no signs of stopping.
Day two was OWSLA day for me. Though there were various times I walked around, mainly to catch some fresh air because the stage was underground, that's where you would've found me. I even made a guest appearance somewhere in the Mija video she posted recently. But back to the music. Starting off was Rezz who absolutely blew me away from start to finish, somehow even throwing in the heaviest tracks including some old school Bassnectar. Yes that's right, even Bassnectar found his way into Movement even for a brief few seconds. After was Josh Pan who had a heavy and exciting set as people started to fill in for Mija to play after him. For day two Mija was one of my favorites playing nothing but classics, and definitely nothing what (most) people would've expected if they caught her anywhere else but Detroit. After some walking around to save myself from heat exhaustion, the food vendors were insane by the way, I made it back to the underground to check out the Bixel Boys, who I can now finally check off my bucket list. I ended the night the same way I started, though not in the most "Movement" fashion. What So Not and Kill The Noise tore apart the underground and left me drenched with sweat.
That day/night was the only day I was able to find the strength to make it out to an after party. And in doing so, I again probably went to the only one that wasn't playing House or Techno the whole night. Dodge & Fuski, Infuze, Party Thieves, and NIGHTOWLS. It was the perfect way to end the day as tomorrow I knew I'd be getting down and dirty to techno the whole time.
The final day of the festival started a bit on the later side for me, getting there in time to catch DJ Godfather's set. Soon after he finished I caught the first few minutes of Big Freedia before receiving probably the coolest message I could've gotten all weekend. From 5-9 there was a secret pop up set by the OWSLA squad including 2 of Mija for her birthday. It was not only til the end of her set that the team announced that it would be part of the latest Owsla Radio episode. In the middle of her set, Mija's team surprised her with a birthday cake and we all got to sing happy birthday. There was at best 20 people in the crowd at one time and the most intimate/personal set I've ever experienced.
As the set ended I rushed to the underground stage once again, this time to catch Boys Noize. As it was day three and I was pretty worn out from the previous two, I only stayed for about twenty minutes in the sea of extremely sweaty people before rushing over to catch the beginning of Get Real's(Claude Von Stroke and Green Velvet) set. Holy energy, it was insane seeing the crowd move almost as if they were leading an army with their music. I did however leave about half way through their set to catch Modeselektor Live which was one hell of a way to end the weekend.
Movement was an amazing experience. Though to many of our readers the music might seem a little foreign to us, including myself, I couldn't have picked a better place to spend memorial day weekend. The vibes were amazing and I can honestly say it's the only festival I've been to where I enjoyed being in General Admission rather then VIP or anything of the sort. Detroit truly does hustle hard.
Comments
comments