This July FRDM Fest is bringing a whole new meaning to freedom and in the name of fighting against cancer. While this is just one of the many reasons why you should attend this year's celebration, we've got four more that should land you at Waterfront Park in Long Beach on July 2nd.
1. PARTYWITHAPURPOSE: Fight Against Cancer
Who doesn't love going out? While we normally find ourselves emptying our wallets to buy tickets to clubs, movies, or frivolous fun, FRDM Fest has put a purpose to our partying and have vowed to donate 100% of their ticket sales to Teen Cancer America. The goal of the day is to raise $15,000.00 to help aid "youth-oriented facilities and programs in hospitals around the country for teens and young adults with cancer. "
"This festival is about more than just a celebration of our country's independence," says festival co-founder Waseel Amoura. "It's about coming together and raising awareness for Teen Cancer America. This is about community and celebration."
2. THE LOCATION
If you're unfamiliar with Long Beach's scenery, prepared to be wowed by its Waterfront Park. While the city has its suburban areas, Waterfront Park is a safe haven of green and open field nestled gently against the beautiful ocean blue.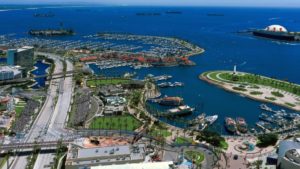 3. THE FOOD & DRINKS AS WELL AS ART
Besides the scenery and the obvious lure of music FRDM fest is catering the foodies and creatives of the world who want to enjoy some delicious bites, brews, and art.
4. THE MUSIC
It's no surprise that this one would come in as one of our personal favorites. The music! Who wouldn't want to spend the day under the sun while soaking in some incredible sounds. From 12Pm-10am, attendees will get to enjoy performers of all different genres which include Kid Ink, Lupe Fiasco, T-Pain, Bixel Boys, Coyote Kisses, Falcons, Matt Dimona and more. In addition, FRDM has partnered with LA's music production school, Icon Collective t curate it's very own stage and show off some student talent.
5. CONTEST
If the first four reasons weren't enough to make you want to attend, number five should help you out. We have teamed up with FRDM fest to give one lucky winner a chance to win a pair of tickets to attend! All you have to do is enter the contest below!
To buy your tickets you can click here. There are VIP options available for those 21 and up which include
Private VIP area
Private alcohol vendors
Full bar
Private bathrooms
Sponsored alcohol tastings
Comments
comments