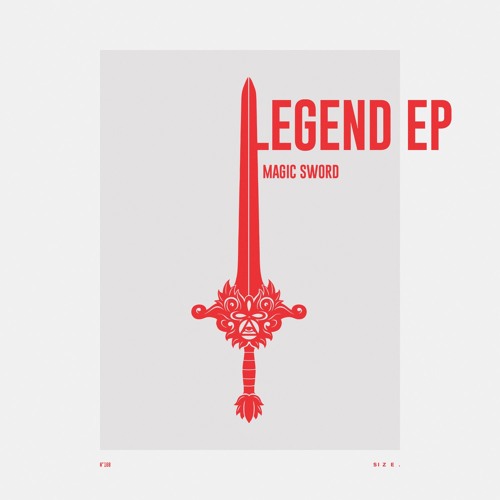 Steve Angello's Size Records returns with another fantastic EP, this time from a new promising producer to offer something a little more unique.
Magic Sword is a project from an anonymous music producer and comic illustrator, combining the power of music and comics to tell the fantastic story of Magic Sword – a weapon of infinite power left to be guarded by an enigmatic character named The Keeper. Debut album Volume One, featuring a full comic created by the producer, quietly found its way onto store shelves in 2012. As word about the project spread, copies of the debut record quickly sold out, leading to a re-release in 2015.
Now, for 2016, Magic Sword is partnering with Size Records for the project's follow up to Volume One – a series of EPs, each featuring a comic that tells another chapter of The Keeper's eternal battle. Legend is the first of these exciting new releases, and more than lives up to expectations.
The EP opens with Legend of the Keeper, an atmospheric opener with build-up leading to a pulsating beat, dramatic chords and even an electric guitar lending a cinematic feel to the track. The guitar adds a very dynamic sound and the melody gives this track an uplifting vibe.
Uprising features a similarly tension-filled intro, with a steady beat creeping in to provide the backdrop for cascades of uplifting, video game-like synths.
The Curse finishes off the EP in a suitably memorable fashion, with long, forbidding drawn-out chords over a steady beat eventually giving way to faster drums and another evocative electric guitar.
Legend is a mesmerizing EP that combines influences from french touch electro, rock, and film and game soundtracks for music that perfectly paints a picture of this mystical universe. Proving an attention-grabbing start to the ongoing Magic Sword project with Size Records, Legend also reinforces the label's forward-thinking reputation. This is one of the best pieces of electronic music I've heard thus far.
Magic Sword – Legend EP | Choose Your Preferred Service |
"Follow" Magic Sword: | Facebook | Twitter | Soundcloud |
Comments
comments