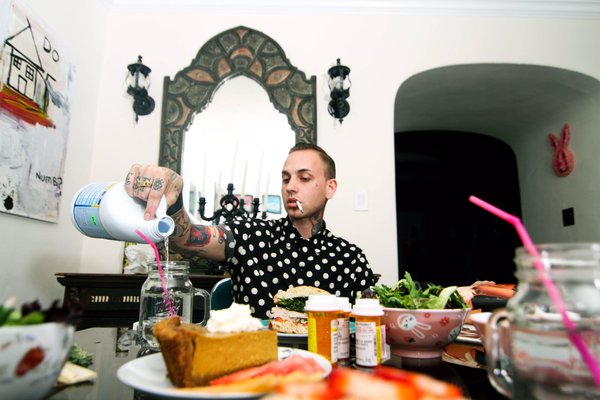 Cali native singer/songwriter blackbear is arguably one of the hottest artists in the game right now following the success of his full length LP "Help" and his follow up EP "Drink Bleach". Both have been racking up serious plays across all platforms, his tracks have been brought into the electronic music realm with great remixes from the likes of WildFellaz, SeventhWonder, and Tarro (just to name a few), and somehow he is still keeping the momentum moving by dropping slamming singles seemingly out of no where. The singer has been putting in work for years now both on his own music and behind the scenes writing on some of your favorite artist's biggest songs, now 2016 is looking like a big breakout year for blackbear.
His latest single "Bus it" encompasses everything about blackbear that has his buzzing so heavy right now. Featuring amazing production from Boogie Wizard who takes a sample from Plies and Atlanta producer Neyo Red, the song has influences from trap, soul, future bass as well as pop R&B, and it lays out a perfect instrumental for blackbear to go in on. With his raw, passionate, and unapologetic style, young bear lays down a sexy slammer that hits all the right spots. This is the kind of jam you can play out in the club and in the bedroom all in one night.
Be forewarned, sometimes it takes a listen or two before Blackbear's style really starts to stick to your ribs, but when it does you'll have it on repeat all day, everyday. He's one of the names to watch rise this year so make sure you stay tuned with all his new music. So check it out, catch a vibe and turn those speakers up!
blackbear – bus it|
Also check out the "Drink Bleach" EP.
blackbear – drink bleach ep|
"Follow" Blackbear: | Facebook | Twitter | Soundcloud |
Comments
comments