Favorite Surprise Guest
Wyatt: On a weekend that included guest appearances from Tyler the Creator, Kendrick Lamar, Usher, Lil Wayne and many many more, this is no easy question to answer, but for me it was the appearance of rap legend Dr. Dre that got me the most excited. Ever since I missed Dre's legendary Coachella performance back in 2012 he has been at the top of my to-see list, so when Cube brought him out, and they performed Still D.R.E, I couldn't have been happier.
Martin: The Legend, Dr. Dre. Being from the East Coast born and raised, I was always biased towards New York Hip-Hop. After living in California for the past 9 years and realizing how much Dr. Dre means to the entire West Coast music culture, and California culture in general, it was astounding to see Cube bring him about and have him perform a few classics. Watching the diverse crowd sing along word for word was a mind-blowing experience!
Favorite Set Each Day


Photo: John Valenzuela /The Sun-Southern California News Group

Friday: Parov Stelar
Wyatt: I came into the weekend admittedly knowing very little about Parov Stelar, but thankfully my group was keen on seeing him, so I went along for the ride. I was expecting a DJ set of electro swing music, so you can imagine that I was a little thrown off when we arrived and the DJ was accompanied by a bass, trumpet, trombone, and saxophone player as well as a vocalist and drummer on stage. The set that the band put together was a perfect juxtaposition of old school jazz sounds and new-age electro house music, and I don't think I've ever seen a tent more packed with energy. The sounds were very unique and refreshing, and every time one of the band members launched into a solo it was absolutely flawless. The crowd was loving every minute, and when the band flawlessly executed a massive upwards tempo change during the middle of their set, everyone lost their mind. It's not often that an entire tent tirelessly applauds a band at the end of their set, but Parov Stelar and his band absolutely deserved every last clap.
Martin: Black Coffee, Yuma Tent. From 6:45pm-8:45pm my body was beside hundreds of others shoulder to shoulder, but my mind, my mind was in South Africa, home of the legendary Black Coffee. Words can't explain how much I enjoyed this set. Start to finish spiritual and tribal house vibes, the love was overflowing out of Yuma and I'm sure the onlookers caught the wave as well.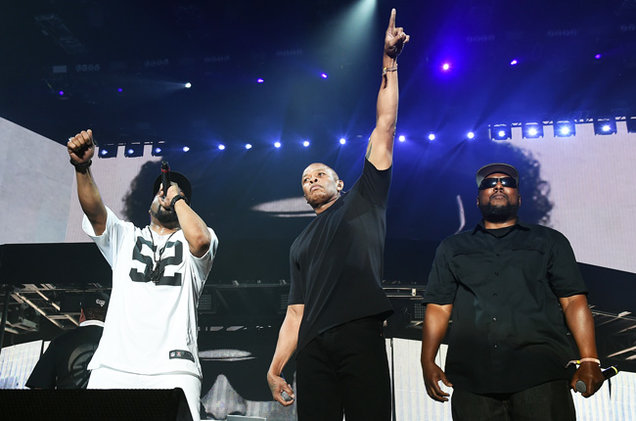 Photo: Kevin Winter/Getty Images for Coachella

Saturday
Wyatt: Ice Cube. You had vintage Cube along with surprise appearances from Dre, Lil Eazy E, MC Ren, DJ Yella, The Game AND Kendrick Lamar? Do I need to say anything else here?
Martin: Disclosure, Disclosure, Disclosure! I am already a huge fan of these two but I never would have expected the excellence that was their weekend 2 set. As soon as I heard the beginning sounds of 'White Noise', I nearly lost it. I actually did lose it, I was dancing from start to finish as they brought out guests from the likes of Aluna George, Kwabs and LION BABE.

Photo: Aaron Glassman

Sunday: Kraddy
Wyatt: I knew that Kraddy was a former member of the Glitch Mob coming into Sunday, but beyond that I didn't know a whole lot about what to expect. Luckily I decided to check him out, because he absolutely blew the roof off of the Do Lab. His set was jam packed with filthy bass, and I kid you not when I say that the softest track of his set might have been dirty work by HeRobust (yeah, it was that filthy). If you get the chance to check out Kraddy, definitely do so, you won't regret it.
Martin: Sunday my life belonged to Soulection's own Mr. Carmack, inside of the packed Sahara Tent I was amongst thousands of others who were stoked to hear 'the sound of tomorrow' and we did just that, not only did he deliver his originals but his set was jammed packed with remixes of my favorite songs that I don't usually get to hear outside of Soulection Radio on Apple Music.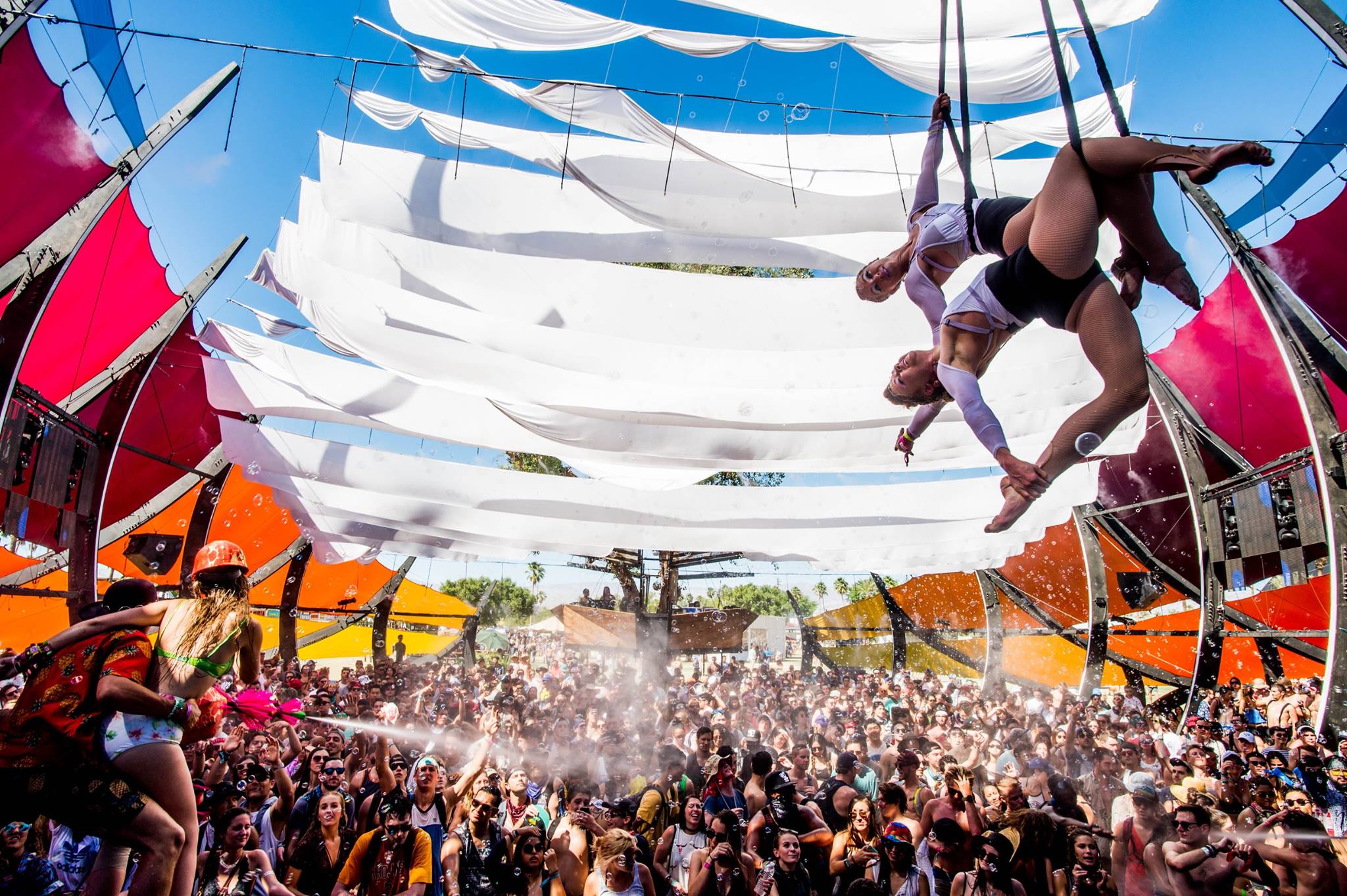 Photo by Watchara Phomicinda

Favorite Stage
Wyatt: My favorite stage of the festival was hands down the Do Lab. The Do Lab is tucked away in the corner of the festival and remains off the radar to a huge portion of Coachella attendees, but those who make it to the Do Lab know that it is absolutely one of a kind. This year the Do Lab featured artists spanning from Dirtybirds Ardalan & Sacha Robotti to bass music artists such as Ekali and Kraddy, and everyone who I saw perform there absolutely killed it. The great lineup combined with acrobatics, fire dancing, on-stage water guns, bubbles, and an amazing stage design made this stage my go-to all weekend.
Martin: I would have to agree that the Do Lab took the cake as the best stage at the festival. Being a bit off the grid unlike the other festival stages adds to the enchantment of the entire setup, only those who are in "the know" know about the Do Lab and that is what I love about it. I also commend them for setting up sprinklers throughout the dance floor to beat the heat and providing one of the best lineups at the festival. STWO and Ekali's sets blew my mind!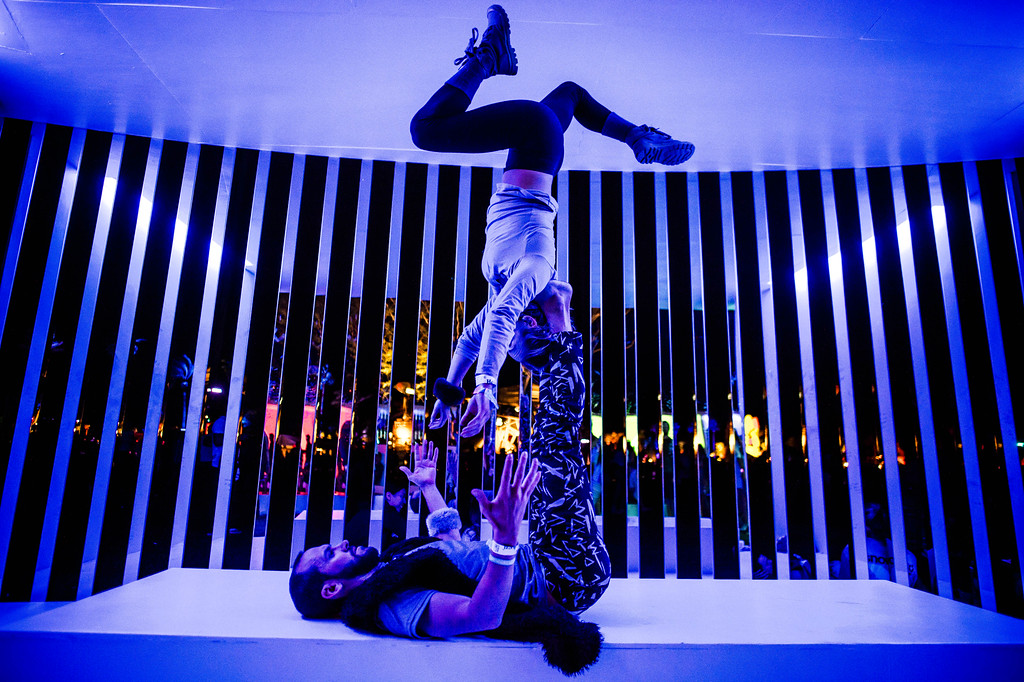 Photo by Southern California News Group

Art
Wyatt: The art at this years Coachella was pretty cool. During the first day I admittedly didn't think that the the Tower of 12 Stories was very cool, but when night time rolled around and the light projections became visible, it became one of the coolest structures I think I've ever seen. The Portals were also very cool to sit inside as the 360 degree mirrors reflected light and created a super unique environment.
Martin: The Besame Mucho art installation takes the cake in my opinion, composed of different hues of beautiful flowers, it was the perfect greeting each day as I entered the polo fields. There were a few other installations that were so awesome it was a bit overwhelming, like that giant yellow complex, and the huge white geometric shaped tower that illuminated every evening with bright colors.
Food & Drink
Wyatt: I came into the weekend not knowing a whole lot about the food and beverage situation at Coachella, and I was very pleasantly surprised. The food vendors throughout the festival were all amazing, and I found myself enjoying everything from sushi to paella to artisan pizza. Another pleasant surprise was the presence of the Craft Beer garden. Having survived festivals on Bud Light alone more than once, the availability of not only 1, but dozens of craft beers was simply delightful. The Absolut tent by mainstage also served up some of the best vodka cocktails I've ever enjoyed.
Martin: Unlike Wyatt, I heard from plenty friends that the food and beverage situation at Coachella was pretty epic and I was NOT disappointed. From the pizza (which I indulged in wholeheartedly), to the burgers, and craft beer bar, there was no reason to leave the festival, everything you could possibly want had a vendor booth inside. The Heineken house offered fresh beer and an even more impressive lineup from the likes of our friend Ookay, Jayceeoh and DJ Green Lantern. It was the best food and drink experience at a festival that I have ever witnessed.
Comments
comments