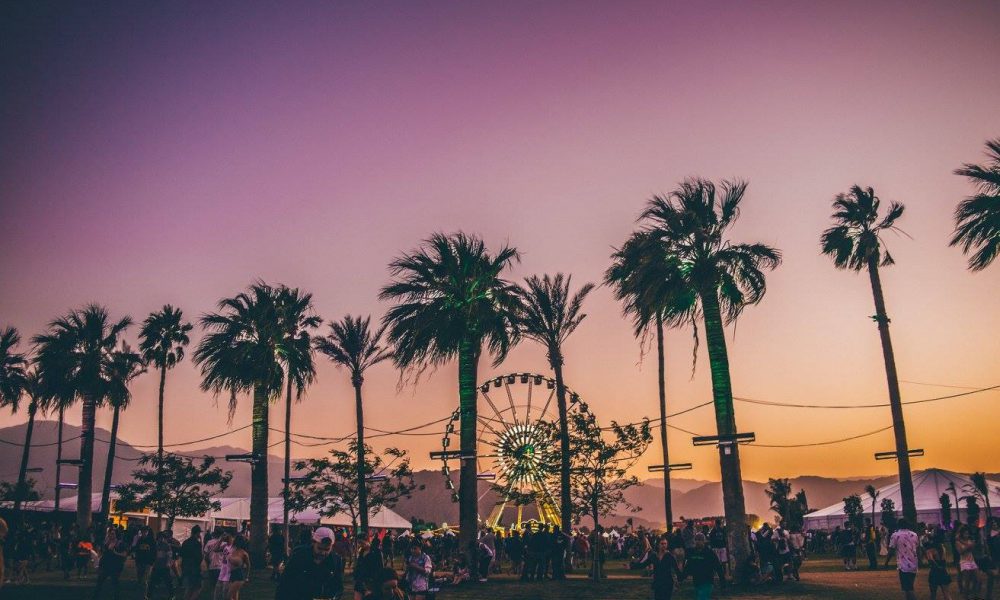 Another day, another weekend of Coachella down. With weekend two just a day away – we wanted to provide a fun and comprehensive recap of the magnificent first weekend of the festival. We had two writers go out and cover the festival – Dave, who has been to 3 Coachellas and Nina, who had never been before. Read our review of the festival from both a noob and rookie's point of view – check out Nina and Dave's thoughts on all things Coachella.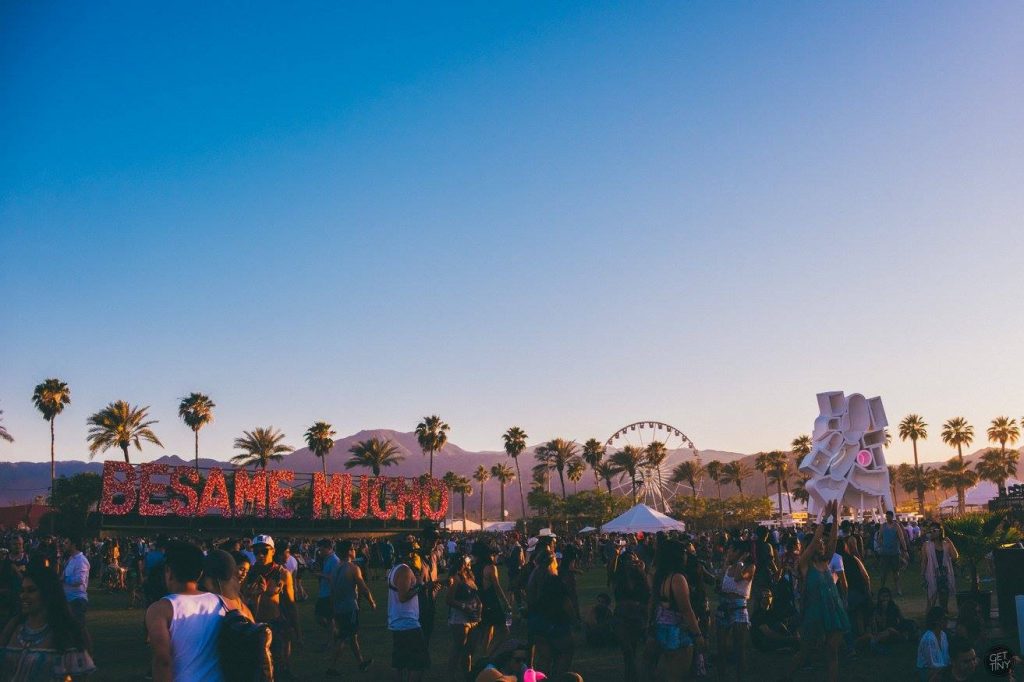 lineup overall?
Dave: Overall, I loved the lineup. Every year I hear that Coachella is turning into an EDM festival, yet I continue to feel like it's a very well rounded festival. You're never gonna be able to satisfy everyone, but Ellie Goulding, Rancid, Guns N Roses, Gallant and the Lucent Dossier Experience all on the same bill? And those are just what pops off the top of my head. There were days (Saturday) that I had entire stages circled for the entire length of the festival. The Coachella lineup continues to be one of the most anticipated before its release for good reason. The eclectic mix of artists and stages always promises something for everyone. 2016 was no different.
Nina: I was absolutely stoked on it. This was one of my first music festivals where the focus wasn't solely on DJs. It was really refreshing to have so many live bands, RnB and hip hop options to check out while still catching some of my favorite DJs play. The diversity in the artists that I got to see was truly something special.
food?
Dave: With so many unique and tempting fares offered on the fields again this year, I really made it a point to eat as much food as possible this year. I wouldn't call myself a foodie, but I love trying new places and foods. Just as there was a wide range of food options, there was a wide spectrum of food quality. Some things were downright delicious, such as the Grilled Cheese Truck and Pad Thai (and, of course, the always delicious watermelon wedge) and some things were bland (Tacos) or needed to be heat up (Asian BBQ). And then there were times I wondered why I was waiting in line for items like the Sriracha Broccoli in the Craft Beer Garden. Like some of the unknown bands, the food could be a hit or miss. But everyone needs to eat over the long three days and its really nice to have so many options. It's not often you get to eat a cheesesteak while watching the Do LaB.
Nina: Two words: Spicy Pie. Aside from that being my tried and true favorite festival food, the other options at Coachella were pretty awesome. All of the chef driven and upper-scale options really added a nice "foodie" component to a festival based on music. It was nice to go into the festival knowing you weren't stuck eating a hot dog like at other venues. Aside from my favorite Spicy Pie pizza, which I will admit was my go-to meal for two out of the three days, I had INCREDIBLE handrolls from Downtown's Kazu Nori, and some pretty decent chicken fingers and fries. Also shoutout to the tempura fried chicken sandwich I had in VIP, totally forget the name of that place (Free Range maybe??!) either way, it was pretty top notch.
art installations?
Dave: I'm actually still waiting for some sort of mobile art installation to float on by as I sit in my apartment in LA. Where were the floats this year?? The Spaceman two years ago and the Caterpillar/Butterfly last year were two of the coolest parts of Coachella! This year we got stuck with things that didn't move and had long lines. Perhaps, my expectations are a bit high after attending my first Burning Man, but I really felt like the extra pizazz was missing this year. I heard the "Armpit" was really cool and had dope views, but the line was always way too long when I went by. That's not how I want to experience my art at Coachella. One highlight, however, was the addition of the "BESAME MUCHO" in a floral design that could be seen from all over. It was lit up beautifully at night and added a welcome presence.
Nina: A part of me was really disappointed because – did you really go to Coachella if you didn't Instagram a pic from in front of the floating art? (lolz) The beloved, gorgeous, moving installments were noticeably missed from the festival grounds, despite it being my first time there. Though that was definitely a let down, the pieces that were there were cool. I too did not venture into the armpit, but the yellow stacked chair-like structure as well as the white-by-day, neon-by-night abstract shape structure was cool as well. The art was aesthetically pleasing and was great in it's own right, but I really do wish the floating piece was a part of my first Coachella.
stage production?
Dave: The sound was a lot better in many places this year for me. The Sahara tent was the most noticeable difference. Seemingly now a full-blown airport hangar, the sound has caught up to the light show. No matter where you were, you could hear pretty well. I watched a bunch of acts from the beer gardens along the left side of the main stage and I was really impressed with how well I could catch the show. As far as stage design and light shows, the Sahara at night is a wonder to behold. Coachella is not to EDC or Ultra, but this is as close as it comes. The Do LaB always has a great set-up that maximizes the space and experience of anyone that treks down. It felt like the Do LaB was packed every time I went this year to my chagrin, but with such a great lineup all day, why not?
Nina: I had heard some bad complaints about noise pollution in past years, and was pleased to not really experience any of that too badly this year. The stages definitely did not focus on the visual elements, but that wasn't necessary with the magnitude of artists playing at the stages. Shout out to the amazing Yuma tent, where the sound was always incredible and where my homie the Disco Shark was flying high above the heads of some legendary DJs.
~vibes~? (lol)
Dave: The vibes were on point again this year, and perhaps, the best in my three years attending. I didn't see one fight or disagreement. I didn't see any drama or people pushing each other around for space. And while Coachella, is infamous for turning into Brochella when the sun goes down and the hardo's come out, I didn't see much indication of that this year. Maybe it was the music?
Nina: My only distaste towards the Coachella vibes come from the "fashion show" aspect of the festival. But maybe I'm just salty about my wardrobe and lack of long, braidable hair. Other than that, the vibes were pretty solid. Like Dave said, didn't see many fights and additionally, not a large amount of too-fugged up people, which is always a good thing.
hospitality and on-site amenities?
Dave: I didn't have much interaction except for security and grabbing a map from information the first day. Those were both fine experiences. Security was surprisingly lax the first two days. Things were beefed up by Day 3. But none of us really have to worry about getting through security, right?
Nina: Hospitality was pretty solid, staff seemed knowledgeable and helpful when they could be. On-site amenities were what you'd expect from a massive music festival – but shout out to the air conditioned trailer bathrooms in VIP.
special guests? who were you most stoked to see there?
Dave: This year was STACKED with special guests. Notorious for a few people showing up over the weekend, there was numerous memorable guests. My favorites that I caught were Bone Thugs with Zhu, Kanye with A$AP Rocky, NWA (sadly minus Dre), Snoop and Common with Ice Cube, Nas and Bernie effing Sanders with Run the Jewels, and Rihanna with Calvin Harris (I just love me some Ri-Ri). Oh and Jaden Smith with Lido. Just for the laughs. I'd say that I was most excited to see Jack U, Major Lazer, Ellie Goulding, Tchami, CHVRCHES, Run the Jewels, Zhu and Gallant. And I managed to see about half of them!
Nina: I was incredibly impressed with the special guests this year. Gallant brought out SEAL. Could it get any more legendary than that? Well, yeah it kind of could as Disclosure brought out Sam Smith, The Chainsmokers brought out Third Eye Blind, Zedd brought our Ke$ha and Anderson Paak brought out T.I. And those are just the big ones off the top of my head. The special guests I caught at Coachella reinforced how incredible of a festival it really is, and made me feel the magic of the festival.
favorite set of each day?
Dave: I hate playing the favorite set game cuz I'm so indecisive. But here's my Top 9 from the weekend in no particular order: Ice Cube, Run the Jewels, Zhu, Gallant, Sia, Claptone, Tchami, Rufus Du Sol (at the Do LaB) and Lucent Dossier Experience. So many good bits and pieces of others as well. There's almost nothing better than taking a lap around the fields at night while music is playing from each stage and lights and lazers are flying all over the place!
Nina: Ok here we go – SG Lewis, Gallant, Snakehips, Rufus Du Sol (live set and at Do LaB), Justin Martin, Disclosure, The 1975 annnnnd I'm probably forgetting more.
side stage lineups? do lab, heineken, despacio?
Dave: The Heineken House had a really dope lineup again for the second year in a row. Unfortunately, I didn't make it into the House for the second year in a row. The Do LaB, as I mentioned, was super crowded every time I stopped by. That didn't detract from the music or the lineup in anyway, though. Great times at the Do LaB, as always. And finally, I wandered into the new Despacio for about 7 minutes while waiting for friends at the lockers. It was small, dark and steamy. I know James Murphy from LCD Soundsystem and 2ManyDJs were spinning throughout the weekend, but standing in there, I just wondered why you would want to spend any substantial amount of time in Despacio while there was so many other amazing things going on outside.
Nina: The Heineken House was like a Mad Decent Block Party lineup on steroids, and I mean that in the best way. But I too, sadly, did not make it in there. The Do LaB was INCREDIBLE. The combination of impeccable stage production, vibrant dancers and talent made the Do LaB's stage a perfect place to both recharge and meet up with your friends, as well as catch some of the best dance music acts right now. I never made it to Despacio, but heard really great things!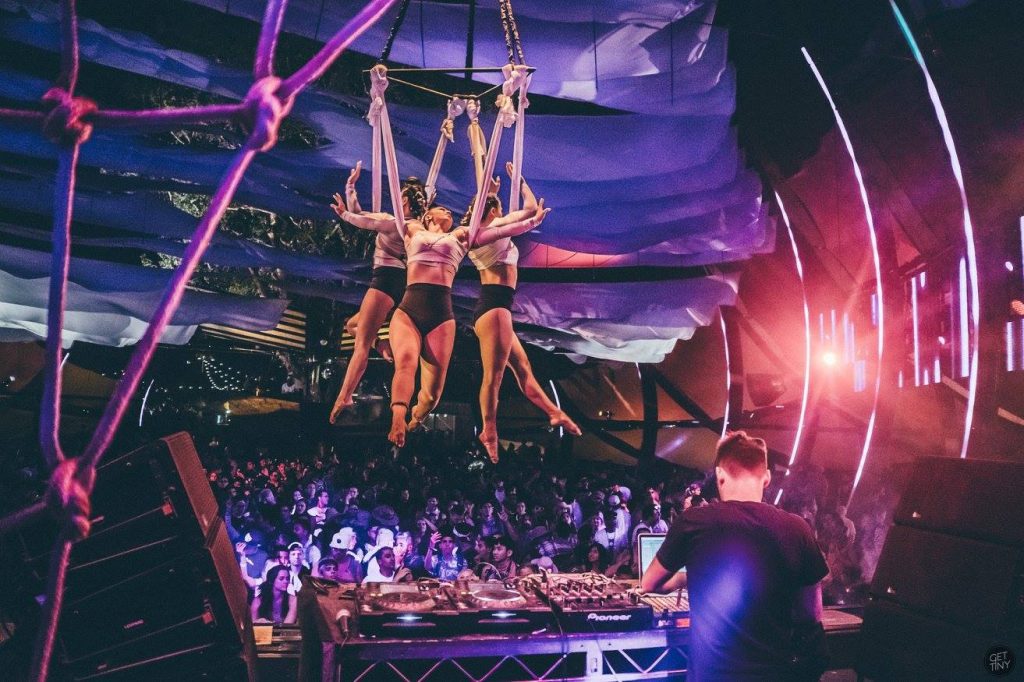 Comments
comments