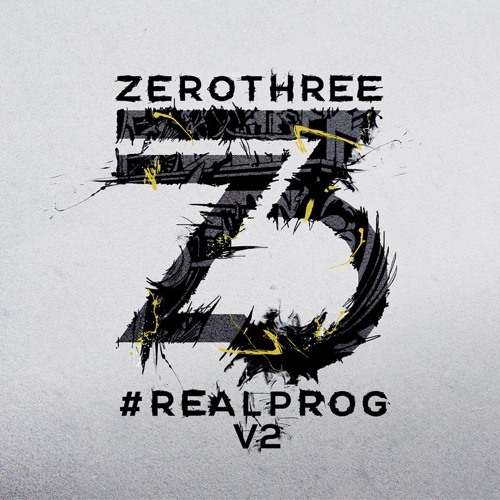 It's only been 5 months since the start of the REALPROG series, but Zerothree are back with V.2; a compilation perfect for the progressive lover, jam packed full of dancefloor goodies and fantastic for your ears! #REALPROG was started to pay homage to the genre and push talent into the limelight; in return they created something marvelous for one of the finest genres of dance music. V.2 has nothing short of 12 exquisite tracks that have been produced by prime artists.
Jaytech starts off the compilation with his tune Paragon. He had a pristine buildup with a slew of elements that all blend well. He finishes the tune off with a melodious pluck backed with a pumped bass.
Gai Barone continues with A Force Called Gravity with an intro that builds itself up into a melodic electronic production. He made a fantastic melody so uplifting yet still makes the listener want to dance.
Andre Sobota grabs your attention with Halo; a simple beat and melody and yet so very pleasant to hear. Andre does a very nice job of not making things too simple and adds details that serve purpose.
Capa Aftab is the definition of progressive house. Using simplistic tools and having a rhythm to produce a finely crafted tune.
Max Freegrant is back on ZeroThree with When The Sun Goes Down, which also leans more to the progressive trance side. The composition is very well done; reminds me of the Anjuna stuff Arty & Mat Zo produced. Max just made it his own way and it's excellent.
PROFF extends the EP with his creation Bermude. The track starts with a simple drum loop that builds up into a soothing drop. It makes it's way into a relaxing breakdown with a wonderful piano. Then leads into an epic breakdown and into a gorgeous drop. He had a solid melody and arrangement.
Matt Fax produced Vina with a solid bassline and atmospheric breakdown that leads into a phenomenal drop. The end result is perfect.
Flynthe wastes no time with Aftersome and gets the listener to the epic parts of the track. A smooth breakdown that is a flourishing addition. The epic part comes back one more time leaving you in a flash of leads and gritty bass.
Fuenka delivers Zen, a slower tempo track but exceptionally crafted bass and drum loop. They developed into a more uplifting feel which caught me by surprise, it's exceptionally well done.
Sebasitan Weikum presents a new artist name Junostar and starts his legacy with Weikumish. A well-produced bassline, driving melody and fine beats.
Dylhen's Reboot was just groovy from the start. Funky bassline, crisp percussion and a very infectious rhythm. This track will have you dancing wherever you're at!
Luka Sambe finishes the compilation off with Lust & Anticipation; mellow, warm, something calm to end this piece of music productions on a high note. ZeroThree showcased all different styles of progressive in one place. These artists crafted a superb mix of fine dance music.
Zerothree Presents #REALPROG V.2 | Beatport |
"Follow" ZeroThree: | Facebook | Twitter | Soundcloud |
Comments
comments