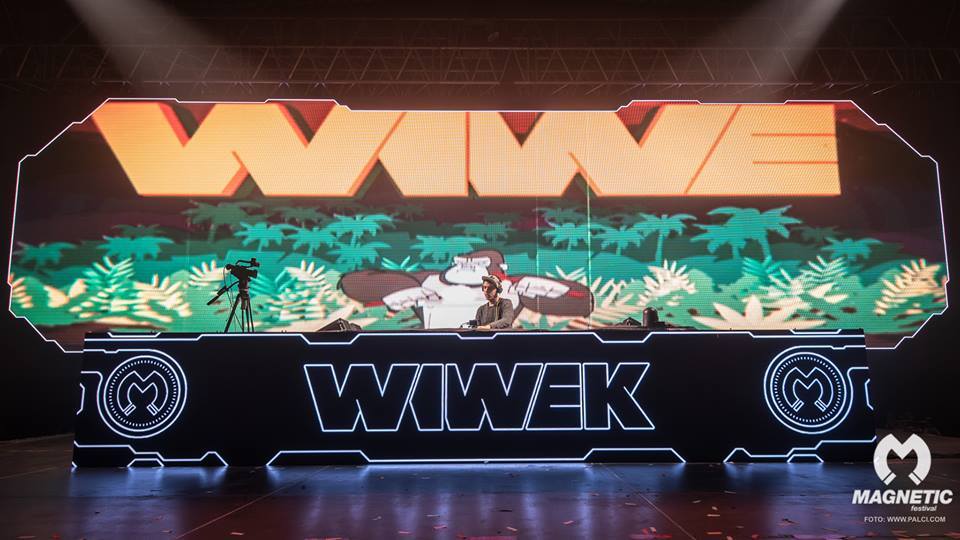 In the world of electronic music where many consider things to be "stale" and "repetitive", there is one Dutch produce who introduced us to a sound unlike anything we've ever heard before. Wiwek is the jungle mastermind behind the extremely energetic sub-genre that goes by the name of "jungle terror" which is considered by many to be the is revenge of the Dutch sound.
We had the opportunity to chat with Wiwek following the release of his The Free and Rebellious EP.
TSS: When people think 'jungle terror' your name is the first to come to mind, did you ever think this genre would become as popular as it has?
Wiwek: Not sure, I also didn't start it for it to be a genre. Just a brand, a vibe. Still not sure if it's a genre, I surely can't explain what the rules are.
TSS: Who or what was your influence into the world of electronic music?
Wiwek: In different periods of time I had different influencers in the world of EDM. Early 2000s it was Tiesto with his trance music, Timbaland with his electronic hip-hop beats. Around 2008 – 2010 the whole "Dutch house sound" influenced me. With Afrojack and stuff. Right now I'm influenced by the whole crossover EDM/hip-hop thing. Skrillex and Diplo do that a lot.
TSS: Many of your fans may not know of your love for hip-hop, can you tell us how that developed and will there ever be a time the world will see you throw down a strictly hip-hop set live?
Wiwek: After learning the basics of production with trance music I switched to hip-hop. Super inspired by Timbaland and The Neptunes / Pharrell Williams. I made hip-hop until I went full on house music in 2011. I'm sure people will see me do a strictly hip-hop set live one day. Maybe the old school one like my Musical Freedom mix but maybe new school, who knows!
TSS: Your 'The Free and Rebellious' EP was recently released via OWSLA, tell us about the creative process behind it.
Wiwek: Like with every other EP I've released I started with a bunch of demos. OWSLA guided me from there on, connected me with vocalists. I was touring for the first time in my career last year so I made it in a lot of different studios all around the world too, which was a fun process.
TSS: The question everyone wants to know, what's it like working with Skrillex?
Wiwek: We did "Killa" over the internet a lot, but we did fool around with some other stuff in the studio. The guy is a genius. That's all I can say.
TSS: You collaborated with Yellowclaw on this EP as well, what's your relationship with those guys and the Barong Family?
Wiwek: I met them only one and a half years ago, but we had a connection right away. I met them during a time where they were just starting their Barong Family label and I just came up with the idea to do a full on Jungle Terror EP. Somehow it just felt right to do that idea on their label and we just did it. They guided me in evolving the sound and helping me grow as an artist. Guiding me in some important career choices as well. They and the Barong Family have been very important for me.
TSS: You seem to collaborate with artists more often than not, why to do choose to go that route as a producer?
Wiwek: I like working with vocalists so I do that a lot. With other producers it's more a 50/50 thing, most of the time it just happens and before I know it the track is released. I collaborated a lot last year, this year I'm planning to do more solo productions.
TSS: "Rebels" was featured on OWSLA's Worldwide Broadcast, "The Free and Rebellious" is out now via OWSLA. You and OWSLA have separated yourselves from the rest of the "EDM" community consistently releasing refreshing and unique tracks, what's your personal opinion on the current state of "EDM"?
Wiwek: It's all becoming more pop/radio crossover. I think thats dope, for more listening purposes. As a DJ it's harder to find new sounding records for the clubs now than it was 1 year ago, I feel. I think that's the switch that's happening now, a lot of producers don't get satisfied anymore by just making club records.
TSS: You've entered 2016 super hot, what can the world expect from you throughout the rest of this year?
Wiwek: Maybe a sex tape.
Comments
comments