While his DJ moniker might be sourced from that of a character in a fantasy book, Seven Lions is very much one of the realest artists in the EDM game to date. From his latest quirky meet and greet titled "Drinking With Strangers" where he enjoys a cold brew and some conversation with fans to designing music that blurs the boundaries of genres, Seven Lions is putting a stamp on what it means to be the creator of sounds that not only listeners can connect with, but also provides a medium for the fans to get lost in. He's also built quite an impressive roster of singles with talented vocalists that include songs like "Don't Leave Me" with Ellie Goulding, "December" featuring Davey Havok and "Strangers" with Tove Lo and Myon and Shane54 to name a few.
With four EPs under his belt and Creation out today via Casablanca Records, this mastermind has shown that there is no stopping or slowing down. He is the creator of this musical destiny and we at TSS were lucky enough to get some insight on the inspiration behind the EP.
TSS: Why structure your songs into an EP and not a full album?
SL: I think it would take too long to finish a whole album. It's just kind of become a necessity to constantly to release music. Also, because of the way people consume music now. They'll just pick a few tracks off and a lot of songs will just get left in the dust. So to have the songs get the attention I think they deserve, it's more about releasing a few really good songs as opposed to trying to finish a whole album.
J: Describe to me the thought process behind the Creation EP. Was there a feeling you wanted to emote or a story you wanted to tell? Why these tracks?

SL: I just thought they went really well together. I have other tracks that aren't released and I'm not going to release them until even later. It just felt right.
J: I feel like you really experimented with this EP. "Coming Home" with Mike Mains and "The Journey" come to mind when I say this. You've always been known to blend genres together. Could you pick one of them and describe to me the evolution from an idea to a finished track?
SL: The one with Mike ("Coming Home"), I was listening to a lot Of Monsters and Men and Mumford and Sons because my wife is really into that- and what she puts on in the car I end up listening to a lot of. It reminded me of what I used to do when I was making music which was just being in the studio and writing a bunch of music with my friends. So, I started writing a song and open tuning. I came up with the riff and it happened very linear. I started from scratch and it ended up where it was, but I decided to keep it kind of acoustic. The original idea was to just make the breakdown very acoustic and then go more into a Festival House song. I ended up realizing it would be a disservice to this song to just make it fit in with what I was do by being like,"Okay this has to be an electronic music song." I kind of rethought it and went back and made the whole thing acoustic. Not that I don't use synths or anything, but sonically it's a very acoustic sounding song as opposed to a usual House track.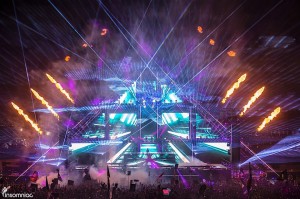 J: You're also known for feautring a lot of strong vocalists. I know your roster includes Lights, Ellie Goulding, Davey Havok, Lynn Gunn, Tove Lo, and more. How do these collaborations evolve?
SL: They happen all different kinds of ways. Ellie Goulding hit me up about that collab and that was more of an organic thing. A lot of the collabs come from my label. My A&R girl Christina is awesome and I will have a song that is halfway finished and I'll send it to her. She'll be like,"Alright let's send these out to these people, what do you think about them?" and I'm like,"Yeah, let's do that or no let's try this" or go for a vocalist who sounds a little more like this style. Then we kind of discuss it and go from there.
J: So when you are writing tracks do you envision a male or female vocalist?
SL: So for "December" I was thinking female vocalist and then they were like, "Hey let's try Davey Havok." I said,"Okay that's an interesting choice, but if you want to give it a shot let's do it" and it turned out to be great. So, yes I do imagine what I want and sometimes I find something better. For the song "Creation" I knew I wanted a female vocal for sure and for the track with Mike Mains I knew I wanted an Indie Singer or like that vibe so those are very planned out, but it's not always like that.
J: Do you help write the lyrics?
SL: No. I am not a lyricist at all. I have certain rules I go by like let's try in keep it in this realm.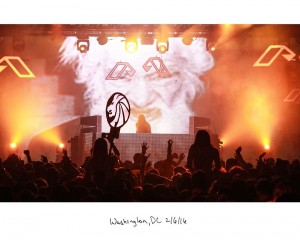 J: Do you usually have an idea or a topic you want it about?
SL: So I'll name songs and they'll take that name and go with it like "Coming Home" was always "Coming Home". Mike just took the song and "Coming Home" was the name and wrote the lyrics around that. It's the same with "Worlds Apart." That was always "Worlds Apart" and Kerli wrote the vocals and stuff,so it can go both ways.
J: Do you have a dream vocalist you have yet to work with?
SL: Sigur Ros or Imogen Heap would be cool. Zoey Johnston too. I know I've done some remixes for her, but to acutally work work with her would be amazing.
J: Is there an unsual fact about the EP that would surprise fans. Maybe something about the creative process or a fun fact?
SL: Fun fact is I started "The Journey" probably 3 years ago and slowly worked on it since then. It was originally called "North Bound" and I was originally going to put it on Throes of Winter, but I didn't.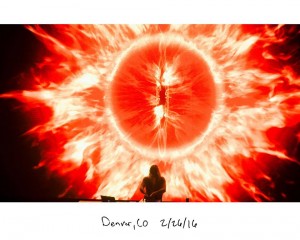 J: What made you wait to put it out?
SL: I think it's becuase I thought the Throes of Winter was complete without it and I wanted to save it for "Summer of the Occult". A lot of these songs I had finished or had close to being finished last year around the same time I put out Throes of Winter.I kind of wanted to split them up and figure out which ones went where. It just ended up going on Creation.
J: Was it harding picking out the order to put the tracks in or did they all organically fall into place?
SL: Yeah. It's always hard because the songs are so different. It's not like all the songs are a similar genre and trying to have it make sense systematically is a hard thing, but I think having a strong intro and a strong outro really helps.
J: How do you feel you have grown as an artist from the Polarized EP to the Creation EP?
SL: I think I'm a much better producer, at least at mixing and stuff, but I don't know. I think my resources have grown which has helped me a lot. I can now work with really great vocalists and now I have the opportunity if I write a song in MIDI with strings I can actually get someone to record the strings. It'll sound so much better than just having to write it on a synth program which is not going to sound real.I have these opportunites and I think that really helps a lot.
J: What would you say is your favorite track off the EP?
SL: Probably "Leaving Earth." I think its' the most interesting thing I've done and fun I've had writing a song. I wouldn't even call it fun, I think it's just like being completely in the zone and wrapped up in what I was doing at the time. I feel like that that song is a really personal song to me.
J: Do you think you are going to continue with Drinking with Strangers and how did that come about?
SL: I think the reason that we do it is we've done meet and greets and they are always so awkward. Like you have people come into the green room or you meet them and you shake their hand and take a picture and wave bye and oh yeah thanks its great we met, but going to a bar or sitting down and sharing a beer is completely disarming and evens the playing field.You can actually learn about someone that way and i think that's kind of why we do it.I think we will continue to do it for sure just because we get to see the city and we actually get to meet people.We travel so much it would be easy to not do those things and just sit in the hotel and go straight to the venue so it's always a good thing.

Creation is out now via Casablanca Records and can best be described as a sonically driven quest through Dubstep, Trance, Indie Rock, Metal, and Drum & Bass. To even put genres on the EP would be a shame, as these seven tracks form their own fantastical identity that can be interpreted different by each listener. My best advice is to press play and let the music do the talking.
"Follow" Seven Lions: | Facebook | Twitter | Soundcloud |
Comments
comments